Kitesurfing Holidays - Egypt
Nearly full!
Back for Winter 2019 is our extremely successful Egypt trip. This year we'll continue to offer one or two week options, but now you'll get to choose between group or private tuition - meaning you can book your very own instructor for a lesson each day. Whether you opt for no tuition, tuition, hiring or using your own equipment, it's set to be a great trip!
Perfect for those wanting to escape the cold and grey of winter in England and head out to warmer waters. Check out the information below and drop us an email or call us to register your interest today - places are limited so act quickly!
Destination: Soma Bay, Hurghada
Dates: 3rd - 10th November or 10th - 17th November (Two week option from 3rd - 17th November also available)
Flight Times: Departing Gatwick at 08:20 on 3rd/10th November, returning to Gatwick at 20:35 on 10th/17th November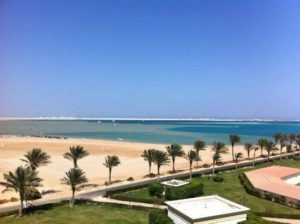 Take your riding to the next level with a week in absolutely ideal conditions, possibly the best in the world. Under the watchful eyes of The Kitesurf Centre instructors, you will gain plenty of water time and expert tuition to progress your kiting. The conditions that Egypt offers at that time of year are like nowhere else - you'll be amazed how much you can progress in the constant winds and super flat water. We first found this gem in 2008 whilst training instructors and were blown away by how beautiful the area is and how much everyone progressed in their time there - some guys went from zero to instructor level in 1 month! The wind starts blowing first thing in the morning and continues all day. It is consistently 15 - 25 knots and the bay, sand bars and sand spits mean there is flat water everywhere!
We'll be staying in the all inclusive (the food is amazing!) Palm Royale 5 star hotel, which is around 30 minutes south of Hurghada. It's in a complex with 2 or 3 other hotels, watersports & dive centres and a mariner. It's enclosed and 100% safe with it's own water sanitation plant. Come and appreciate the authentic charms of this little piece of paradise, rocked by winds, between sky, seas, mountains and palm trees. Your rooms are overlooking the water, so it's literally a 2 minute walk to the kitesurf beach, which makes nipping back for an afternoon nap or dip in the multiple pools very inviting.
The hotel is also just 5km from Safaga (which is a more touristy port) or 220km from Luxor, and organises trips to Luxor to visit the historic sites which are also an option so you require a rest from kitesurfing for a day or two.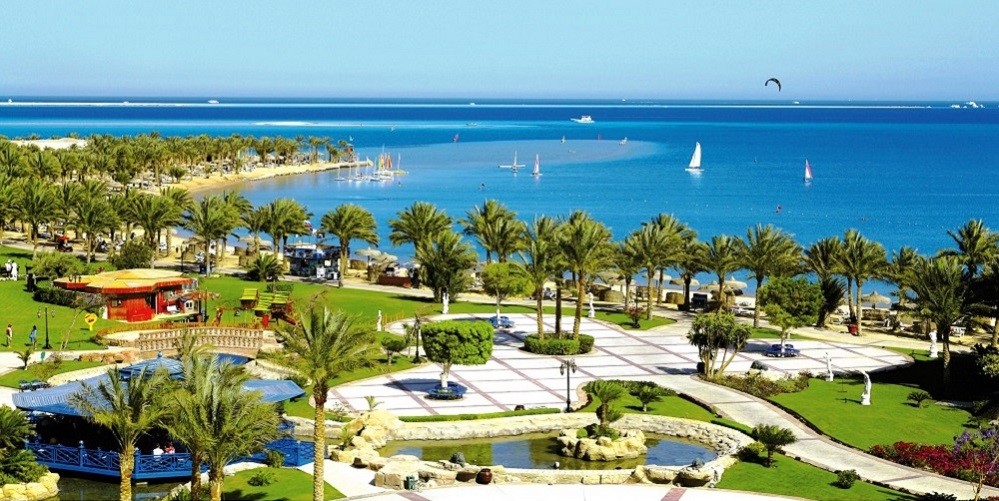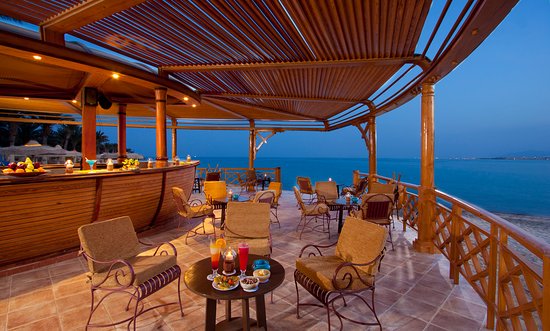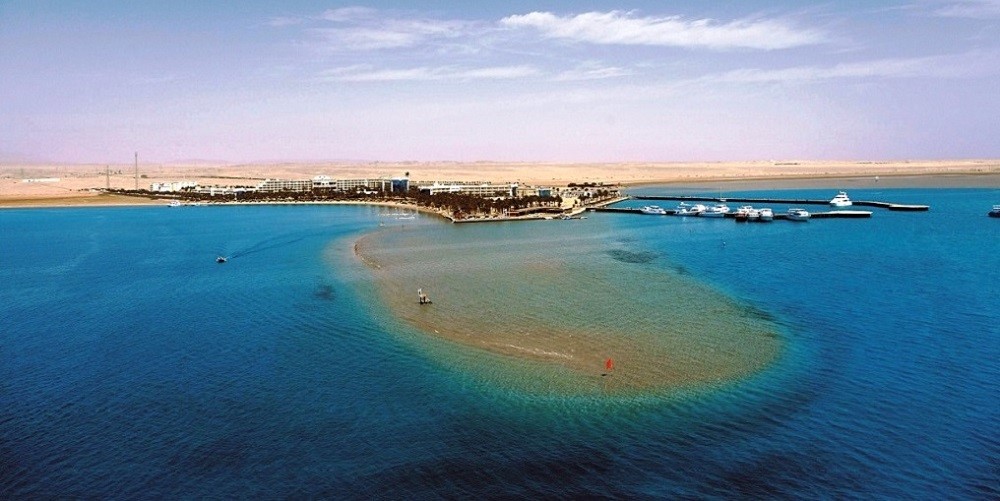 Soma Bay was chosen rather than the more commonly known El Gouna, which is just up the coast, or Safaga, just down the coast. Mostly because of the close proximity between the beach and accommodation and also the clear sea beds without any coral or sharp reef that the other locations encounter. There are very few places in the world where you can step out of the door onto the beach with your gear, so we want to make the most of this opportunity! It can be a hassle to lug all of your gear into a taxi or tuc tuc every time you want to visit or leave the beach. The beach offers full safety boat cover and storage for equipment should you wish to leave it on the beach rather than take it back to the rooms.
Egypt was always known for it's diving due to the super clear water the Red Sea offers and this is something that can be done during the visit, so bring your snorkel! The wildlife is unbelievable and unrivalled by anywhere in the world but the wind is even more so.
"A phenomenon of Egypt's climate is the hot spring wind that blows across the country. The winds, known to Europeans as the sirocco and to Egyptians as the khamsin, usually arrive in April but occasionally occur in March and May and continue to the end of December. The winds form in small but vigorous low-pressure areas in the Isthmus of Suez and sweep across the northern coast of Africa. Unobstructed by geographical features, the winds reach high velocities"
The exact cause for these winds is unknown but the most common theory, and one we go with is that they are created by air cooling in the Sahara desert over night, and then blowing out to the coast in the morning, creating a land breeze. Which is the opposite to thermal wind we experience in the UK and other warm climates. The reason is the temperature difference between the sea and the desert, as the sea stays warm overnight whereas the sea is warm, which would cause the air to rise and create a low pressure which draws in the cold air from the desert and therefore producing wind. It's all very technical but all you need to know is, it's windy!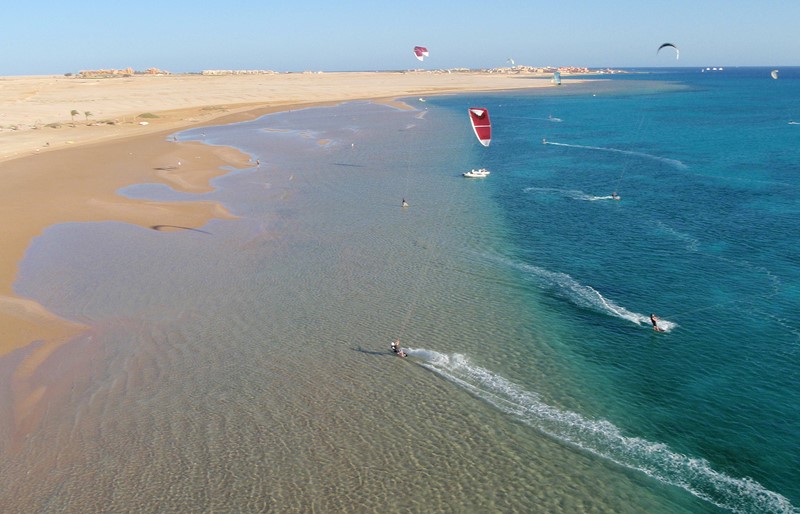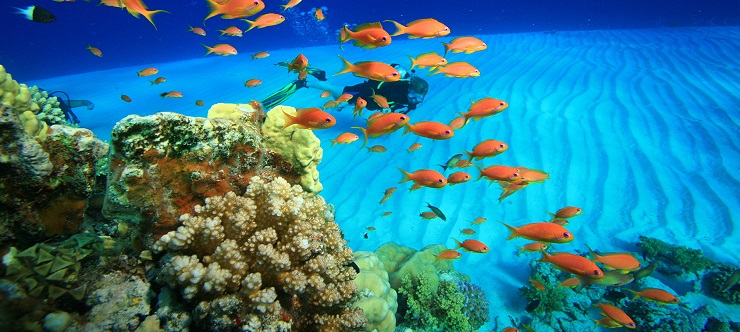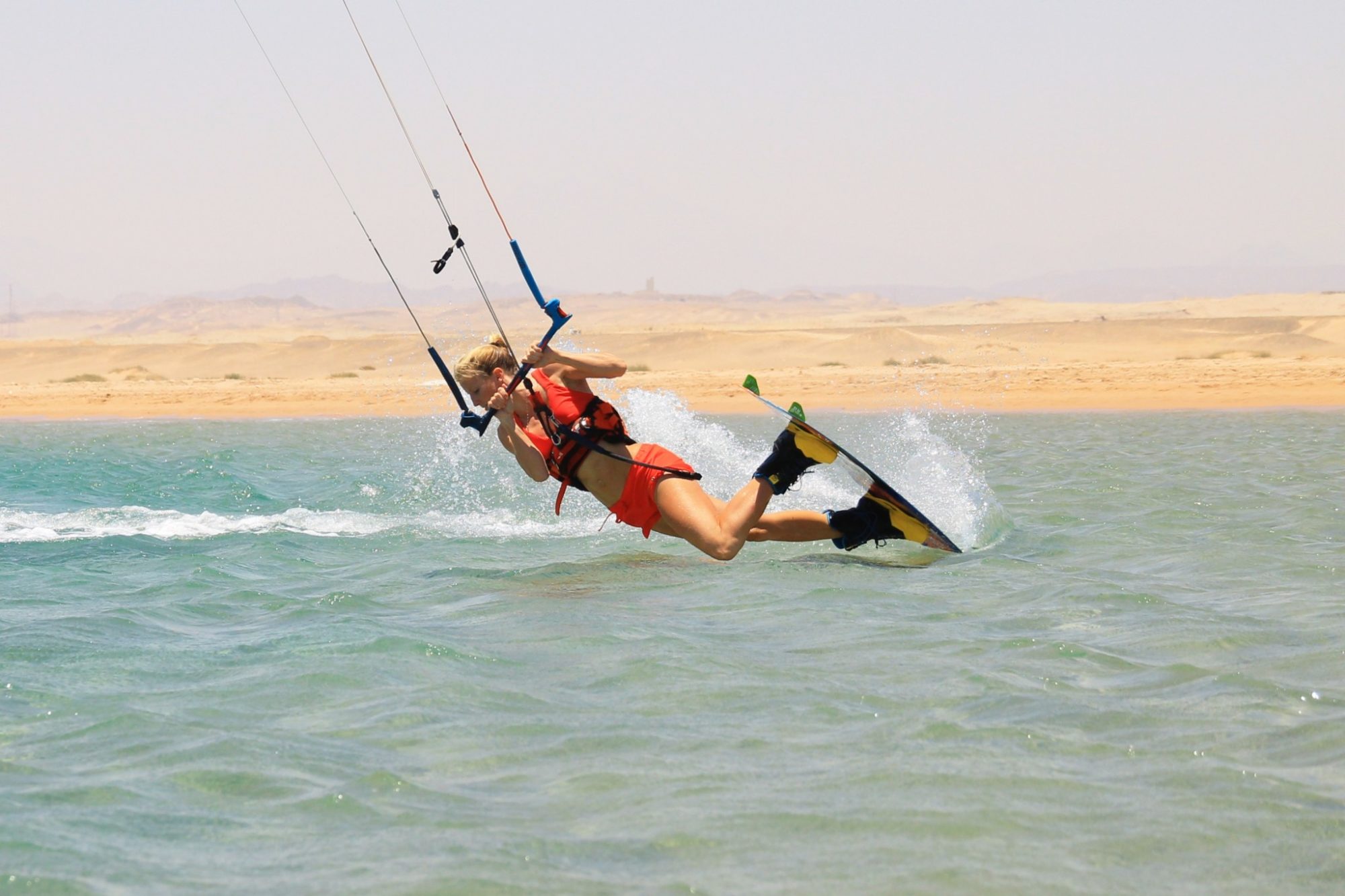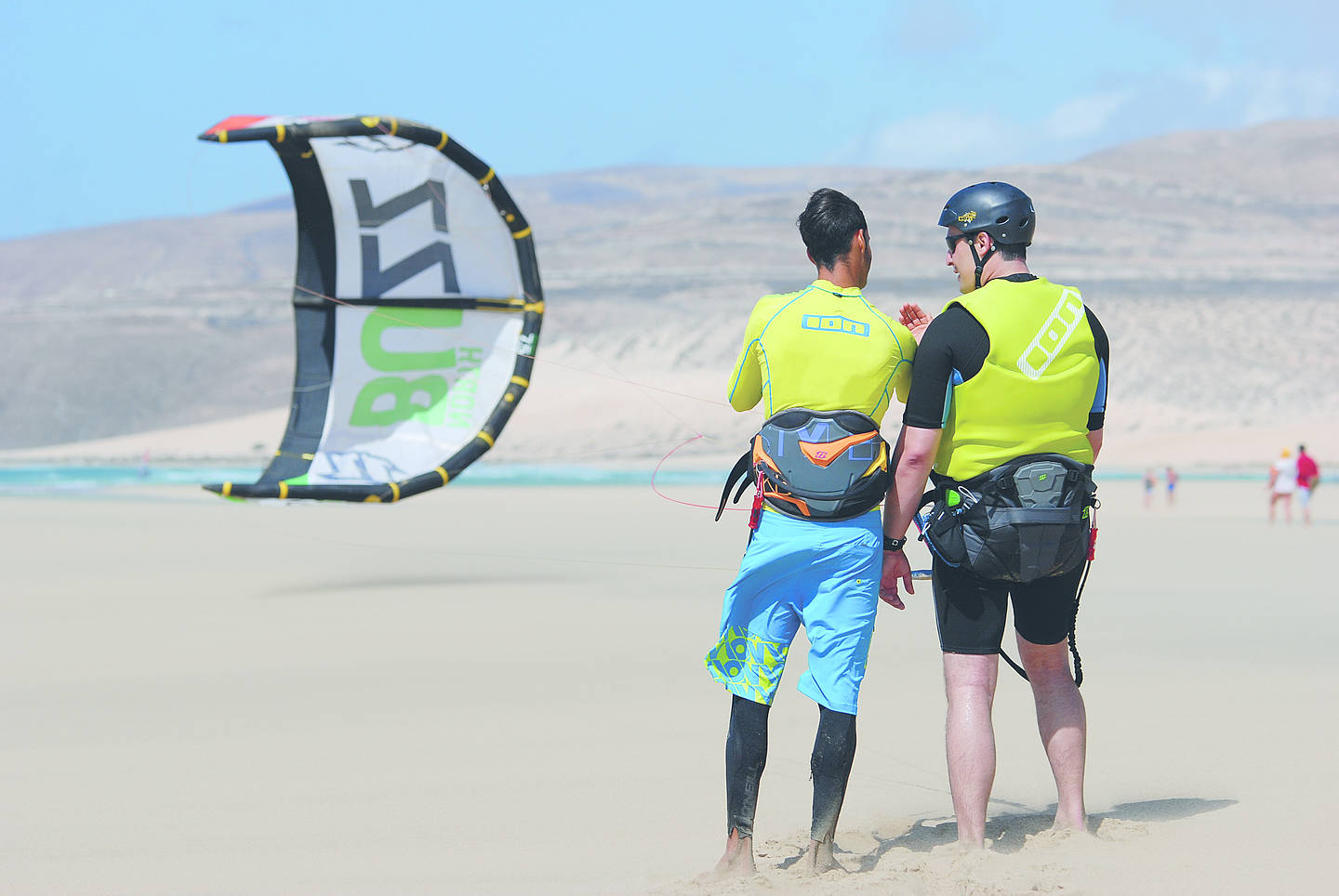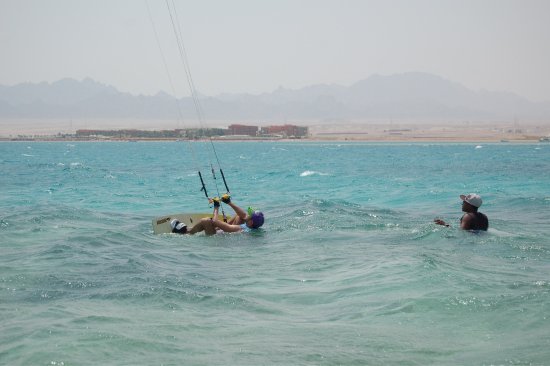 A selection of our enthusiastic senior BKSA instructors will be heading out on the trip to train and coach for 5 of the 6 riding days. Whether you want to learn how to ride upwind, catch your first wave, land your first powered handlepass or boost that huge megaloop you've been wanting to do for years, they can help you out. The sessions will be filmed and photographed so it can be analysed in the evenings over a beer in the beach bar, to help with progression of course! There will also be tuning sessions on how to get the most from your equipment in the varying conditions (which most people really underestimate and ignore) along with advanced safety techniques and general fun stuff! We're here to not only help you improve your riding but also to have a great holiday.
Coaching and lessons are available for riders of all abilities, so don't worry if you're thinking you're too much of a beginner. The conditions in the lagoon are perfect for beginners and we've taken people in the past who had never kited before the holiday!
Adham, our BKSA & IKO Egyptian instructor, has worked at Soma Bay for over 10 years and will be on hand to coach and also show everyone around the local area. His knowledge (and arabic!) will be really helpful when choosing where the best conditions are on the day and if we wanted to organise down winders or crossing the bay.
What's included
Just about everything!  Flights, accommodation, fantastic food, airport transfers, 5 days of coaching sessions, really flat water, warm weather and consistent winds!
What's not included
Travel insurance (compulsory), entry visa (Payable on arrival at Hurghada airport, approx. £20 each), kiting equipment, transport to and from the airport in the UK although may be possible if you contact us. If you need to rent equipment for the week please let us know when booking. Sport baggage on the flight, this costs £100 extra. The hotel is all inclusive but we don't believe alcohol is included in the cost, but it is available. Safety cover and storage at the local watersports centre is optional and costs £90 for the week.
Pricing
*Please note that prices are based on flight cost and room availability at time of writing. To receive an exact quote, please call us on 07563 763046 or email on info@thekitesurfcentre.com*
1 Week: £1,099 (£999 early bird)
1 Week + 5 Days Hire: £1,399
1 Week + 5 Days Group Coaching: £1,199 (£1,099 early bird)
1 Week + 5 Days Group Coaching + 5 Days Hire: £1,499
1 Week + 5 Days Private Coaching: £1,699
1 Week + 5 Days Private Coaching + 5 Days Hire: £1,999
2 Weeks: £1,599 (£1,499 early bird)
2 Weeks + 10 Days Hire: £2,049
2 Weeks + 10 Days Group Coaching: £1,899
2 Weeks + 10 Days Group Coaching + 10 Days Hire: £2,349
2 Weeks + 10 Days Private Coaching: £2,799
2 Weeks + 10 Days Private Coaching + 10 Days Hire: £3,249
Extras: 
Sports baggage on the flight - £90
Sports baggage on transfer - £30 return (for those hiring, these baggage charges are included in your hire cost)
Entry visa at Hurghada - £20
Launching, landing and safety privileges - £90 per week
Please note that these are prices on the current costs of flights, they are likely increase nearer the time if booking late.
This trip is limited on spaces.
The rooms are shared rooms with twin double beds. Each room is very spacious with it's own balcony, which is ideal for drying wetsuits! Rooms can be upgraded to single supplement for £300.
We first visited the area in January 2008 and still don't think there is a better place in the world for beginners, improver or those looking to learn tricks and freestyle, the conditions are unbelievable.
With the political situation back under control again and Egypt being deemed as a safe country (it's probably safer than London at the moment!) we thought it's the best place to visit during the winter months on short haul and within a budget.