Solo Self Launch & Land Strap
Use the Solo Self Launch & Land Strap to safely launch and land your kite unaided.
We really rate this product as the best way to get your kite in the sky or back on the beach without assistance. We'd always recommend a second person as the first option but if that's unavailable then this is next best.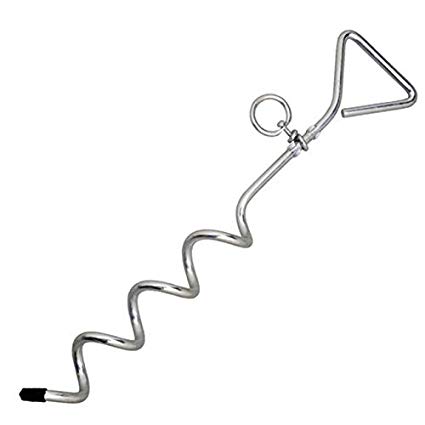 Find a secure place to attach the leash, a post, groyne, sign post or even your kite bag full of sand/stones. We've found one of these dog lead anchors works perfectly for the solo self launch & land strap.
At Camber we will be creating a self launch & land attachment point this can be used with on the first sand bank away from hazards – keep an eye out for it so you can safely launch & land if alone. It's directly in front of the centre.
The Solo Self Launch & Land Strap comes in 2 options, with or without the safety leash attachment hook. We sell both of the models but for us there is only 1 safe option worth looking at – with the safety leash attachment hook. This means that not only your chicken loop is help (like it would be on your harness) but there is a line attached to the safety leash as well (as your leash would be) so if something goes wrong with the launch, you can still activate the safety system and bring the kite down quickly and safely. It's 5 quid extra but might come in handy one day!
Technical information
Never feel without instant support on the beach. Whether you're launching your kite alone, last onto the water or first back on the beach and needing assistance to land your kite, then look no further than the Solo Strap, the original self-launching anchor.
You can now fly solo knowing that your kitesurfing 'Solo Strap®' is your kite buddy on the beach ready when needed for self-launching or self-landing a kite. Launch or land your kite with confidence and safety. Say goodbye to self-launching across shells, rocks and other beach debris – the biggest cause of those frustrating canopy tears and pin-hole bladder punctures.
The 'Hands Solo' is the go-to self-launching kite strap has been designed for anyone who likes to be the first onto and off the water.  The original 'Hands Solo' kite self-launching strap comes with the quick-connect carabiner on the one end, bungee section and large loop at the other. It also has the stainless steel ring should you later want to add the additional 'Leia' safety leash.
Planning on landing in a different place to where you launched? No problem, use it to self-launch and then take it with you. Clip it around your waist for those down-winders when an emergency tether might come in handy during a self-rescue.
You can also use the kite strap as a tow rope to help a fellow kiter in need. Connect it to your board when performing an emergency deep water pack-down. This will leave your safety leash available to protect you in the way it was designed.
The Solo-Strap is super light too (165g) so won't break your luggage allowance. Simply loop it, clip it, and you're away.
Recommended for quick self-launching and self-landing. The kite buddy in your kite bag.
Bungee with a Purpose:
The tension in the bungee section by prototyping in 10 – 35 knots winds, anchoring to fence posts, bull bars, rock platforms, coconut palms, sandbags & even driftwood.
Water Resistant Coating:
Our super strong webbing is coated in a water-resistant film to minimise deterioration in the sun and water. This should also reduce colour fading by the sun.
High Grade / Low Weight:
High-grade aircraft aluminium carabiner for strength and light weight. The tensile strength of the aluminium carabiner is 2200kgf.
Built For Performance:
Tested in locations such as Dakhla, Preá (Brazil) and the Caribbean (and now Camber Sands!) in wind ranges 12–35kts, using kites from 3m–17m. This has helped refine the length of loop and strap as well as the resistance of the bungee element.
Available in 3 colourways (we suggest the bright ones so you don't lose it!)