View basket
"Airush handle pass kite leash – long" has been added to your basket.
Sale!
Half Price
£699.00
Increased level of performance for Flatwater lightwind and strapless riding.
Description
2015 Airush Slayer V2
Discipline: Lightwind Strapless
Based on the success of the innovative Slayer, the Airush Slayer V2 was developed to offer an increased level of performance for Flatwater lightwind and strapless riding.
For the Slayer V2 we have worked to enhance the maneuverability, stability at speed and "throw around factor" in the air. This is achieved through greatly reducing weight and volume, new fin positioning and new lower aspect fins designs. A larger grab rail and new deck pad makes the Slayer V2 even easier to jump and flip.
Comes with inserts in the base giving you the option to fit a hydrofoil mounting plate making the Slayer V2 a super universal board for all conditions………lightwind, waves and flat water
Sizes:
54×155 cm 24L | 58×165 cm 27L
Board Features:
Unique Step bottom creates dual planning surface.
Strake Nose improves carving.
Set up:
The Airush Slayer V2 complete complete with fins and deck pad.
Option to add adjustable foot straps as well as hydrofoil mounting plate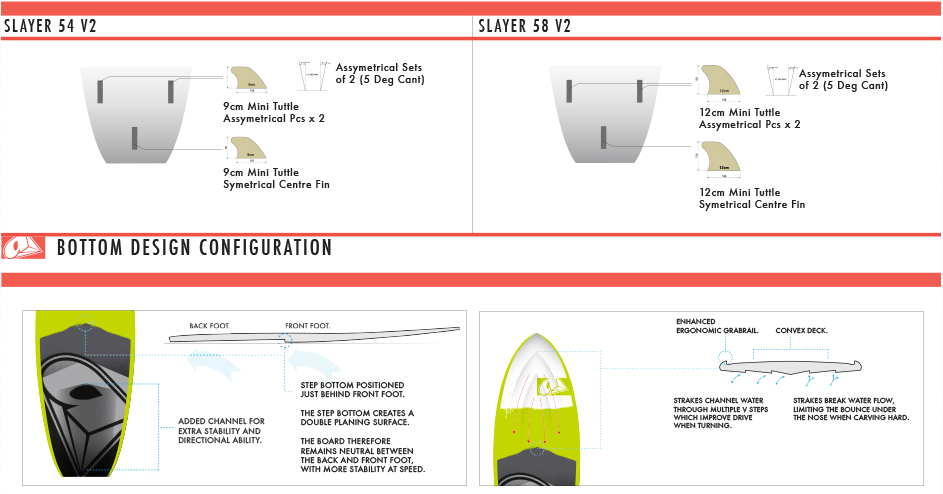 Performance:
Tips and Tuning
The Airush Slayer V2 was inspired by the Airush Sector series.  The board that started the widebody revolution which has grown into something much larger than straightline freeride or racing.  The Slayer has taken many of these Sectors attributes to something that is lively, snappy, and fun to play with while still being able to ride in such lightwinds.