£579.00
Smooth, comfortable, and playful. Easy to manage freeride board great for riders starting out.
Description
2019 Airush Switch Core kiteboard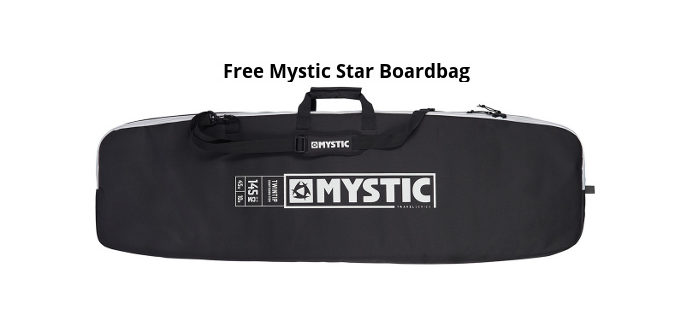 The 2019 Airush Switch Core is one of Airush's most popular boards and we're a fan of it too. It's on our go to list of freeride boards that's great for carving around, smooth though chop and responsive enough when you want to load it for jumps. A great allrounder for beginner to intermediate riders.
SWITCH CORE
Ultimate freeride machine.
Smooth cruising full flex tips.
Cross Bracing technology.
The longest running board model in kiteboarding history, the Switch is the ultimate and most refined freeride machine. Recent significant changes in the 3D deck contouring has improved the flex characteristics for excellent comfort and weight reduction which gives this board a smoother and livelier riding experience.
The Airush Multi-zone Biotech Construction is a vertical Paulownia wood core sandwich; this multilayer construction creates a consistent density from the natural material. This core construction allows us to design the boards with a broad thickness variance throughout the deck. The Flex Tip technology featured on our Switch range orients the board's stiffness through the center between the rider's feet. This increases  stability under foot while allowing the tips of the board to flex freely which results in an ultra-smooth and comfortable ride.
The cross-bracing technology supports the flexible tips from over flexing, which increases durability by orienting composite tape diagonally across the tips of the board.
All new refined and redesigned 3D shape
Centralized stiffening
2.0 ABS Reinforced Inserts
Full-flex tip technology
New Large sizing
Updated Fiberfil Fins for 60% Increase in strength
Matte PBT Base for improved scratch resistance
AR GLASS
THIS CLASSIC LAYUP FOUND ON THE SWITCH AND SWITCH PROGRESSION IS FOCUSED ON DURABILITY AND RESPONSIVENESS, ENSURING A PERFECT COMBINATION FOR FREERIDING NEEDS. THIS CONSTRUCTION IS SIMPLE YET EFFECTIVE FOR SOFT, EASY AND FORGIVING RIDING.
MULTIZONE BIOTECH CORE
THE AIRUSH MULTIZONE BIOTECH CONSTRUCTION IS A VERTICAL PAULOWNIA WOOD CORE SANDWICH. THIS MULTILAYER CONSTRUCTION CREATES A CONSISTENT DENSITY FROM THE NATURAL MATERIAL. OUR WOOD CORES ARE RENOWNED FOR THEIR RESPONSE, DURABILITY AND SMOOTHNESS, AND ARE COMBINED WITH A VERSATILE COMBINATION OF LAMINATES DEPENDING ON EACH MODELS REQUIREMENT, FOR ALL-ROUND PERFORMANCE AND DURABILITY.
FLEX TIPS
THE FLEX TIPS AND CONTINUOUS ROCKER LINE ALLOW FOR A RESPONSIVE AND SMOOTH RIDE IN CHOPPIER AND HIGH SWELL CONDITIONS.
ABS REINFORCED INSERTS & RAILS
NO MORE PULLED OR BROKEN INSERTS FROM HARD LANDINGS OR CRASHES. FEATURED ON ALL AIRUSH BOARDS, THE ABS REINFORCED INSERTS CREATE THE ULTIMATE AMOUNT OF DURABILITY ALLOWING YOU TO RIDE WITH BOOTS OR STRAPS.
FREERIDE ORIENTED
THE ULTRA-FLEX TIP SHAPE AND NARROW TIP OUTLINE FOUND IN THE SWITCH & SWITCH SONIC RANGES IS DESIGNED TO GIVE THE MOST FORGIVING AND SOFTEST RIDE IN OUR RANGE.
CENTER SPINE: REDUCED STIFFNESS AROUND THE TIPS TO MAINTAIN A HIGH LEVEL OF STABILITY UNDERFOOT TO PREVENT UNWANTED DISTORTION.
VENTURI CONCAVE: INCREASED PLANING ABILITY, ALLOWING FOR A MORE USER-FRIENDLY, FORGIVING, RIDE.
FREERIDE OUTLINE: WITH EXTRA CURVE ALONG THE RAIL, HAVING THE TIPS NARROWER IN RELATION TO THE CENTRAL WIDTH ALLOWS FOR SMOOTH CARVING AND EASY RAIL TO RAIL TRANSITIONING.

FREERIDE CONTINUOUS ROCKER
THE FREERIDE ORIENTED ROCKER THAT DELIVERS THE IDEAL BALANCE BETWEEN CONTROL, EASE OF PLANING AND SMOOTH TRANSITIONING FOR THE ULTIMATE FREERIDE EXPERIENCE.
FMS RATING 6.5/10
AIRUSH INTRODUCED FMS RATING 6 YEARS AGO AS THE FIRST BRAND TO QUANTIFY HOW MUCH A TWINTIP FLEXES. A LOWER RATING INDICATES A SOFTER BOARD WHICH IS MORE SUITED TO FREERIDE WHERAS HIGHER RATED STIFFER BOARDS ARE MORE SUITED TO FREESTYLE.