Sale!
Best Deal
Description
Duotone Evo 2019 Full Equipment Package
Duotone Select Board complete with Vario combo straps & pads, Trust Bar & lines, leash Pump, kite and kite bag!
Huge discount up to £500!!
Duotone Kiteboarding have come out with amazing value packages to get you out on the water with great savings over individually bought items and this Evo package is a fantastic all rounder kite suited to all levels in all disciplines!
What is included:
10m Duotone Evo kite 2019
Duotone Evo kite bag 2019
Duotone Select 138 x 41 complete with Vario straps & pads, handle & fins 2019
Duotone Trust bar & lines 2020( Quad or 5th Element)
Duotone kite leash
Kite pump
Repair kit
Manual
2019 Duotone Evo!
Are you ready for the EVOlution? The best all round kite on the market, now in a three strut format!
The EVO is a hugely popular kite for Duotone Kiteboarding, with exceptional hangtime and huge boosting capabilities.
For 2019 the EVO was completely redesigned, taking the great DNA from the previous models and using all our knowledge to create a truly fantastic delta shaped kite. The goal was to keep the incredible upwind performance and huge jumps with floaty hangtime, but also to make it easier to fly.
Removing two of the struts took some of the stiffness out of the canopy and improved the handling of the kite. It also reduced the bar pressure which makes it an easier and less demanding kite to fly. With easy sheet and go handling, and incredible relaunch, huge hangtime and blistering performance is within easy reach for every kiter out there.
The EVO is also exceedingly versatile, so if you are looking for a kite that can boost to the moon, handle the latest freestyle tricks and tow you into some amazing waves, the EVO is it!
DELTA KITE
NEW 3-STRUT DESIGN
4 AND 5 LINE SETUP
BEST ALLROUNDER OF THE RANGE
EASY WATER RELAUNCH
POWERFUL LIFT AND HUGE HANGTIME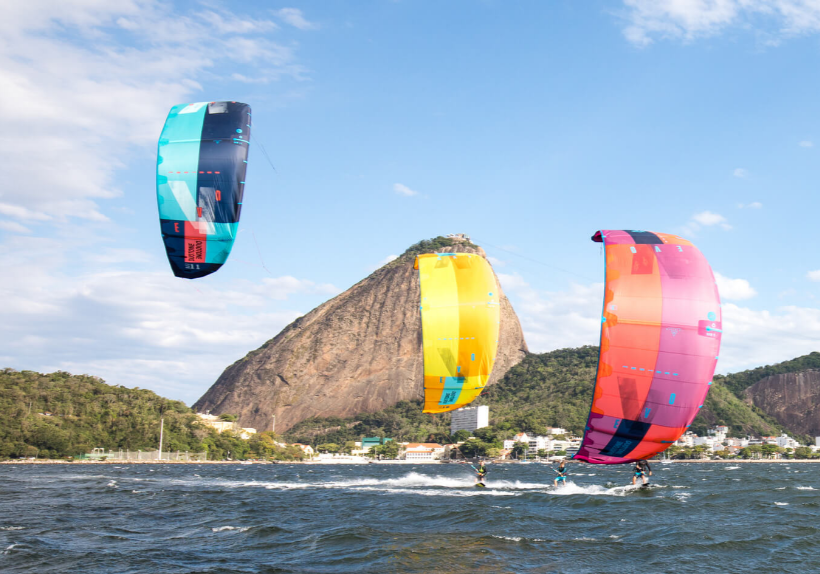 2019 Duotone Select
A soft flex achieved with the brand new Space Flex Technology makes the board comfortable and forgiving to ride even in the roughest of seas. Grab rails assure you will always get the right grip on your board no matter in which situation. The Step Mono Concave shape on the bottom increases the grip and upwind abilities of the board while weight is reduced thanks to the Carbon Beam, which also improves the responsiveness of the ride. Just as much fun in the waves as it is flying through the air or cruising upwind the Select is an all-rounder that will make you look great on the water, whatever your style!
KEY FEATURES
SPACE FLEX TECHNOLOGY
NEW SPACE FLEX TECHNOLOGY, TO SAVE WEIGHT, GAIN COMFORT AND PERFORMANCE.
CARBON BEAM
THE CARBON BEAM CONSTRUCTION GIVES A BOARD MORE DYNAMIC FLEX FOR BETTER POP AND THE SAME DURABILITY BUT WITH 10% REDUCED WEIGHT.
PREMIUM CONSTRUCTION
THE PREMIUM CONSTRUCTION GIVES A BOARD A FASTER AND EVEN MORE PROGRESSIVE FLEX FOR BETTER POP AND REDUCED WEIGHT.
SOFT FLEX
THE SOFT FLEX GUARANTEES A COMFORTABLE RIDE IN ALL CONDITIONS.
STEP MONO CONCAVE BOTTOM
THE FASTEST AND EASIEST TO RIDE BOTTOM CONCEPT. IT CAN BE CARVED EASILY THROUGH TURNS AND ALWAYS DELIVERS THE RIGHT GRIP. IT PLANES EARLY, ALLOWS SMALLER FINS AND HELPS TO GO UPWIND WITH EASE.
GRAB RAILS
GRAB RAILS FOR EASIER BOARD OFF MANOEUVRES AND COMFORTABLE GENERAL HANDLING.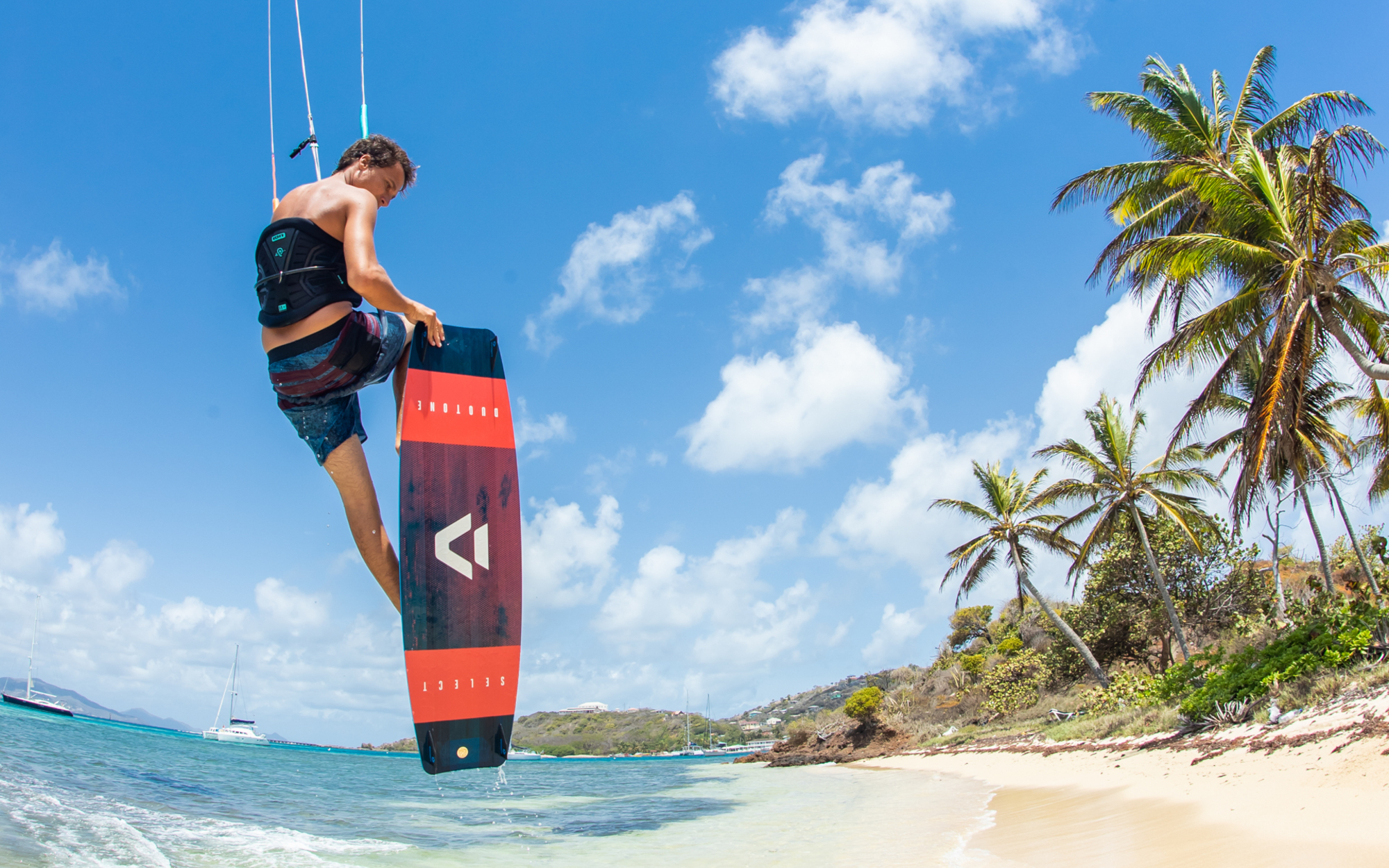 BOARD FEATURES
SPACE FLEX TECHNOLOGY

Space Flex adapts to the waters surface and enhances all turning characteristics.Stiff outside frame coupled with the soft tips creates smooth water release and early planing. Reduction in swing weight facilitates easier tricks and faster rotations.
STEP MONO CONCAVE

The Step Mono Concave is the fastest and easiest to ride bottom concepts. It can be carved easily through turns and always delivers the right grip. It planes early, allows smaller fins and helps to go upwind with ease.
GRAB RAILS
Grab Rails for easier board off manoeuvres and comfortable general riding.
TORSION FLEX

The special shape of the 3D cap allows torsion of the long axis of the board. This gives them more grip on the heel-side edge, rich and smooth landings, a direct drive and better upwind performance. Invented by Duotone.
PREMIUM CONSTRUCTION

The Premium Construction boards Jaime, Select and Soleil feature Carbon Beams, where parts of the glass fibre are being replaced by unidirectional carbon beams to noticeably improve the boards performance. This results in a faster and even more progressive flex for better pop and reduced weight.
SOFT FLEX

Soft Flex boards are the most friendly and easy to use boards in our range. The Soft Flex option is forgiving and simply fun to ride, even if you are an inexperienced rider. However, the Soft Flex option is also suitable for more lightweight riders.
2019 Duotone Trust bar & lines with freeride chickenloop & leash


For 2019 the excellent Trust Bar has some new features while retaining some of the superior functionality that makes this one of the best 4 line bars on the market.
The industry leading Iron Heart V safety system makes a welcome return; it has been enhanced with the addition of the Suicide Ring III. This new ring allows you to set up a suicide system while keeping the ring and the leash up and out of the way of the chicken loop. This increases your ability to quickly hook in and out after freestyle tricks.
For 2019 there wont be a separate 5th Element bar as before. Instead, you can purchase a 5th Element upgrade kit and turn the Trust Bar into a 5 line set-up.
 
EVA cushioned winding post with flip-flop function for easy width adjustment 
Integrated backline adjuster to trim lines
Vario cleat and sliding stopper for easy height adjustment
Fully integrated EVA floater to protect lines and rider
Exchangeable plastic centre hole insert
Moulded EVA floater for safety leash prevent line tangling
Single front line safety on Quad control
Push pins for Flip Flop function
Huge depower and absolute safety
Compatible with any 4 line Duotone or North kite or older