Wakeboarding Lessons and powerboat hire in Kent & Sussex on the south coast with British Water Ski & Wakeboard instructors.
We offer wakeboarding lessons for all abilities, from beginner to advanced.  The lessons are run either at our wakeboarding club on the wide River Rother in Rye or if the conditions are suitable, in the huge Rye Bay at Camber Sands beach.
The sheltered area behind the large harbour arm offers the flat water that all wakeboarders are looking for.
Learning to wakeboard is an ideal step to improve your kitesurfing skills as the sports crossover perfectly, the board control is almost identical.
Beginner lessons
Duration – Half day                Max people – 4                    Cost – £99
The beginner lesson is an ideal introduction into the sport of wakeboarding or to help with kitesurfing board starts. Beginning on dry land to cover the basics and principles behind the sport but swiftly moving into the water after a safety breifing.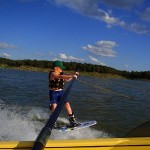 We begin with the training boom from the side of the boat, this allows fast progression while in close contact with the instructor.
Working in a small group allows a break between each go and keeps the lesson running smoothly.
Dependent on each individual the lesson then moves from the training boom to the line behind the boat. The sessions aim is to perfect the waterstart and start to introduce carve turns.
A minimum of 2 people is necessary to run the course.
The boat – rent it for the day?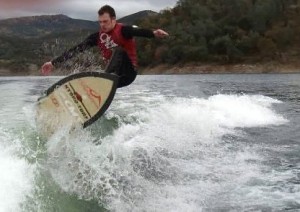 We use an Avon Searider 5.4m with double flooding hull for maximum stability when stationary but more importantly larger wake when in use.
Zero off speed control, high wakeboard tower and tow point, navigation and spotlight for night sessions, state of the art safety equipment, VHF, first aid, dry bags and full sound system.
High A frame and performance props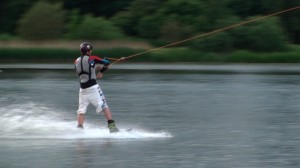 Any experienced wakeboarder or skier knows a high tow point on the boat makes an enormous difference when learning to waterstart, jump or perform tricks. We've custom built ours and extended it to an enormous 2.3m high to enhance this feature further and help with progression.
The propeller has also been upgraded with a Laser 2 high torque performance prop. This helps with low down acceleration which aids board starts especially when the boat is laden with spectators.
Party Island and sound system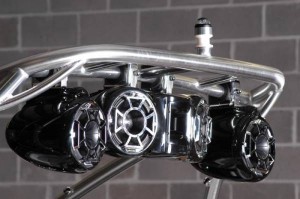 Our boat has a built in waterproof sound system to pump out the tunes. Feel free to bring an i-pod to plug in and make your day. We also have inflatable party islands which can be used to chill out on in the sun while between rides.
Ringos and inflatable toys
If you're down for the day we can incorporate ringo rides and inflatables (weather dependent)
 Boat rental
If there is a group of you perhaps out for a day of fun or on an organised stag / hen party / corporate day, then why not rent the boat and driver / instructor for the day. It's then your choice as to what you want to do – high speed rides, wakeboarding, inflatable toys, offshore swimming, coastal tours, fishing etc:
Do all this for just £599 (including fuel) – maximum 5 people per boat