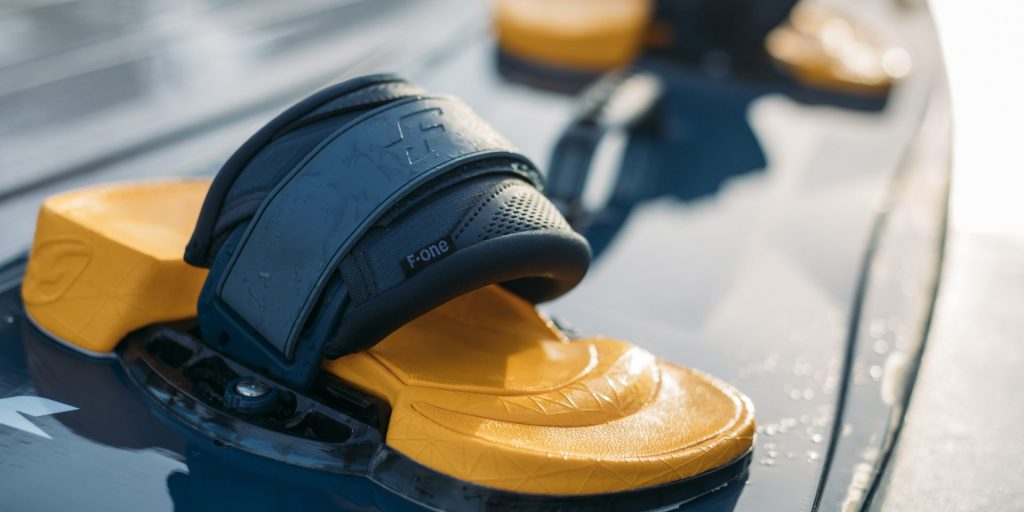 It's important to consider what design of bindings will best suit your riding style and anatomy. These are your link with the water, and so you want to get it right to ensure that you have good security and comfort without sacrificing too much flexibility. We hope you enjoy reading this bindings buyer's guide.
There are three styles of bindings; footstraps, boots, and pads. Let's look into the different types in more detail.
Footstraps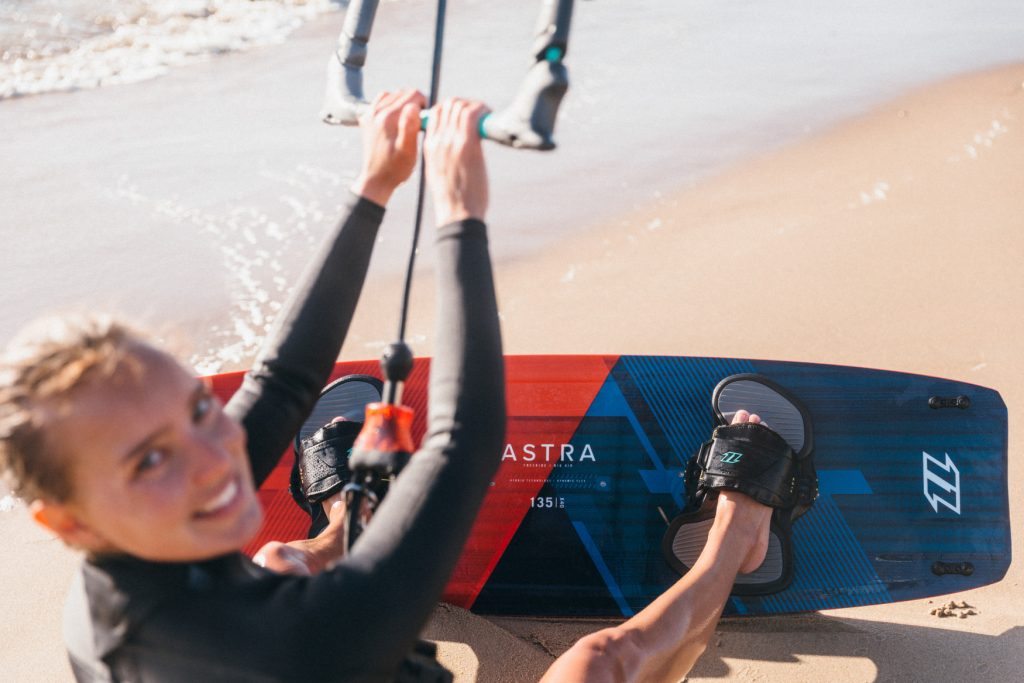 As the name suggests, footstraps secure the feet to the board with a comfort pad that has an adjustable strap to secures the foot. These have the advantage of retaining your foot securely on the pad. As such, they make the best choice if you're learning, or if you're looking to get into tricks and jumps, typically on a twintip board. We recommend footstraps for beginners of all riding styles.
Footstraps are great for
All styles of twintip riding, including freeride and freestyle.
Riding with big jumps. This can be done on all styles of board, including surfboards and hydrofoils.
Beginner wave riding. Straps assist water starts and build muscle memory for correct foot placement. Some riders will use only a rear footstrap. This gives good assistance for waterstarts whilst enabling front foot flexibility for exploring dynamic riding. Others will use have both front and back footstraps for a planted stance.
Hydrofoiling. Beginner foilers often put a footstrap on the front. Again, this assists with water starts, whilst ensuring riders can adjust their weight by moving their back foot forwards or backwards, and side to side when jibbing. For jumps and tricks, two pads are requited to keep the board on your feet.
Adjustment
All footstraps have a good range of adjustment to suit all stances and riding styles. Flexible installation options enable pads to be installed near the toe or heel edge, and they can be angled towards or away from each other. Easy to adjust velcro straps ensure that all foot sizes will fit.
Comfort
Footstraps comprise a moulded foam pad that sits in a plastic frame. Various pad profiles are available, and the best way to know which is best for you is to try it on. Variables include arch and heal support. Some designs come with inserts for more comfort options.
Absorbancy
Softer pads are more comfortable for choppy conditions and landings from jumps. Harder compounds offer more 'feel' with the board; great for responsive pop when performing tricks.
Sizing
One size fits all.
Boots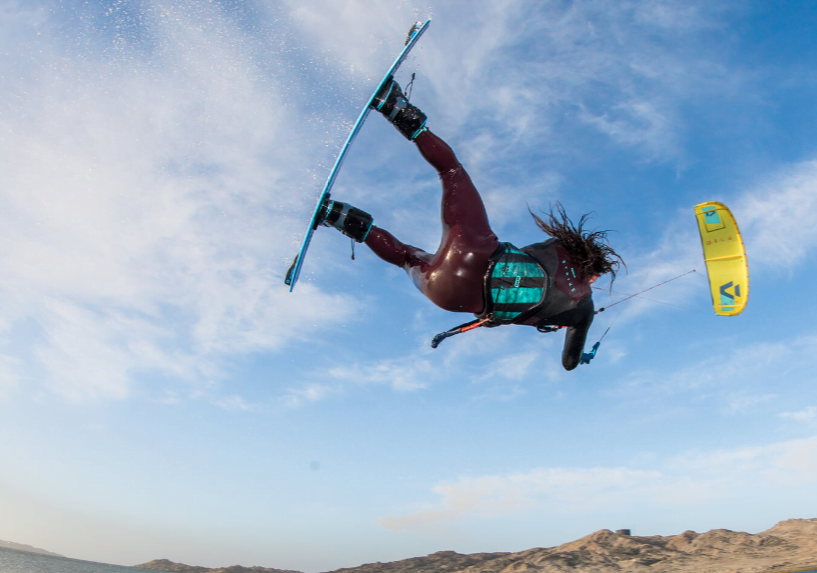 Much like those on a snowboard or wakeboard, boots securely fix a rider to their twintip; the only way to detach yourself from the board is to undo the boot straps. These entered kitesurfing disciplines from the wakeboarding fraternity, and have found favour with free-stylist who enjoy the benefit from a board that's not going to fly off when spinning around and going upside down. Being able to dispel the board quickly can be an asset; if the board gets caught on the sea bed whilst riding in shallows, for example, so these are not recommended for beginners. Furthermore, boots effectively disable the ankle joint, making it harder to alter tack, ride upwind, and land jumps comfortably. We recommend boots for intermediate and advanced riders looking to get into aggressive styles of twintip riding.
Boots are great for
Freestyle tricks. A board that is securely planted to your feet is more likely to remain there. This often gives riders more confidence to try out new tricks, especially when unhooked.
Holding down more power. Some riders like to ride with more power, making jumps higher and tricks ever more elaborate. The extra support enables riders to perform with bigger kites and more power.
Flexibility
Different designs offer varying degrees of flexibility. Greater flexibility provides improved upwind ability and forgiveness when landing jumps. Stiffer boots enable riders to hold down more power, and provides more feedback from the board for an ultra responsive ride.
Sizing
Boots either come in UK or European shoe sizes.
Pads

These are plastic foam moulds that adhere to the middle and back of the board. Some riders choose to have them at the rear of the board only, whilst using surf wax for the middle to front area. Pads provide both grip and profile that enables riders to apply their weight and the power of the kite in a desired way. They are typically the choice for intermediate to advanced riders whom have developed good technique as they offer flexibility over security. That said, many designs accommodate for straps, making them a great choice for beginners looking to get into strapless riding.
Pads are great for
Surfboards. This dynamic riding style requires lots of weight shifting; carving along waves, and the need to turn the board around when changing direction involves intricate foot work that is favourable with a grippy and uninterrupted board area. The addition of a single footstrap can help with board starts when learning.
Hyrofoils. Due to their efficiency and lighter pull of the kite, hyrdofoils work well with pads. Correct weight placement is important to ensure a balanced ride on the foil, and so a clear deck is favourable to ensure nothing gets in the way of moving feet. This also applies when turning the board around on a jibe. Like surfing, a single front strap is advised for learners.
Profile
Some designs have a raised lip at the back, (AKA tail kick), that help riders to bring their weight forward and push the rear into the water. This helps with a forward weight distribution when dropping into a wave, and popping the board for some trick air time.
Absorbancy
Thicker pads offer good shock absorbance when landing tricks and riding choppy waters. Thinner pads give a more responsive ride.
Grip
There are many grip profiles to choose from. Deeper formations tend to favour booties for winter riding, whilst shallow profiles offer greater comfort.
Sizing
One size fits all.
That's a wrap on the three types of bindings available. We hope you've found our bindings buyer's guide helpful. Please give us a call if you wish to discuss your options in more detail; we especially advise this if you are ordering online.