We teach kitesurfing, land buggy lessons and stand up paddleboarding on the South East coast of England.
Not only are we the only licensed centre directly on the famous Camber Sands beach (our main teaching location) but we also teach at Greatstone beach a ten-minute drive from Camber. 
What does this mean for you? It means that we can teach in almost every single wind direction the forecast can throw at us! Meaning far less chance of your lesson being cancelled.
We review the forecast the day before your lesson goes ahead and will send you a text letting you know if it will be held at Camber or Greatstone so that you can arrange suitable transport options.
You will need your own transport to get to both of our locations as we cannot offer a lift so please check you can get here if your lesson is in Camber or here for Greatstone lessons easily before booking.
It's no secret that the beaches we use are the best and most popular kitesurfing beaches on the south and east coast. Offering miles of sand, world class wind stats, shallow seas and safe conditions, they are perfect for learning and progressing in kitesurfing.

---
South Coast Weather
Due to the nature of our sports, the weather is very important and we rely heavily on Mother Nature.
We chose Camber Sands as our location because the wind statistics are extremely good with over 90% of days between March and November usable for lessons – stats matching any worldwide location and the best along the entire south and east coast. The UK's newest wind farm behind our centre reinforces our decision.
The low lying open Romney Marsh helps produce fantastic thermal sea breezes in the afternoons, this can mean that on a forecast showing no to light wind we can actually get anything from 15 knots+
The prevailing wind comes from the southwest direction and originally from the Caribbean. It's ideal for beginners, being smooth, warm and in a safe cross-onshore direction.
---
Wind Directions for our spot
---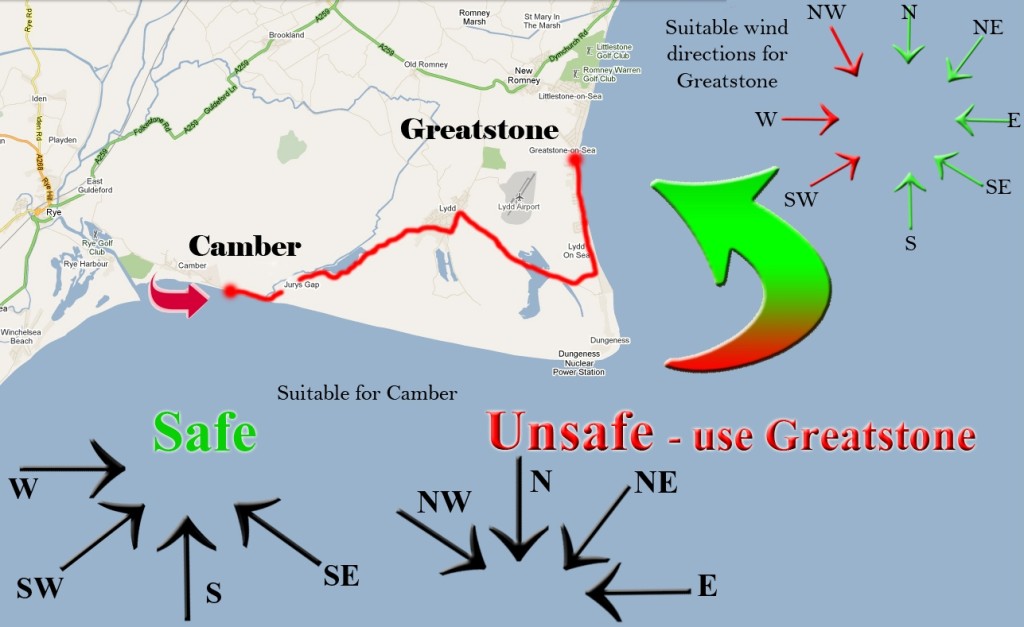 Click to enlarge
---
Wind and Tides
The internet is the most useful and accurate forecasting tool as it is constantly being updated, in the footer of this website there is a 'Weather & Tides' image which takes you to a page with all the information you need to plan your session, Live weather, Tide timetables and Wind forecast
These are the guidelines regarding kite sports on Camber sands which are also displayed on our centre in the Jury's Gap car park.
Safety at our kite spot:
It is advised that you have 3rd party liability insurance to fly your kite, this can be obtained via the BKSA membership
Keep inside the restricted zone at the eastern end of the beach. Indicated by the black and white kite zone flag and sign 100m at the end of the Broomhill Sands car park, and the red flags about 800m to the east on the edge of the MOD land – see image below
Avoid kitesurfing 2 1/2 hours either side of high tide to avoid hidden groynes
Never launch or land your kite when a member of the public is walking down wind of you. Wait until they have passed
Never launch and land your kite in between the groynes, carry it to the water's edge to minimise time flying it on land. If you are new to the sport, launch your kite while standing in the water
All kites must have an effective safety system and a leash
Kitesurfers who cannot maintain a course across wind should practice downwind of the main crowd
Kites that are not in use for a length of time must have the lines wound up and moved in between the groynes. Kites and lines must not be left out across the path of other beach users
Assist other flyers with launching and landing their kites
When standing on the water's edge keep your kite low to allow other kitesurfers to pass
Never kitesurf in offshore winds
If you are unsure of the conditions do not go out
---
Rules of the road:
When passing, the upwind rider gives way to the downwind rider by raising their kite to allow the downwind rider to pass underneath. The downwind rider must also lower their kite for safe passing
The starboard tack rider (right leg leading) has right of way over the port tack rider(left leg first)
Maintain a downwind buffer zone when jumping and performing tricks
Always look behind you before starting any manoeuvre or turn
You must give way to riders entering the water
---
Safety Information for spectators and other beach users:
Be aware of the kite flyers in this area of the beach
Always stand behind the kite flyer when spectating, kite lines can be very harmful under tension
Bathers must take extreme caution when swimming in this part of the beach
Kite flying can be dangerous, if you are interested in taking up the sport, have lessons