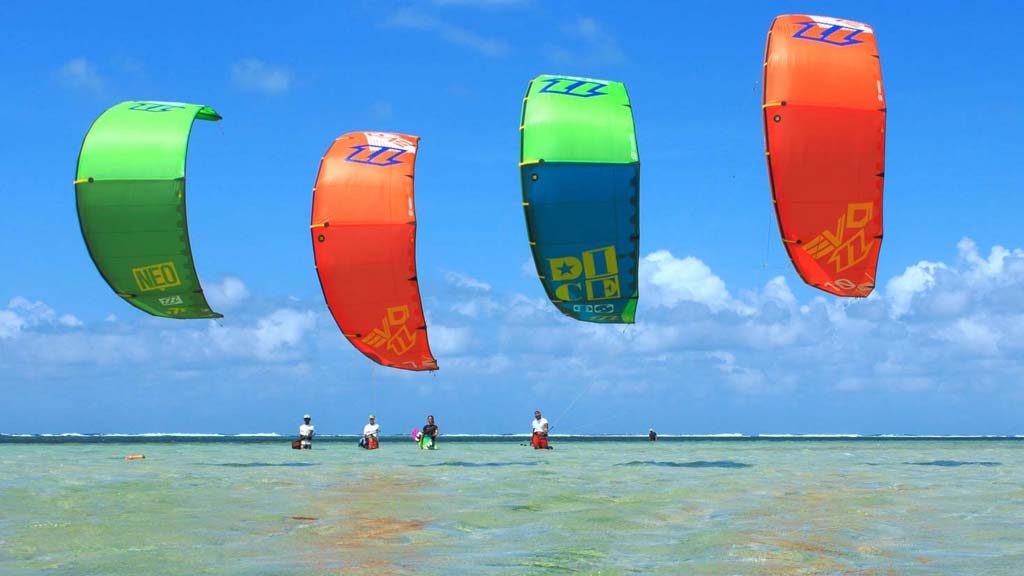 First off…
We hope you enjoy reading this kites buyer's guide. Choosing what kite to buy is a lot like choosing a bicycle. The first thing to ask yourself is, what style of riding do you want it for? All manufacturers have a host of design feature to play with that tailor a kite for a certain discipline.
Aspect Ratio
For example, the width of the kite in relation to its length. This is known as the aspect ratio, and it is the most fundamental metric that designers use when considering how a kite will perform. There are also two kite types used in kitesurfing. The most numerous is the Leading-Edge Inflatable, or LEI. These are inflated via a pump to provide shape and buoyancy. A more recent development, the second, is the foil kite. These came over from the landkiting fraternity, and favour light wind conditions that make it superb for hydrofoiling. Plenty to think about! First off, ask yourself some questions.
What riding style do I want to pursue. Wave riding? Freestyle, or foil? Brands compete through innovation. A constantly evolving market brings forth new designs and riding styles.
What conditions are available to me. Light winds? Big waves? Deeper waters? Understanding your local conditions will help you choose a setup that will ensure you get the most out of your time and gear. For example, light wind kites have enjoyed considerable development in recent years, and are now a viable option for less windy locations.
What is my budget? This can help narrow your search. A well-developed second-hand market offers a great source of gear for those on a tight budget, whilst manufacturers offer the latest in R&D at higher prices.
The best approach to choosing a kite is to consider which design suits your choice of riding, so let's take a look at the main disciplines, including the pros and cons of each kite, and further considerations.
Freeride/learner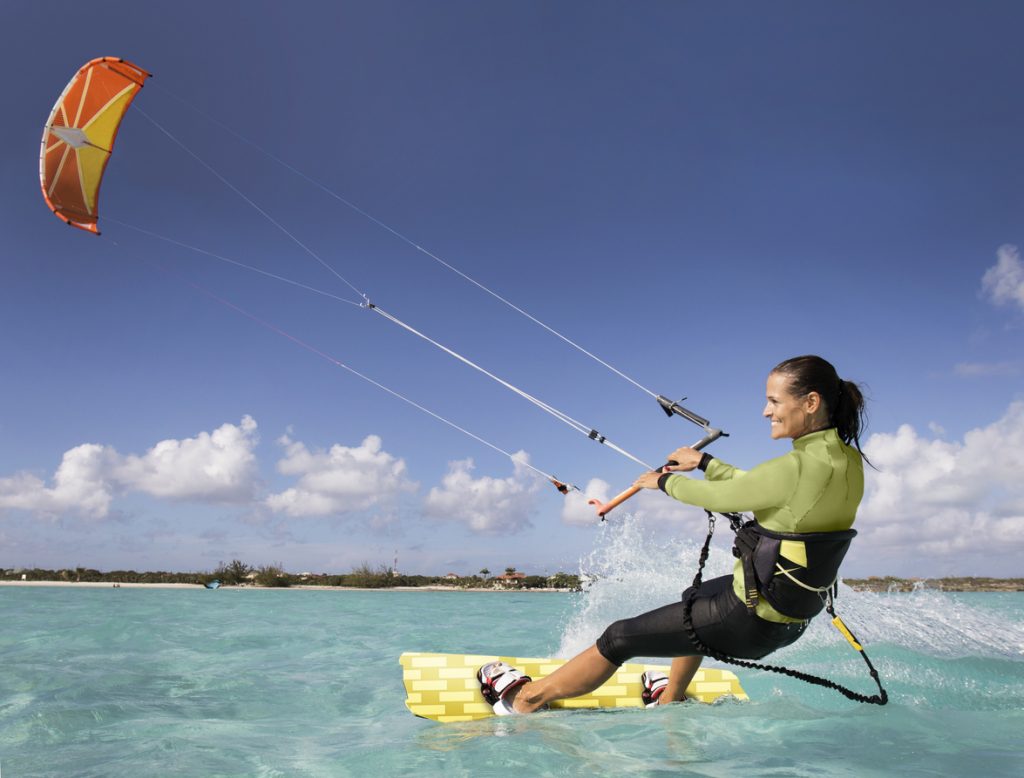 A logical place to start. Students tend to favour kites with swooping edges and deep canopies; once known as bow kites, now known as freeride kites. Their user-friendly design means that if a kite is crashed, it's easy to relaunch it. Furthermore, they have broad wind ranges, meaning that fewer kites are required for a specific range of wind speeds, whilst slower turning speeds provide more time for students to think about waterstarts and board stance. These kites have undergone recent complete re-designs to ensure they provide good performance once developing into other styles going forward. We recommend Freeride kites for beginners.
Pros
User-friendly
High wind range
Easy water relaunch
Great for jumps
Can be taken forward to other disciplines.
Good stability. Great for waterstarts
Cons
Slower turning
Reduced upwind ability
Further Considerations
For beginners, we recommend a kite that is compatible with the most common wind condition. This is typical ranges from 8 to 10 meters for UK conditions, dependent on rider weight.
Freestyle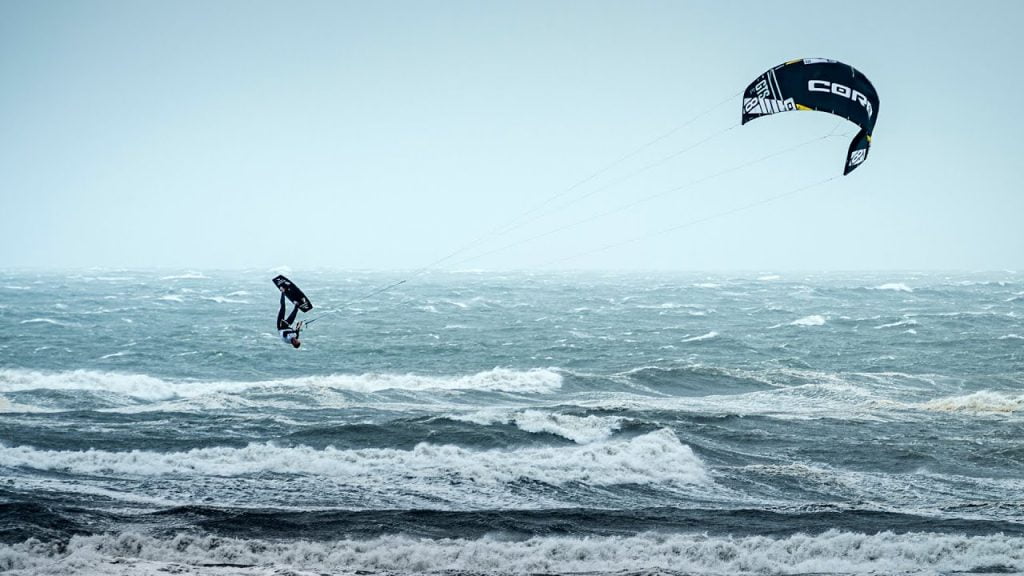 These kites are the opposite to freeride kites in design and performance. Their squared edges and thin canopies lend a speed and aggression that favours advanced and pro riders. Once called C-kites, they are known for quick turns, making them ideal for riders looking to get into a dynamic riding style that includes lots of tricks, such as megaloops and Big Air. They create pull by predominantly generating apparent wind. This means they perform at higher speeds, and are therefore not recommended for beginners.
Pros
High performance
Very responsive
Upwind ability
Many sizes available
Great for megaloops
Cons
Difficult water relaunch
Low wind range
Little power at low speeds
Further considerations
As Freestyle kites reduced wind ranges, you will need more kites in your collection.
To increase performance, designers often reduce the kite's front profile. They usually add a 5 line to provide additional support, so make sure you check that your bar and kite is compatible.
Wave Riding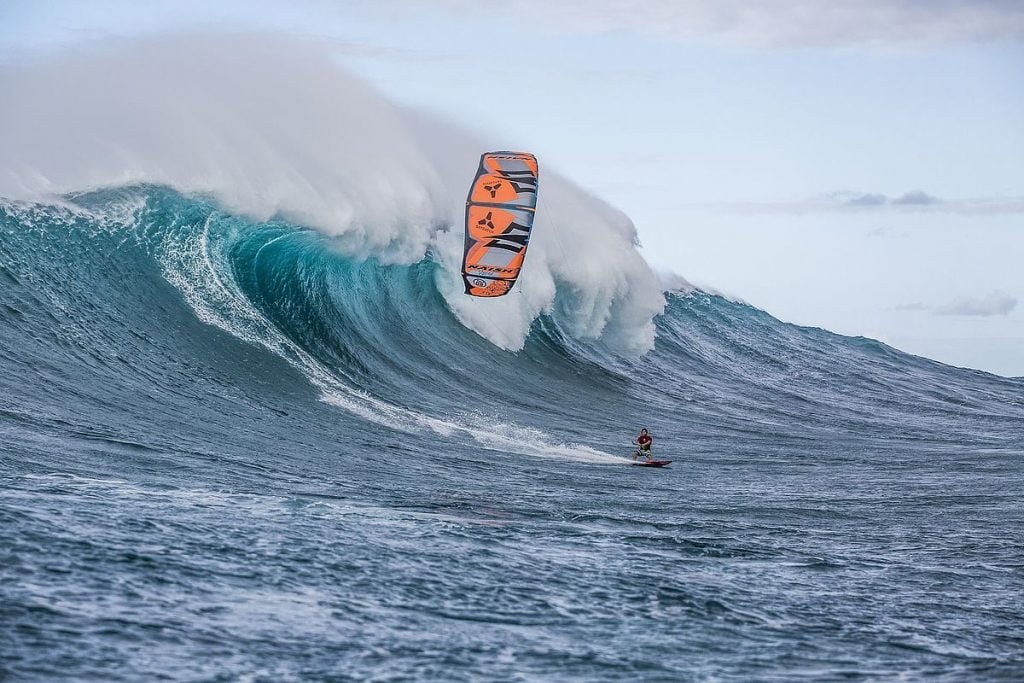 These are designed to maximise two characteristics; quick turns and good drifting. Wave riding is all about having the power when you need it, and switching it off when you don't. Quick turning enables them to pull riders onto waves, whilst their unparalleled drifting ability enables them to remain redundant at the edge of the wind window whilst the rider enjoys the surf.
Pros
Good drifting for wave riding/down-winders
Versatility. Good option for freeride also
Good agility for some freestyle
Cons
Low aspect ratio limits upwind ability.
Other Considerations
In case you decide to pursue another kitesurfing discipline, it's important to consider the versatility of your choice. Wave kites are a good example of this, as they cover many bases. They are like a freeride kite with enhanced drifting ability.
To get the most of your wave kite, you will need also to have a surfboard. Twintips are fun in the swell, but their lack of buoyancy makes it almost impossible to maintain a ride on a wave.
Light Wind Riding
There has been considerable R&D in light-wind kite design, this is in part spurred on by the development of light-wind boards such as the ground-breaking hydrofoil. It also makes business sense to develop technologies that enable a greater range of rideable conditions. As such, there are now two main choices of kites for light wind riding and hydrofoiling.
The Lightwind LEI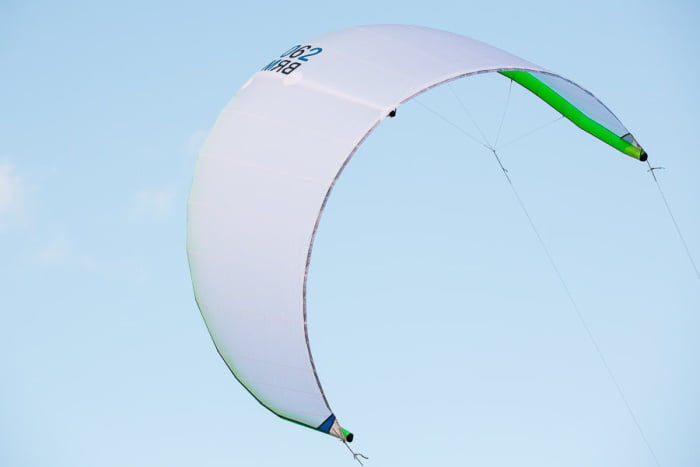 Reduced strut numbers, minimal hardware, and light-weight materials have combined to create kites that perform in light winds. These sails are simply designed to fill in where other designs are too heavy in light winds; a great choice for foiling and lightweight cruising. We recommend lightwind LEI's for beginners.
Pros
Optimal for light winds
Versatile
Simple design and minimal hardware
Good range of sizes
Cons
More fragile than most designs
Water relaunching is more challenging due to single strut
Canopy stability limits upper wind range use
Other Considerations
Learners favour light wind conditions. Although not as strong as other kites, these are a good choice for learners, as lighter winds are less liable to damage kites.
They also provide riders with a versatile kite once beyond learning.
Foil Kites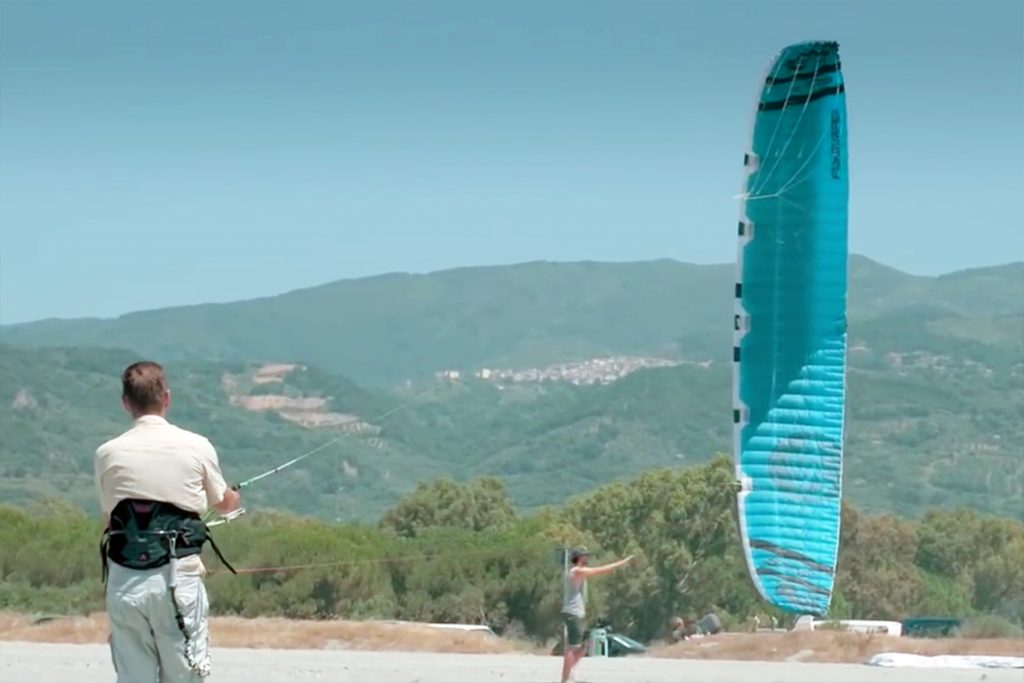 The ultimate choice for light winds, these kites don't rely on heavy hardware and thick materials to contain an inflated bladder. Rather, they utilise the wind to inflate cells that provide shape and rigidity. As such, they tend to float forgivingly when there is a lull, rather than fall from the sky like their LEI counterparts. These have found particular distinction in landboarding, landbuggying, and most recently, hydrofoiling.
Pros
Unparalleled lightwind ability
Forgiving when underpowered
Versatile on land and sea
Lofty. Ideal for complex procedures such as tacking
Cons
Expensive
Complex bridle system
Fragile
Slow turning
Other Considerations
Foil kites differ in their setup, flying characteristics, power delivery and safety. It's strongly advised to have a private lesson to go through the necessary techniques before you go it alone.
Make sure you pack these kites away fastidiously every time. It's easy for bridles to get tangled if they are bundled away into the bag, giving you a nightmare when setting up next time.
A Final Word…
Kites have evolved from over 30 years of R&D to ensure that their performance is optimal for your requirments. Make full use of this. This guide has taken you through the main considerations to make when choosing your kite. Our experienced staff can help you navigate the market to find the kite that best suites your needs, ensuring both progression and enjoyment for years to come. We hope you've enjoyed reading this kites buyer's guide.