Kitesurfing Lessons
The Kitesurf Centre offers BKSA & IKO kitesurfing lessons for all abilities, from complete beginner courses to advanced coaching with our professional instructors.
Everything included - Insurance and brand new 2020 equipment is included in all our kitesurfing lessons.
Small groups - Courses run along BKSA outlines with small ratios per instructor to focus on personal time,  progression & safety.
Highly experienced instructors - Hand selected and enthusiastic, fully qualified BKSA & IKO instructors.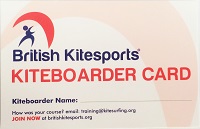 Progression - Customised courses for maximum enjoyment and progression.
Qualifications - All students receive a BKSA / IKO certificate and handout information pack at the end of your lesson.
Lesson duration - Long lessons,  we love to give you extra and courses often overrun - we finish when all is complete, you've had a fun session and a full go at everything, not when the clock says so.
Centre & safety - Beachfront centre with changing rooms, classroom, shop, safety boats & electric rescue boards.
1 Day Kitesurfing Lesson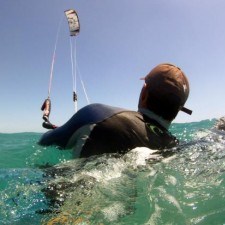 Course Duration: 6 hours total. Cost: £99 (£119 weekends) – All included + post course handout pack.
The one day kitesurfing course is aimed at complete beginners and a great introduction to the sport. Initially learning the fundamentals and kite control whilst covering safety, site assessments, and kite set ups, then moving into the water for body dragging and self rescue techniques.The course is 90% practical and brilliant fun!!!
2 Day Kitesurfing Lessons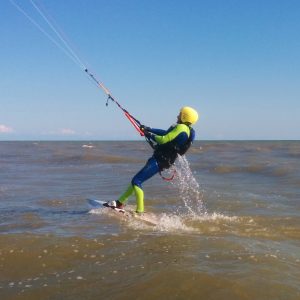 Course duration: 12 hours total.
Cost: £189 (£219 weekends) - everything included + post course handout pack
The two day course is aimed at complete beginners with the 1st day the same as the 1 day lesson (above). The second day of this course goes on to cover more complex bodydragging techniques, board starts and continuous riding while keeping the power in the kite. 100% practical and great as a weekend break. If you have completed a 1 Day course elsewhere or have flown power kites and covered body dragging previously, you are welcome to join this course.
3 Day Kitesurfing Lessons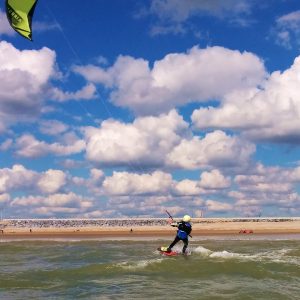 Course duration: 18 hours total
Cost: £279 (£299 weekends) - everything included + post course handout pack
The first two days of this course follow the same outline as the 1 and 2 day courses (above) and it then offers another full day on the board to really master the board start and go on to controlled edging, upwind riding and turns. If you're keen to take up the sport we recommend the three day kitesurfing lesson as it gives the time to become confident and independent.
5 Day Kitesurfing – Zero to Hero Course
Course duration: 30 hours total
Cost: £469 - everything included + course handout pack
Our zero to hero course takes you from a complete beginner to a confident kitesurfer able to continue the sport independently. The first 3 days cover a similar syllabus to the 1, 2 and 3 day kitesurfing courses (above) with the following 2 days moving on to advanced equipment tuning, detailed theory, board control in various conditions, turns and basic jumps.
Board Control - Kitesurfing Lessons
Course duration: 5 hours
Cost: £99 (£109 weekends) - everything included + post lesson handout pack
This course is aimed at kitesurfers that have already had some kitesurfing lessons such as a 2 or 3 day course and would like some more tuition to master their board starts and controlled riding. The lesson is 100% practical and the whole time is spent with the board.
Kitesurfing Coaching - Intermediate & Advanced
Course duration: 3-4 hours
Cost: £49
As well as beginner courses we also offer more advanced coaching sessions. Have you ever found that you come back from a session having just cruised up and down without trying out anything new? With an experienced coach by your side to push you and impart their knowledge to aid your progression you will improve quicker than expected! We run both intermediate and advanced coaching days.
Private Tuition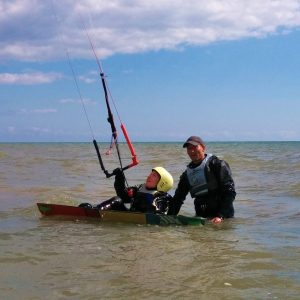 Course duration: Any length
Cost: £50 per hour (£60 weekends)
Private lessons for any level and any sport, have an instructor to yourself and learn at your own pace for maximum progression in the minimum amount of time. With high quality 2 way radios our instructors can give you real time tips and support even if you're an advanced rider kiting away from your instructor, and you can ask questions whenever you'd like rather than having to wait until you've ridden back to them.
Hydrofoiling Lessons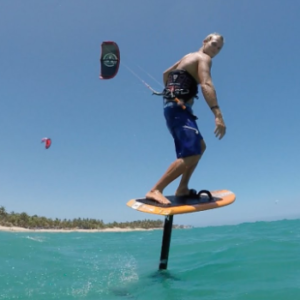 Course duration: 2 / 3 hours
Cost: 2 hours - £150, 3 hours - £225
NEW SINCE 2018! For the experienced kitesurfer looking for their next adventure, hydrofoiling lessons are perfect. Suitable for more advanced riders, with experience on a directional or surf board preferable. Learning to hydrofoil is a whole new ball game, so if it is your first lesson we recommend booking 3 hours to allow for time going through the different technique used. If you're a proficient kitesurfer and you're ready to try something completely new, this is the lesson for you!