Duration – 2.5 or 4 hours tuition
Price – £59 (4 hours – £89) – Book 6 for £49 each!
Kite Buggy Lessons at Camber Sands in East Sussex
Get involved with one of the most exhilarating extreme sports in the world! Using a power kite, the wind and a three wheeled cart, speeds in excess of 50mph can be achieved.
We run our kite buggy lessons in the South East at Camber Sands, East Sussex and Greatstone, Kent. Both beaches are renowned for the consistent gust less wind they receive from the ocean and offer miles and miles of open sand – perfect for kite buggy lessons.
Easy to Learn to Kite buggy in Kent at Greatstone!
Learning to kite buggy is actually a lot easier than you would imagine. Unlike kite landboarding where balance is essential, kite buggying is performed seated using your legs for steering and arms to control and fly the kite.
Kite Buggy Lesson Outline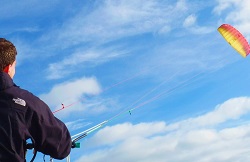 Learn how to fly a kite – The kite buggy lesson will start with a brief introduction including safety, site assessment and the basic theory behind kite flying. It's then swiftly onto the fun part – learning to fly the kites and generating the power to get you moving in the kite buggy.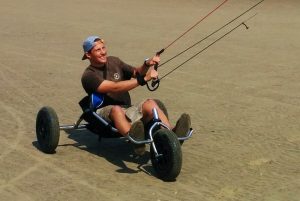 Onto the buggy – After covering these kite flying skills, it's into the buggy, introducing the steering combined with the kite flying already learnt, we aim to get you moving in both directions and whizzing up and down the beach in no time. Slalom courses will be introduced depending on the level achieved.
Duration – We run two different length courses, the 2.5 hours session if you fancy giving the sport a try and the 4 hour lesson if you're keen to learn a little more and aim take up the sport independently in the future.
The course has a maximum of 6 students in the group with an instructor but we can also take groups up to 30 on our activity days.
All equipment is provided in the cost as well as insurance. Students will be given helmets and post lesson discount vouchers for equipment are also included.
Please bring – warm clothes or sunglasses and suncream, sturdy shoes and plenty of enthusiasm!
Suitable for all ages from 7-8 +
Our two seater buggy is ideal for younger children who are too small to participate in a full lesson or for those of you who would just like a fun ride down the beach!
Check out our Kite buggy and Landboarding Combo lesson – try both sports in one go!
Please note that the activities listed above are aims for the course and that the outline of the day may be adapted by the instructor in line with conditions on the day and the ability of all students in the group. All decisions made by the instructor are done so with the safety of the group as the main priority.
Bookings
To make a booking either:
BOOK ONLINE
Or contact us by email info@thekitesurfcentre.com
Or call us on +44 (0) 756 376 3046
Here is a short video of one our students in the summer of 2013 & and a 60 second clip of an introductory kite buggy lesson