Kitebuggy & Landboard Lessons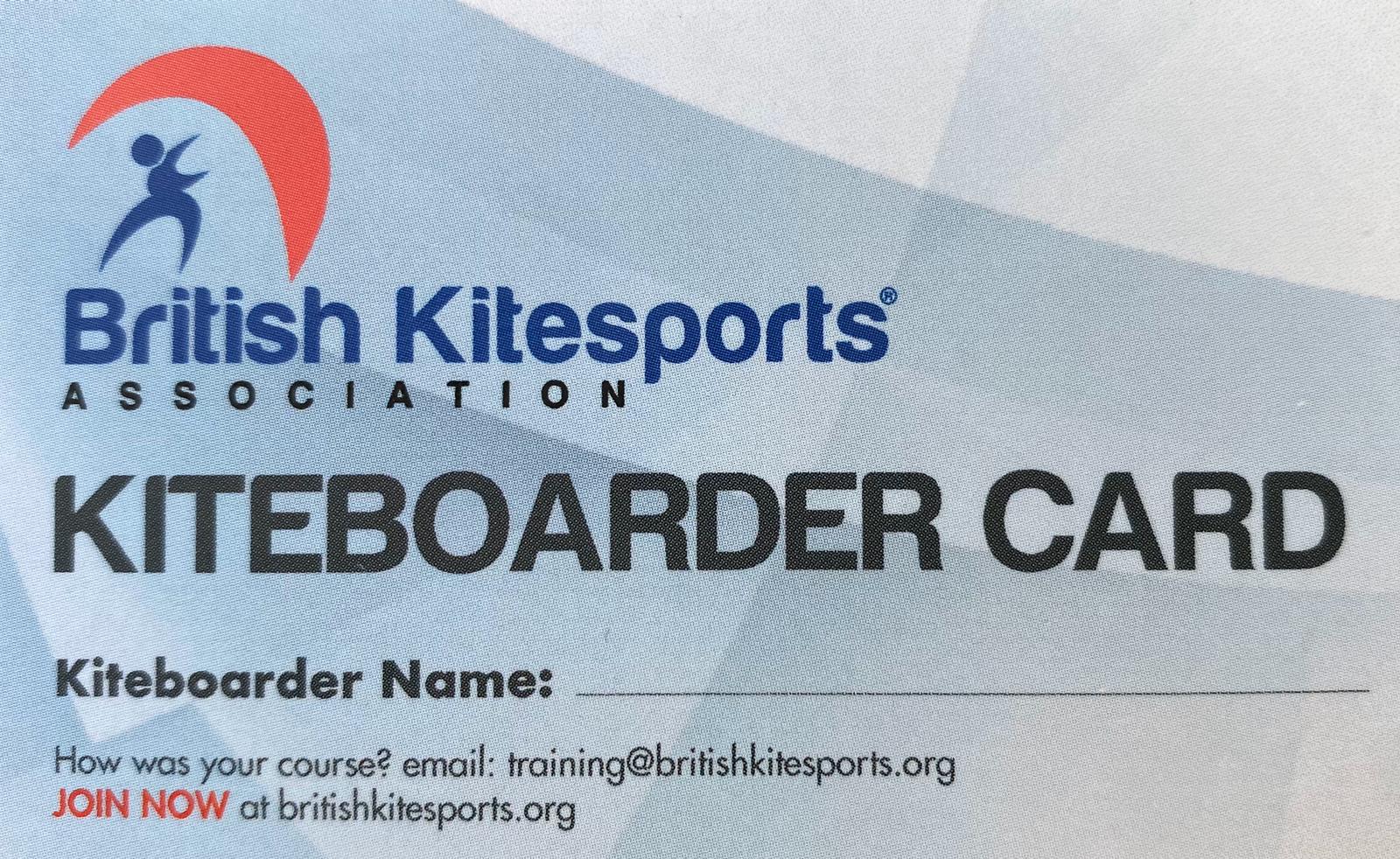 Duration: 3 hours
Cost: £69
Level: Beginner
Minimum Age: 8 (Adults must participate in the lesson with children under 13 years)
Season: March – November
What to Bring: Warm, comfortable clothing you don't mind getting sandy and sturdy closed toe shoes (such as trainers). In summer we recommend suncream and sunglasses.
Kitebuggying and landboarding are fantastically exhilarating sports perfect for adults and children (8+) alike, and is also great for those wanting to try out kitesports without heading into the water. Using a powerkite, the wind and a three-wheeled buggy, you can whizz along miles of Camber's flat, sandy beach at up to 50mph. Learning to kite buggy is much easier than you might imagine, so if you're looking for a short activity which is fun for all ages and abilities – kite buggying is a brilliant option! If you'd like a bit more of a challenge, why not try landboarding? Just ask your instructor at the beginning of the lesson to try it out!
Kite Buggy Lesson Outline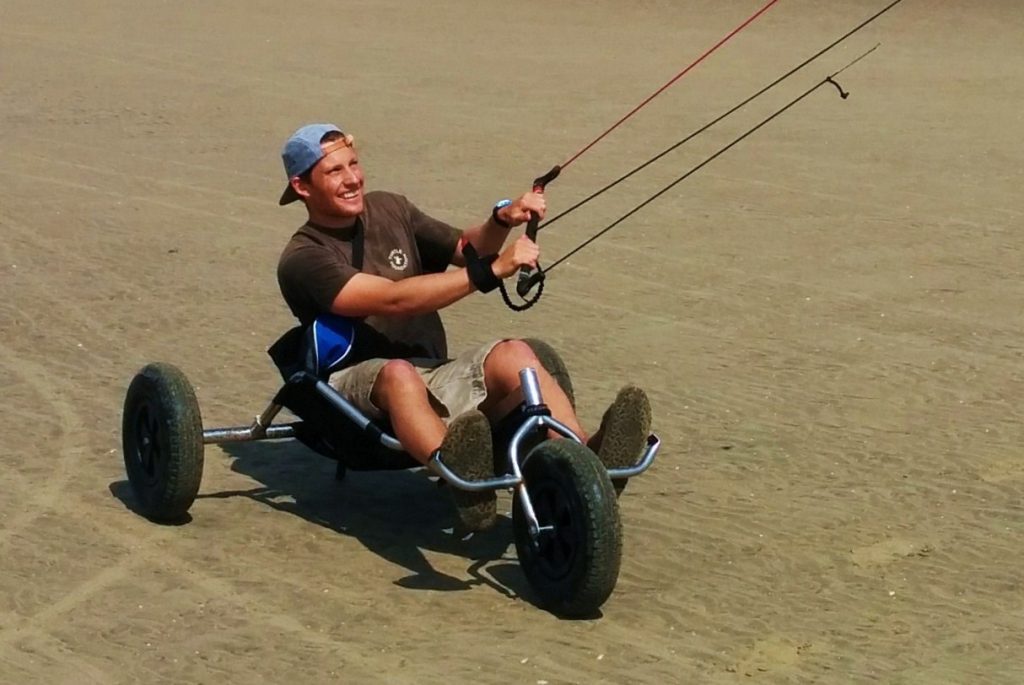 Introduction, theory and safety briefing
Powerkite setup
Powerkite flying
Advanced powerkite flying
Kitebuggying
Slalom / races (optional!)
Part 1 – Theory, Safety and Powerkite Flying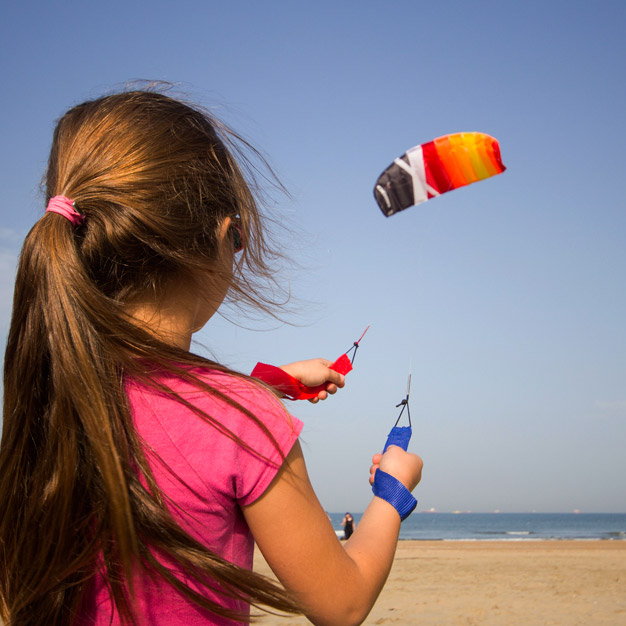 Kite Buggying is a super fun sport, but as with any sport there are risks, so it must be learnt and taught properly. The lesson begins with a brief run through of the the fundamentals of kitesurfing safety and theory so you fully understand the sport and have a safe and enjoyable lesson.
Once you've covered the safety and theory, you'll head to the beach to do a site assessment and set up the powerkites. After this, it's time to fly them!
You'll put your theoretical knowledge of kite flying to the test as you learn to steer and loop the kite through the air. These static flying exercises give you experience in the most important part of any kite sport – kite control. Once you've got your kite control mastered you're ready to put it to the test in the buggies!
Part 2 – Kite Buggying and / or Landboarding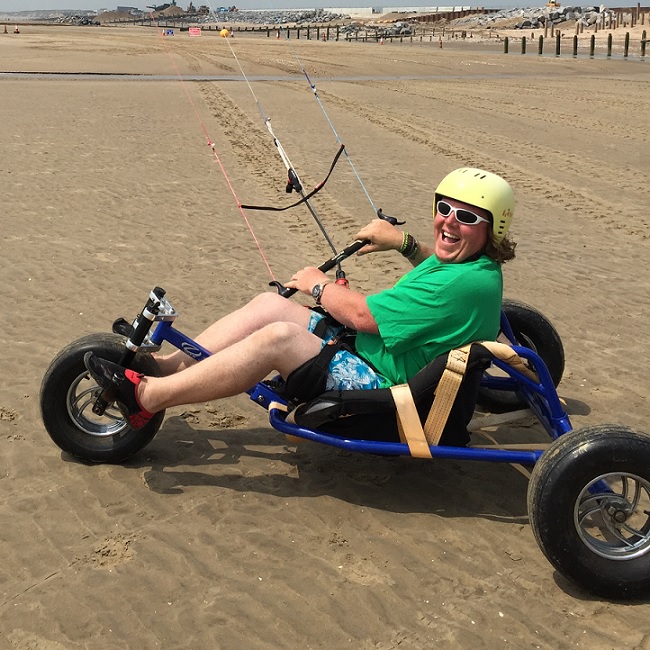 Now that you have covered the kite flying part, it's time to try out the buggies and landboards!
Transitioning into the buggies is easier than you'd think, and you'll be whizzing along the beach in no time. You can choose how quickly (or slowly!) you'd like using the kite control techniques you learnt in the first part of the lesson.
As you gain confidence and ability, there's the option to try out landboards, bigger kites, more complicated manoeuvres and even try out a slalom course or race against your friends! With an instructor by your side giving tips along the way, you'll soon be a competent buggier.
Part 3 – Lesson Debrief
Once your lesson is over you'll head back to the centre to have a debrief with your instructor. They'll go through what you've covered, answer any questions and discuss what's next. If the instructor signs you off, you can come back to rent the kite buggy and landboard equipment for just £15/h or £45 for a day! If you've really enjoyed the lesson and fancy trying out another challenge, you can also take home a voucher for a discounted 3 Day Kitesurfing Course.
Videos
Our Students on Instagram
Check out some of the photos from the students and customers who visited us recently!
Please note that the activities listed above are aims for the course and that the outline of the day may be adapted by the instructor in line with conditions on the day and the ability of all students in the group. All decisions made by the instructor are done so with the safety of the group and optimum progression as the main priority.