Duration: 3 hours
Cost: £69
Level: Beginner
Minimum Age: 16 (Adults must be in proximity to the lesson for participants under 18 years old)
Intro to Wingboarding
Wingsurfing, wingfoiling and wingboarding are the latest sports in the wind sports industry and have caught the eye of kitesurfers, windsurfers and paddle boarders alike as the idyllic crossover sport to extend their access to fun. Whether you're coming into wing sports from one of the aforementioned sports or you're coming into them from zero experience, wingsurfing and wingboarding are quick to learn and in our Intro to Wingboarding lessons, we'll have you controlling the wing and cruising around in no time.
We use the latest wings from F-One and North for our wingboarding lessons. All wing equipment is available to hire and can also be purchased from the shop.
What makes our course different?
Our 3-hour Intro to Wingboarding lessons differ from other providers as we've designed it to prepare you for all disciplines of Wing Sports. In our wing lessons, you'll learn the skills to adapt your riding to land, water and even snow! In very little time, you'll have the wing handling skills to Wingboard using our landboards, which any snow-heads will be able to directly transfer to Wingsnowboarding, and Wingsurf which you can later progress to Wingfoiling.
Wingboarding Lesson Course Outline
Introduction to wingboarding, theory and safety briefing
Wing setup
Wing handling principles
Getting motion – Wingboarding with landboards / Wing surfing with SUPs (the most appropriate option for the weather conditions will be chosen by the instructor on the day to ensure maximum skill progression)
Part 1 – Introduction, theory, wing setup and safety
At the start of your wing lesson, your instructor will give you an immersive introduction to wing sports. You'll quickly learn where you can wingboard and wingsurf, how to decide what wing size to use for the weather conditions, how to set up a wing and how to keep yourself and others safe while you wingboard and wingsurf.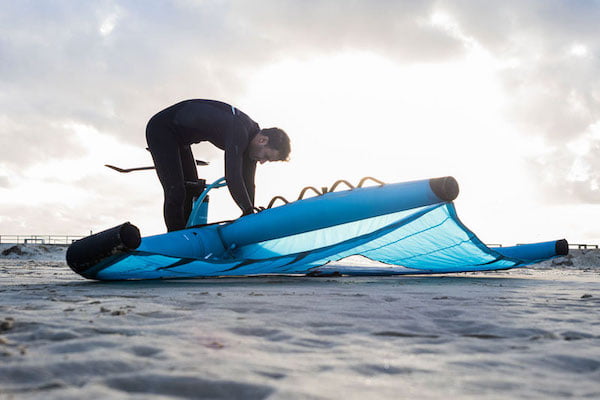 Once you've covered these fundamental principles of wing sports you'll move on to wing handling.
Part 2 – Wing handling
As you move onto wing handling, you'll learn how to harness the wind with your wing and how to lose all power from the wing completely so that you can choose to gain and lose momentum. We'll teach you how to flip the wing, how the wing hovers in neutral and how to position your hands on the wing to catch the wind and develop power. As you get familiar with the wing and learn the hand movement required to increase and reduce the wings angle of attack, we'll introduce directional repositioning, in which you will practice the grab sequence needed to successfully change the direction of pull from the wing. Timing and order is everything with this, as a hand moving out of sequence will be the difference in a successful transition or a surge or a flipped and crashed wing.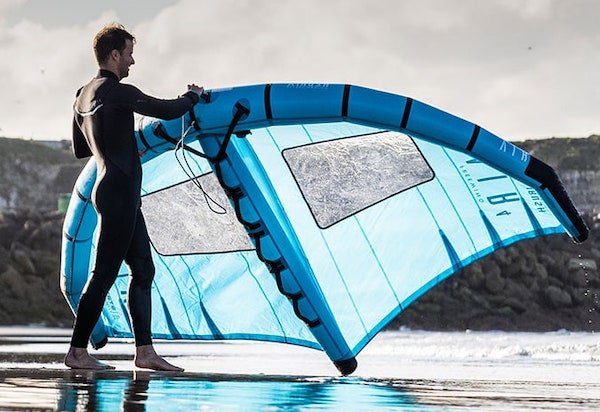 Once you've got your wing control mastered you're ready to put it to the test on our landboards and SUPs
Part 3 – Wingboarding or wingsurfing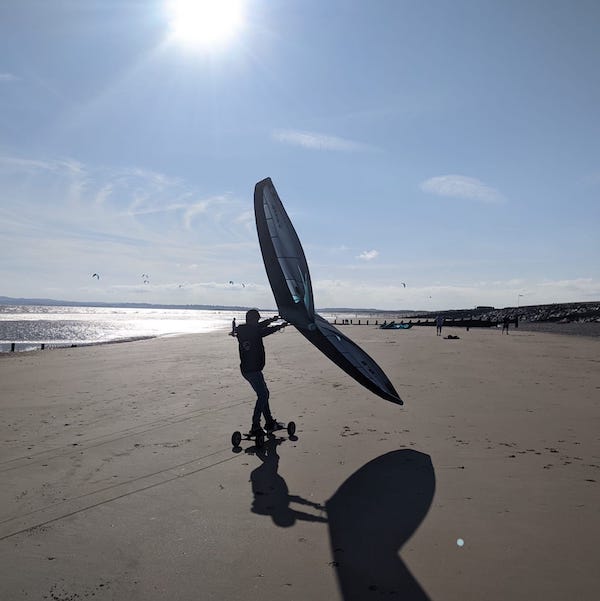 Now that you can handle the wing properly and sequence your hand movements to control power and direction, it's time to gain some motion. Your instructor will choose the best option for the conditions, to ensure maximum skill progression, and will either take you onto the water with our fleet of stand up paddleboards or get you cruising along the beach on our landboards. The goal here is to ride with control of speed and direction and both board types enable you to learn the skills that you will use across wingsurfing, wingboarding and wing-snowboarding. 
In the final part of this 3-hour wingboarding lesson, you'll be practising your wing positioning to gain and lose momentum and ride in different directions.
Part 4 – Lesson Debrief
Once your lesson is over you'll head back to the centre to have a debrief with your instructor. They'll go through what you've covered, answer any questions and discuss what's next.
If the instructor signs you off as safe to do the activity alone, you can come back to rent equipment and continue the fun.
Please note – You must be aged 16+ to participate in a group lesson. Our lesson structure is subject to change depending on group ability and the forecast. All decisions made by the instructor on the day are always with safety in mind and will be beneficial to the stage of learning you are at. For our frequently asked questions about lessons, rescheduling and cancellations please click here or contact us via email/phone.