Safety
At The Kitesurf Centre safety is our primary concern closely followed by having loads of FUN! Kite and watersports can be dangerous if not taught properly, but with the correct tuition, equipment and safety protocols incidents can be prevented.
BKSA National Training Centre
We are a BKSA (British Kite Sports Association)/IKO (International Kiteboarding Organisation) certified

school, meaning we pass their strict requirements and welcome regular inspections to guarantee all is being adhered to.
Our instructors are BKSA or IKO qualified holding first aid and RYA powerboat level 2 certificates, some are also CRB checked allowing them to work with children under 18.
Radio communication network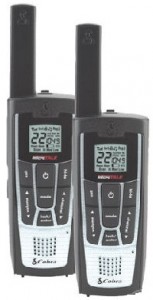 Every instructor is equipped with a buoyancy aid, safety line knife, whistle and direct radio communication within our network to deal with any matter, or simply to call through for kit to be brought onto the beach if conditions are changing, allowing a continuous safe lesson.
Each of the instructors are experienced and regular safety training helps prevents accidents before they happen, so you can relax and fully enjoy your kiteboard lesson
.
2 Way Instructor – Student radios
Since 2018 we have invested in 2 way radios to allow you to remain in constant communication with your instructor at all times.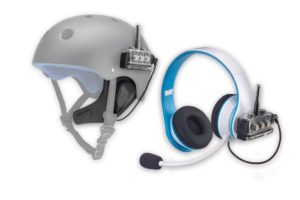 Used in our private tuition and hydrofoiling lessons, the radios are a great way for our instructors to provide tips and support in live time – allowing you to make adjustments to improve your skill on every single ride, even if you're 100m+ away from your instructor! The radios make you feel like you've got an instructor right next to you the whole time and are sure to be a big hit.
Daily inspected up to date equipment
All equipment is provided during lessons and we only use the most advanced, safe and highest quality kit available, irrespective of price. As well as gear for creating the excitement, students are also issued with CE marked helmets, buoyancy aids and wetsuits.
Fully Comprehensive Liability Insurance
The Kitesurf Centre carries fully comprehensive liability insurance for all of the sports and types of tuition that we offer. This covers the participant, instructor and also third parties.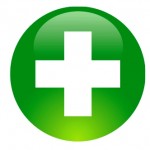 First Aid
We have many fully equipped first aid kits around the centre, on the beaches, safety boats and within metres of every first aid qualified instructor when teaching. A defibrillator is also available.
Our safety boats and electric rescue boards are purpose-built for rescue and are manned by RYA-qualified drivers. They are a fantastic safety aid for any difficulties at sea but thanks to the shallow water and calm conditions at Camber and Greatstone beach, they are extremely rarely needed. The safety boats also open up a whole new range of wind conditions & locations, allowing us to teach in any direction, some of which are restricted without a powered craft. It is not a BKSA / IKO requirement to have safety boats available but we strongly feel that safety is compromised without a rescue craft. 
ASAP Electric Fast Response Rescue Board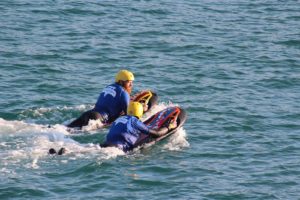 As well as having safety boats we have an ASAP electric fast response water rescue board; both are available right on the beach in the main kitesurfing zone to ensure the quickest possible response time if assistance was ever necessary. Our response times are even faster without the need to launch the boat, and instructors can be with you in just seconds. With a team of first-aid trained staff in the centre at all times and instructors with additional specific water-related first aid and risk assessment training, we know how to prevent incidents and how to respond to them in the event they were happen.
Kitesurf Teaching Zone
The Kitesurf Centre is the only school in the UK to have a Rother District Council dedicated teaching zone on Camber beach. This unique area allows us the space to conduct lessons safely while minimising possible collisions with other beach users, which breeds confidence amongst students. We would not conduct lessons on Camber beach without this.