6+ person Multi Activity Days
Options for SUP, Powerkiting, Landboarding and KiteBuggying
Full day 6hrs of activities per day, combining 3 activities with a break for lunch - £99
Half day 3hrs of activities per day, combining 2 activities - £59
Additional option for BBQ lunch
We can cater for small or large groups - our biggest group so far was 120 people!
New for 2019, The Kitesurf Centre are offering Multi Activity Days so that groups of all sizes can enjoy a sample of the large range of activities available. Full days run for 6hrs and are split into 3 activities with a lunch break. Half days run of 3hrs and are split into 2 activities. Groups of 6 or more people can participate in a mix of the following activities as determined by the weather.
Stand Up Paddleboarding
If you fancy dipping your toes in the ocean, stand up paddleboarding is a must-do activity. Heading out onto the water on large, inflatable surfboards, choose between cruising round on the open water, catching the waves or join the boards together for fun games and challenges!
The paddle boards we use are aimed at beginners so they're great for people of all ages and abilities. You can make the activity as calm or as action-packed as you choose, and our instructors will be on the water with you the whole time to help out and make sure everyone's enjoying themselves as much as possible!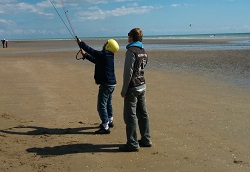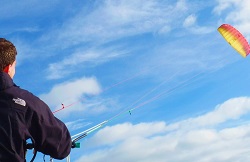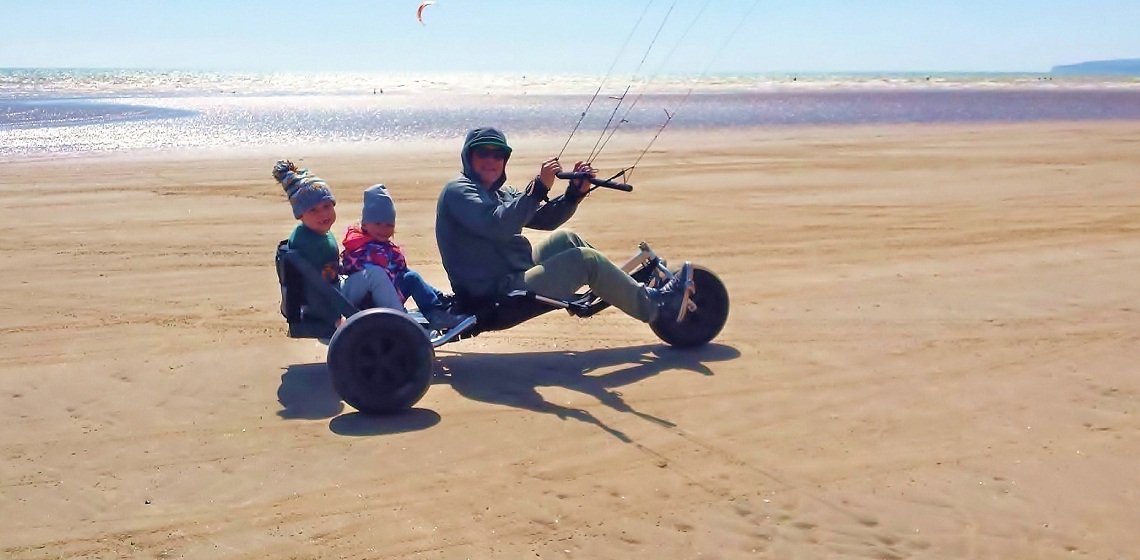 Powerkiting
A great introduction activity open to students of all ages and abilities, powerkiting is an fun activity to include in your group day. After a very brief talk through safety and theory, you head straight onto the beach to try it out yourself.
Starting off small with kites between 0.6 and 3m, you get the opportunity to try out basic manoeuvres before moving on to more advanced tricks - you'll be looping the kite through the air in no time. If you're ready to, you can move onto other kites up to 7m in size which will really allow you to feel the pull!
Kitebuggying & Landboarding
If you feel like stepping up the adrenaline from powerkiting, kitebuggying and landboarding are perfect options!
Once you've got the basic of kite flying down, moving into a buggy is the next step along the road into kite sports. With just a few pointers you'll be flying along the beach in no time. Controlling the kite, you can go as slowly or quickly as you like - all the way up to 50mph!
If you're mastering kitebuggying and feeling like another chance, landboarding is even more thrilling. Grab yourselves an oversized skateboard and cruise along the beach - we can even set up a slalom course for you!
Catering For Your Day
Each day provides 5 hours of activity with a break for lunch. Your group may choose catering provided by The Kitesurf Centre, for which you can choose between Basic and Luxury BBQ options.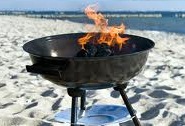 Customise Your Day - Options Available for Hen, Stag & Corporate Groups
We offer mixed activity days which can be tailored to your taste and ambition. There is a large range of sports available and we can cater for almost any group size. With activities on the land and in the water, there's something for everyone.
One or a selection of the of the activities listed below can be chosen to help make your occasion special and give the excitement and fun you're looking for. Whether it's a corporate event,  stag, hen or birthday party, we'll make sure you have a memorable time!
A usual day would run from around 10 am through to 5pm. We would offer a selection of  your chosen activities in the morning, followed by a break for lunch (with the option for either a basic or luxury BBQ) and then a second selection of activities in the afternoon. We can cater for small or large groups - our biggest group so far was 120 people!
Your group event can include whichever sports interest you, from just 1 to as many as you can fit in and can run for as many days as you would like. If you have a larger group (25+) it is usually best to choose a selection of activities so you can rotate throughout the day and the participants can choose which sports they wish to do.