Welcome to our kitesurfing courses overview page, which gives you a summary of each of the kitesurfing sessions we offer. To read more about what to expect from each session, you can also click on each of the course titles and fill your boots with information.
Kitesurfing is an extreme sport for a reason; it can take a while to master! We are here to ensure you're never disappointed with what you've booked compared to what you have learnt. So please have a read below to find out more about our unique breakdown and begin taking the steps to become a kitesurfer in no time – how does that sound?
If you are unsure which of the lessons or courses we offer is most suitable for you, take a look through the summary of courses below or use our handy flowchart guide here. You can also click on an activity below for a more detailed breakdown of what to expect for each session. If you would like any advice on the courses or have any questions, check out our FAQ page here or feel free to call or email.
Kitesurfing Courses – Sessions One to Five
Four people per group, four hours duration, £89.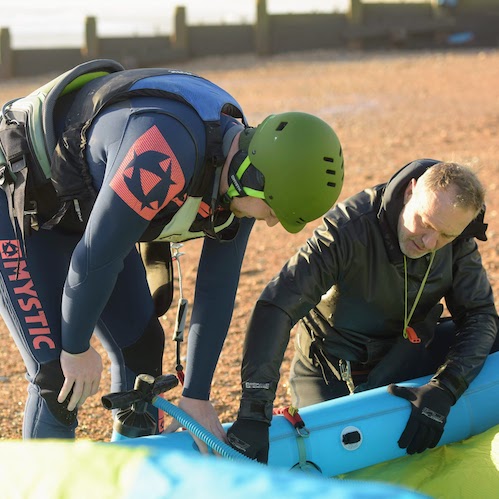 You're ready to take the plunge into the world of kitesurfing (and we cannot wait to teach you). To ensure you progress as quickly as possible to independence we are going to front-load everything you need to know to stay safe on the water. This includes how to set up and do your 'pre-flight' checks and plenty of kite flying time to make flying that kite second nature! Session one is a four-hour, information-packed session that takes place on the beach and will take you to the water if the wind is particularly strong! Why do we do this? Learning to fly the kite well, controlling the power, understanding the movements and being in control is the essential part of becoming a good kite surfer.
By the end of this session, your kite skills will be primed for your progression in session two. You'll be ready to hit the water next time to continue developing those kite skills and getting closer to getting that board on your feet!
Four people per group, four hours duration, £119.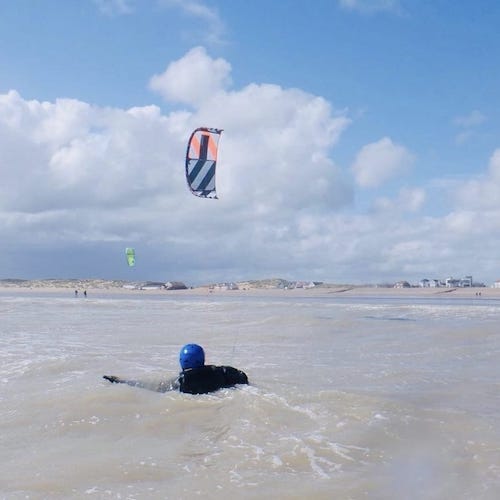 You've completed session one, you now understand the wind direction, wind speeds, set up, safety systems, can fly the kite confidently and you're ready to take those skills into the water.
You'll set up your kite (remember what you learnt on session one? Now is your time to shine) and head into the water to recap on your kite flying skills before moving on to having lots of fun doing your body drags; developing controlled power delivery with the kite as you body surf across the water, taking you and your kite skills closer to introducing the board.
Once you can demonstrate you are confidently doing these movements, you're getting very close to introducing the board but there is one more essential step before that happens. We'll introduce you to self-rescue and deep water pack-down techniques; these are the essential safety skills that every kiter must learn. There are many scenarios where you may need to use these techniques (it may literally save your life one day) so it is only fitting that before you start riding off on the board you know how to rescue yourself.
Four people per group, four hours duration, £119.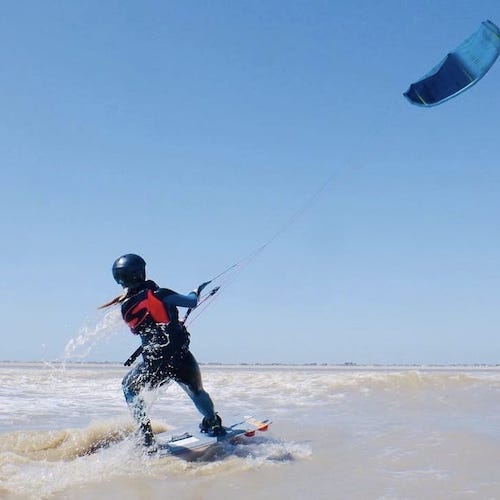 You are quickly becoming a confident kitesurfer, you can demonstrate great kite control and you know how to set up, pack down and make good judgements based on wind and tide conditions which means only one thing, it is time to get that board on your feet.
You'll now understand why we spend time perfecting your kite skills, as introducing the board brings your ability to multitask to the forefront and combining the two is quite an art. You'll spend the session working in pairs to learn techniques to get that board on your feet, how to roll up onto the board, how to initiate a controlled water start and slow to a controlled stop so that, most excitingly, you can get your first rides in!
Fancy committing to all three sessions above and getting a head start on your kitesurfing journey? Check out our offers page here and save yourself some money with our bundle deals.
Two people per group, three hours duration, £109.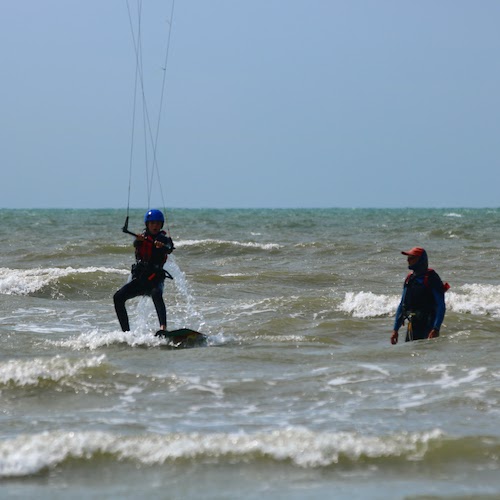 As they say, practice makes perfect and that is certainly the case in kitesurfing. It takes time to perfect those board starts, improve your stance and get longer and improved rides. This is why we offer session four focused entirely on that. You'll be paired with only one other person now as you're getting close to cracking it. They will be at the same level as you and will be able to understand the frustrations (it does happen) and cheer you on as you keep trying to nail it. We find mirrored feedback is extremely useful at this point of your learning because did you know, most mistakes you'll make kitesurfing are exactly the same as everyone else before you? Being able to watch your partner helps you identify those mistakes in real-time and stand a better chance of making progress together! You'll also be grateful for the breather; board starts are tiring.
Two people per group, three hours duration, £109.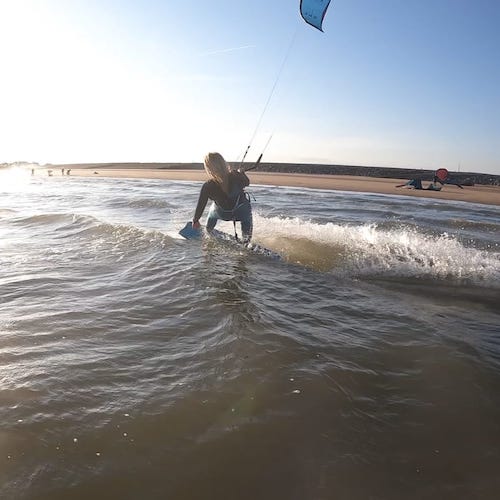 Our final group session; independence is getting so close you can taste it (or maybe that is just the saltwater, you have swallowed copious amounts of). At this stage, progression on the board is a bit different for everyone; you may be riding 5 meters, or you may be riding 50 (amazing either way, look how far you have come). Most importantly you'll be having fun and at this point, you need to keep practising; after all, "practice makes perfect" and persistence with any new sport pays off. We offer the fifth session as a cheaper alternative to private tuition for you to continue practising without it costing you more. As a bonus, you may even make a new kite buddy out of it!
Fancy committing to all five sessions above and getting a head start on your kitesurfing journey? Check out our offers page here and save yourself some money with our bundle deals.
Kite Camps – Long weekend and week long options!
Four people, four days, five sessions, £429 (Fri to Mon)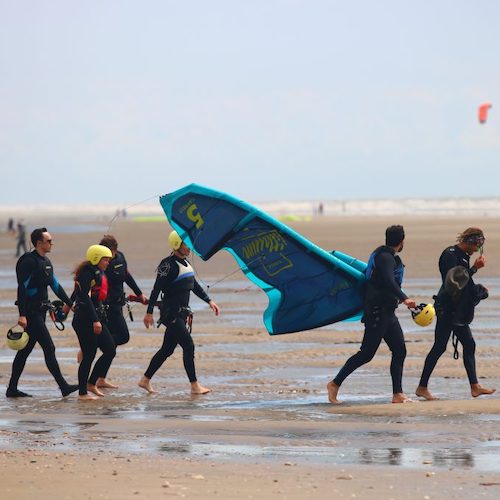 If you're the kind of person who wants to get stuck into learning a new sport in a fully immersive way, then our intensive long weekender course is for you. The long weekender course combines all five sessions above for maximum progression in minimal timeframes.
Always running from a Friday to Monday (saving you from taking too much annual leave) you will receive 18 hours of teaching with the same instructor in a group of four – See here for timings. On average it takes 20 to 30 hours of tuition to learn to kitesurf so after one weekend you will be well on your way to getting out there on your own!
Have a read of our course page here for all timings and our limited availability for the season ensuring you know the schedule before you book.
Four people, five days, five hours a day, £599 (Mon to Fri)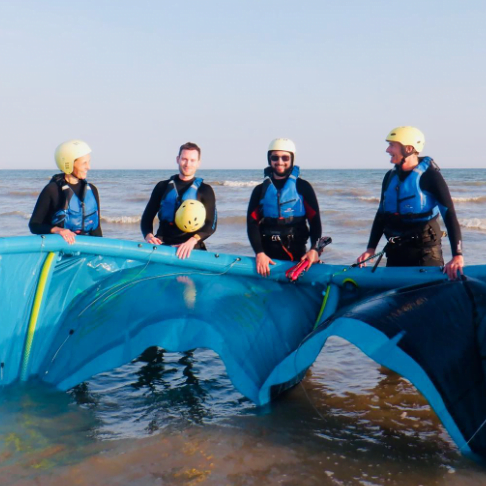 The 5 Day Camp is an immersive introduction to the world of kite sports. Our primary goal is to teach you all the key skills to be a safe and independent kiter who can go out and kitesurf, kite buggy and landboard from any beach in the world and in a broad range of conditions.
The 5 Day Camp uses a flexible course structure so that your instructor can adapt your training to your ability and needs. They'll cherry-pick the best hours of the day for the tide and wind speed so that you get optimum learning conditions for maximum progress.
Read all about what to expect and see our limited course dates here.
Private Tuition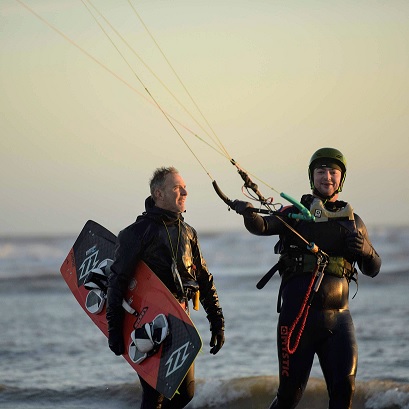 We offer private tuition for every sport we teach. These sessions are tailored with your specific goals in mind; ideal for fine-tuning your technique and getting you ready to head out on the water independently.
We offer 2-hour, 3-hour and 4-hour slots and can teach up to three people per instructor. Our private tuition slots are available seven days a week at varying time slots to suit everyone.
Radio headset available on request
Use your own equipment on lessons *
* To use your own equipment on lessons, you must possess 3rd party insurance cover. We recommend BKSA membership which includes this.