About The Kitesurf Centre
The Kitesurf Centre is a rider owned & run BKSA National Training Centre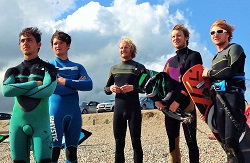 Thomas and Tristan established The Kitesurf Centre in 2007 after managing different kitesurfing & watersports companies worldwide. This experience gave them the necessary knowledge required to run a professional watersports school and helped The Kitesurf Centre to be immediately recognised as a BKSA kite school. The professionalism, quality of instruction and dedication over the following seasons promoted the centre's status to a BKSA National Training Centre, just one of three in the country.
The aim is to always teach kite & watersports  to the highest level and offer safe enjoyment for all.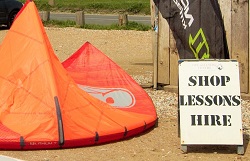 Multiple Sports Centre: The centre also offers SUP (stand up paddleboarding), surfing, kayaking, kite buggy and kite landboarding . The equipment is available to hire for all of the sports but is provided in the lessons.
Group Activities: With the ever growing team of professional instructors, large groups are welcome for corporate events and stag & hen day for either kitesurfing or a mixture of the sports
---
Consistent warm onshore wind, enormous open sandy beaches, good infrastructure to the area, plenty of local accommodation and dining with attractions for partners or family and WIND are highly important and rare assets which have allowed the school continued success.
Centre on Camber beach: In 2009 The Kitesurf Centre was lucky enough to be granted rare planning permission to build a distinguished watersports centre actually on the kitesurf beach and it's brilliant!
Best wind stats in England: There's a reason Camber Sands is the most popular beach in England for kitesurfing! It offers the most consistent wind of anywhere in the country and has over 4 miles of amazing golden sand and shallow waters as a bonus. 

As you can see from the image above, the summer months are actually our best time of year with the most reliable wind due to the thermals created by the low lying flat marsh land behind us which draws the wind in from the sea.
Beaches for any wind direction: Being on a peninsular, there's the option to use other great kitesurfing beaches just 10 minutes away if the wind is coming from a different direction.
The  wind farm behind The Kitesurf Centre is a good indication that we're in the right place!
Abundance of local accommodation & attractions: The beautiful local tourist areas of Rye, Camber & Hastings offer a whole range of accommodation and there are plenty of attractions for all ages so you can keep the family happy while out on the water.
1 hour from London: Our location is just 1 hour from South London making it the closest kitesurfing beach. Access from Kent, Sussex, Surrey or Essex is all very easy, quick and direct by either train, car or bus.
Free secure parking: The Kitesurf Centre has a free car park, storage facilities and there is hot and cold food available locally.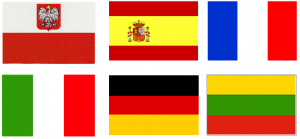 We're also able to teach in various different languages, including Polish, French, Italian, Lithuanian, German and Spanish.
Why choose The Kitesurf Centre?