Kite Foils
Hydrofoiling and Kite Foils have been around for a while but became popular for kitesurfing around 2012 when it was realised how efficient the technology was and how little wind they can be used to have fun with! Kite Foiling has become a major discipline within kitesurfing; there is now a world race league and it is debuting at the Summer Olympics in Paris 2024.
If you're looking to extend your time on the water without investing in very large kites and big boards, then look no further than a kite hydrofoil set. It's a great addition to your quiver and it's fun to learn something new at same time. At The Kitesurf Centre we stock hydrofoils from all top brands like Duotone, F-One, North, Airush and Shinn.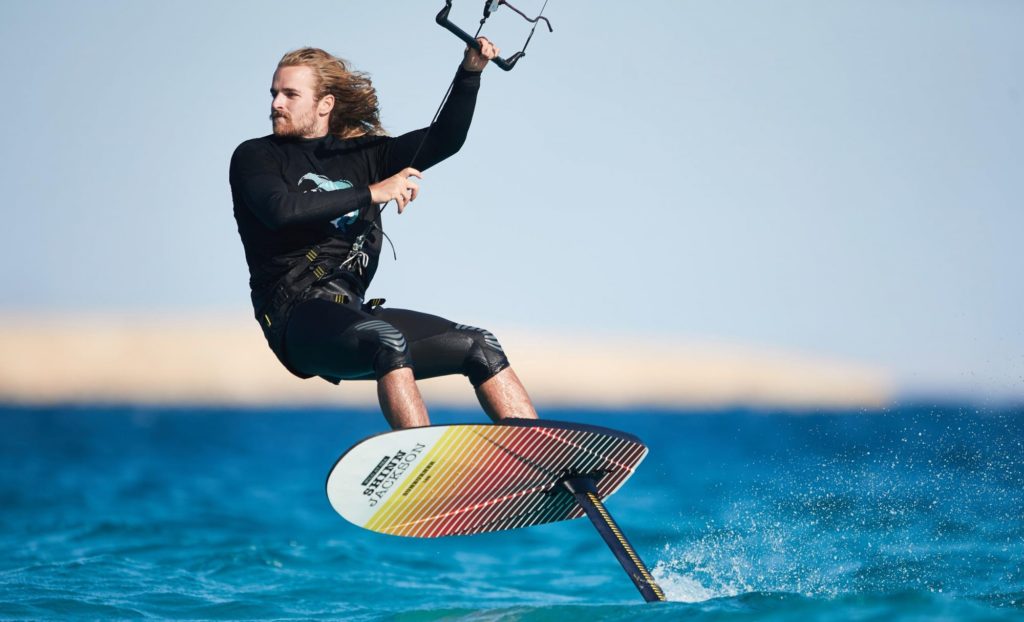 Kite Foils
Buying your first hydrofoil set you might get slightly confusing so let's break it down and explain a few key elements.
First of all the size/area of the plane (this is the official name for the wing): Each hydrofoil contains a front and rear wing. Front wings can varie in size from 500cm2 up to 1500cm2 and the rear wing (called a stabiliser) is usually around 300cm2.
The size & shape of the wing impacts how much lift and how long it takes to sink again if you were to lose power from the kite. If you're a beginner or looking for foil that will last as you improve you should look for something around 1000cm2. The rear smaller stablilisers are all around 300cm2 and have less of an effect to the lift and speed. Their shape has more of an impact on how the foil turns and performs rather than the lift.
Aspect ratio: The aspect ratio determines what shape the kite foil is. Simply speakling lower aspect ration means a narrower and deeper shape to the front wing. This gives earlier lift once moving at a lower speed, a slower top speed and more drag, which is better for beginners. High aspect ratio – this is generally a wider thinner foil which cuts through the water better make it more efficient with a faster top speed. The main advantage is it requires less power to keep moving once you are moving and goes upwind better. It also glides better because of the lower amount of drag. The disadvantage is the wing is less stable and requires more speed and power from the kite to get moving initially and is overall more difficult use and handle.
Mast length: Sizes range from 45cm to 110cm. A shorter mast is is more suitable for learning to kite foil as you can begin in shallower waters which is often easier and if you fall off you're falling from less height! We would recommend around 60 – 75cm. There are advantages to a longer mast once you improve though as it is less likely to break the water, especially if you're riding in waves or swell where the water height is constantly changing and if the wind speed is changing it gives more 'glide' before the board hits the water i the wind drops off.
Materials: Top spec kite hydrofoil sets are usually made of carbon fiber but a lot of brands replace the mast and fuselage with an alluminium alloy to keep the overall cost down as this is one hardest and most expensive parts to produce in full carbon fibre. The advantage of carbon fibre is it's stiff, easy to repair and lightweight. If you're loooking at your first kite foils set up then the alloy mast with carbon or composite planes are more than adequate and can cost 10 times less than the carbon alternative (around £100 compared to £1000)
Kite Hydrofoil Boards
Hydrofoil boards are the latest addition to kitesurfing gear. They are a directional shaped board that you can attach a mast using a 4 insert connection or twin track system – These are universal with most major brands which means you can interchange a different branded kite foil to the board and vice versa.

Kite hydrofoil boards are produced using different materials and construction techniques. They mostly use a foam or styrene core with a carbon fibre, fibreglass or bamboo outer shell. All manufacturers try to make the boards stiff, durable and lightweight while keeping within the necessary budget for the chosen material. They cost between £400 – £1500 and the sizes vary from 100cm to 150cm.

Convertible surfboard/hybrid boards with a hydrofoil connection are also available. These are a good options if you're looking for a board you can use for both strapped or strapless kitesurfing and also kite hydrofoiling.
Kite foil boards can be used both with and without straps. We find that a front strap makes learning easier but the rear strap isn't necessarily needed.