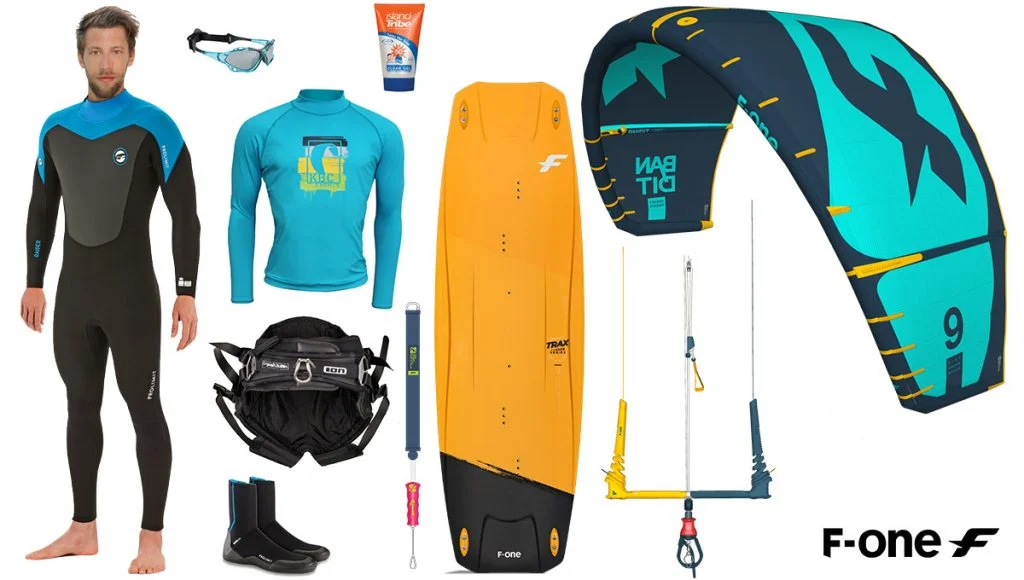 Intro!
Welcome to the thrilling world of kitesurfing. Here at The Kitesurf Centre we stock a huge range of kitsurf equipment and brands that cater for all disciplines of kite fun, including Duotone, North, Airush, F-one and RRD. With quick delivery, solid customer service, and some of the most competitive prices on the market, we are the go-to supplier for all your kitesurf based thrill seeking needs.
So you've seen the kitesurf videos and thought, 'I want to know what that feels like'. Great choice! Kitesurfing is easy to learn, the gear packs down into little more then a backpack, and the potential to progress into a host of tricks and styles is pretty much endless. First step – and this is important – is to book some lessons to grasp the basics. Then it's time to gear up with your first kitesurfing package! This includes all that you need to get out on to the water, and comes with a kite (of course), bar and lines, a board, a harness and a pump.
Through your kitesurf journey you'll come across many different disciplines and styles, and one will likely take your interest. This will determine what kites and boards you'll like to ride with. The majority of riders are happy to ride around on hybrid kites and twin tips. This setup is ideal for anything from cruising to freestyle, which is an aggressive form of riding where anything goes, including raileys, jumps and megaloops.
Fancy something for pure speed? Check out foiling for the latest genre of the sport. For this you'll need a hydrofoil board. Foiling progression requires a solid grounding in kitesurfing, and a refined technique, so it is not recommended for beginners. Wingfoiling is a great way to experience the speed of foiling with an easier progression, and we've got a good range of these in stock.
Whatever style suits you, it's gonna be great fun, and here at The Kitesurf Centre we've got everything you need to get going.