Multi-Session Kitesurfing Courses
Session Bundles – Save money learning to kitesurf
Kickstart your learning to kitesurf journey with our multi-session deals. Designed to help you progress as quickly as possible and save you money, by committing to multiple courses in one go.
With complete flexibility, you can use them throughout the season or in consecutive days. It's the perfect way to invest in your new hobby for this year.
Courses must be paid for upfront and used within a 12 month period, see our full terms and conditions here
Session 1 to 3 kitesurfing course bundle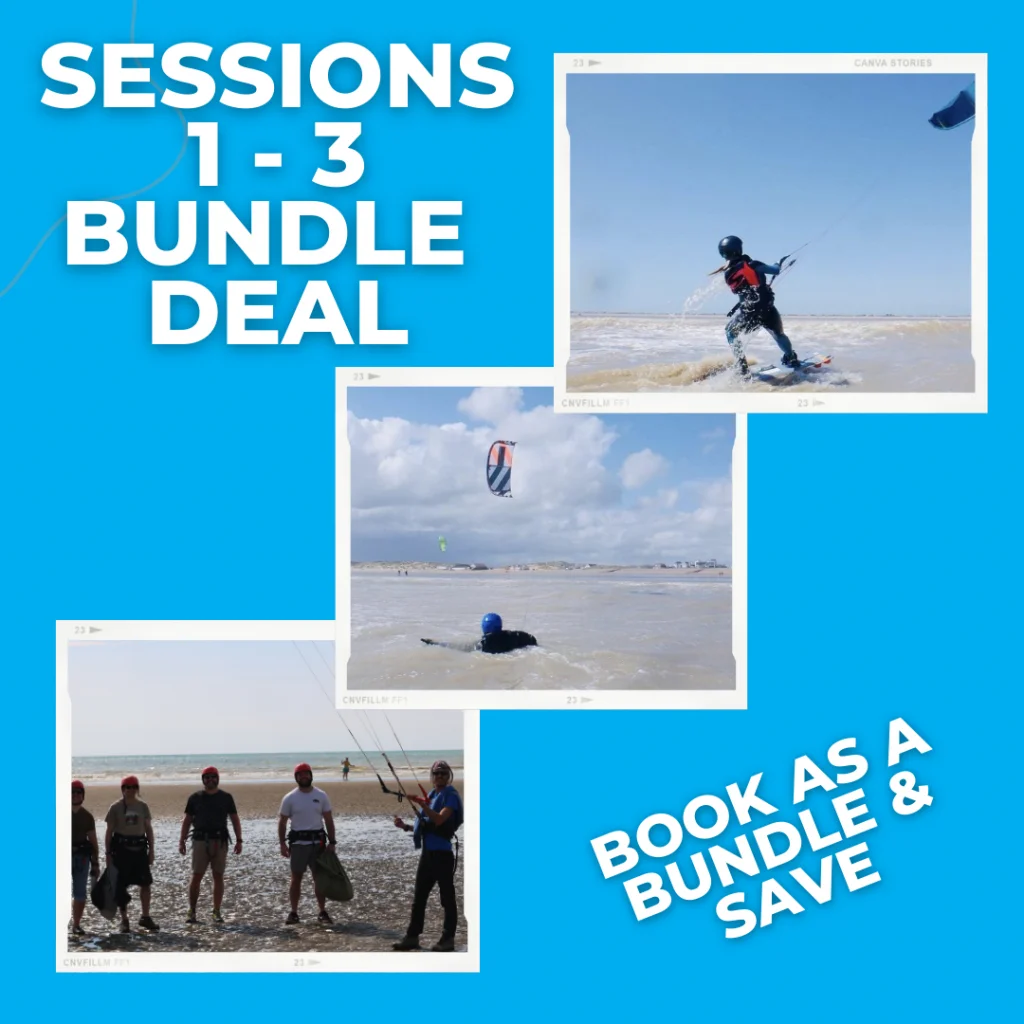 Session 1 to 3 bundle – overview
Our session 1 to 3 kitesurfing course is designed to get you on to that board, heading towards independence as quickly (and safely) as possible.
By committing to our bundle deal, you save 5% compared to buying them as individual sessions. We recognise that committed kitesurfers are the learners we want here with us at The Kitesurf Centre.
Did you know we helped more kitesurfers become independent than any other school in the UK last year? You're in good hands with us.
So what do you get by committing to the kitesurfing course?
Session One – Kitesurfing
Kitesurfing is an extreme sport. We ensure every single student of ours is not only kept safe, but able to make safe decisions themselves. Being a kitesurfer is all about YOUR confidence, safety and understanding.
Session one will teach you how to fly a kite, learn how to set up a leading edge inflatable kite (that's the big kites us kitesurfers use) and how to carry out your risk assessments.
In just one four hour session you'll be feeling confident flying the kite, comfortable setting up the kite and understand how it works.
You may even get into the water depending on the conditions! Fun fact, it is more beneficial in light winds to teach you how to fly the kite on land and in strong winds in the water.
We only get wet on session one if it's beneficial to your overall learning.
With knowledge and kite flying skills covered in this condensed four hour session, you are ready to hit the water in session two straight away.
Session Two – Kitesurfing
At the start of this lesson, you'll show what you can remember about set-up and safety from session one.
Then, you'll head into the water to start your body drags; these are controlled movements with the kite to pull yourself along in a range of directions.
You'll need to learn your self-rescue and deep water pack-down techniques, a lot of learning to kitesurf is knowing how to keep yourself and others safe.
This essential skill will save your life one day. Every single kiter has had to perform one for various reasons. Snapped lines, tangled kite, changed wind speed! Before you introduce the board and ride away you must know how to save yourself.
Session Three – Kitesurfing
Time to perfect those body drags and introduce the board, now the fun (and the challenges) really begin! Whether you're ready for the board or still mastering your kite skills. At this point, any time in the water is always progression.
Everyone progresses at different rates, our experienced instructors can make sure no matter what level you're at you are making steps forward.
What a lot you will have learnt in just three kitesurfing lessons! Keen to go all the way and get riding and become independent? Check out our 5 session kitesurfing course below.
Session 1 – 5 kitesurf bundle deal
All of the fun of the deal above but with a bigger saving and a better chance of being an independent kiter by the end of it!
If getting out on the water, with your own kit, is your goal then invest now in our session 1 to 5 deal and be ready to ride alone in no time.
Save 7% by purchasing the 1-5 bundle before you start learning. You'll not only get the savings but you'll be able to schedule in the dates that suit you straight away.
Whether that is every weekend for 5 weeks, a few consecutive days at a time or one lesson a few times a month; you have the whole of our season to use them!
The additional benefits you get with this deal compared to the above is two extra sessions (session 4 & 5) see below for more information of visit the course specific page here.
Session Four – Kitesurfing
Now down to two people per group rather than four, in this three-hour concentrated session all focused around board skills, you'll be starting to get more consistent rides in and notice your improving kite skills and confidence with every passing session.
Session Five – Kitesurfing
Your final session of the bundle gives you another 2:1 session to focus on your riding skills. Don't panic if you're still getting to grips with riding. Our expert instructors are there to help you keep working on technique and after the session will give you a debrief to help you understand your next steps and help you tailor your final stages of learning to help you reach your goals.
Please note that the activities listed above are aims for the course and that the outline of the day may be adapted by the instructor in line with conditions on the day and the ability of all students in the group. All decisions made by the instructor are done so with the safety of the group and optimum progression as the main priority.