Located around 3.5 hours drive South West of London is Poole Harbour, one of the most well-known spots for kitesurfing in the UK. There can be many hazards and things to be aware of if you intend to kite here, with many accidents in the past so caution must be used. Before going into any of them, the most important thing to know is that you require a permit to kite here (and spot checks are regularly carried out!). You can get your permit from Poole Harbour Commissioners.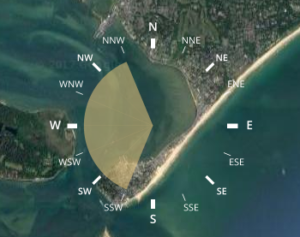 Hazards
You can kitesurf at Poole in any tide state (low tide can be very shallow & muddy though), but because it is sheltered by buildings and objects, there are limited wind directions in which you can go out kiting. The wind is quite gusty in anything other than NW. Inside the harbour itself launching, landing and kitesurfing within 50 metres of the harbour wall is strictly prohibited.
Once you venture outside of the harbour in the deeper channel towards Brownsea Island, the water becomes very deep, choppy and there are strong currents. Whether inside or outside the harbour walls, the water here is very busy, with families swimming and playing in the water, windsurfers and marine traffic. Be sure to maintain a safe distance from the other water users (especially beginners still learning to fly a kite), windsurfers and ferries (and their chains!)
Launching & Landing
Due to the lack of other options, launching and landing is predominantly done on the beach directly in front of the Sandbanks hotel unless the tide is out sufficiently to walk out into the water. Unfortunately this can mean launching in close proximity to the road, trees and hotel – inexperienced kitesurfers have been dragged across the road into traffic so please be very careful when launching and landing. Everyone thinks it won't happen to them but it's not always your fault, so try and move as far from hazards as possible by carrying equipment into the water if necessary to give you the extra space – you'll appreciate the extra effort if one day you need to use it!
Spot Information
Because Poole is a built up tourist area, there are plenty of car parks (parking is around £10 per day and there are lots of wardens!), toilets, cafes and the regular amenities close to the water. There are also a few kitesurf schools and shops in the area. For those who are coming along with someone kitesurfing, there are lots of other things to keep you entertained; take a walk along Millionaire's Row to see the luxury houses, take the ferry to Brownsea island or wander around the shops and cafes.
The shallow flat (ish) beach makes it a popular choice for freestyle riders due to the the shallow waters. More confident riders or those looking for waves and wave riding would head out onto the open sea or along the coast to Branksome Chine which is more exposed to swell.
Getting There
From Poole take the B3369 Sandbanks Road around Poole Harbour. This becomes Shore Road. From Bournemouth take the A35 road to the Fitzharris roundabout at Westbourne, and then The Avenue (B6035) past Branksome Chine and through Canford Cliffs to Sandbanks.
Pros & Cons
The biggest pro for Poole Harbour is that it can be ridden in any tidal state and the water is almost always quite shallow which is attractive for beginners. There are local amenities and Bournemouth, the nearby city offers accommodation at a reasonable price and entertainment other than watersports.
The cons are the general lack of wind the harbour attracts and the restriction to some of the best wind directions the UK receives. Unlike many south coast kitesurf spots, Poole Harbour doesn't get any thermal winds (sea breeze), which during the summer is the savour of most kite schools as they are ideal to teach on and can be relied on 90% of the time from May to October. At the same time the objects or headlands that surround the harbour cause the wind to be very gusty and difficult to use. The water also gets very busy, which for a small area can be very daunting and cause collisions.
In many experienced riders opinions, Poole Harbour is a location which has a big name and attract many kitesurfers, but actually there are far better places to both learn kitesurfing and ride along the south coast and even within quite close proximity. This doesn't mean to say that Poole Harbour isn't worth a visit, but certainly explore alternatives as well.