Located around 3.5 hours drive South West of London is Poole Harbour, one of the most well-known spots for kitesurfing in the UK. Once you've completed lessons at Camber and are an advanced rider, Poole is a good spot for those of you based in the South West. Before going into any detail about Poole, the most important thing to know is that you require a permit to kite here (and spot checks are regularly carried out!). You can get your permit from Poole Harbour Commissioners.
Spot Information
Because Poole is a built up tourist area, there are plenty of car parks (parking is around £17 per day and there are lots of wardens!), toilets, cafes and the regular amenities close to the water. There are also a few kitesurf schools and shops in the area. For those who are coming along with someone kitesurfing, there are lots of other things to keep you entertained; take a walk along Millionaire's Row to see the luxury houses, take the ferry to Brownsea island or wander around the shops and cafes.
The biggest pro for Poole Harbour is that it can be ridden in any tidal state and the water is almost always quite shallow which is attractive for beginners. There are local amenities and Bournemouth, the nearby city offers accommodation at a reasonable price and entertainment other than watersports.
The shallow flat (ish) beach makes it a popular choice for freestyle riders due to the the shallow waters. More confident riders or those looking for waves and wave riding would head out onto the open sea or along the coast to Branksome Chine which is more exposed to swell.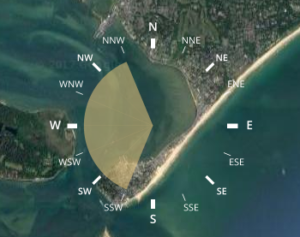 Hazards
You can kitesurf at Poole in any tide state (low tide can be very shallow & muddy though), but because it is sheltered by buildings and objects, there are limited wind directions in which you can go out kiting. The wind is quite gusty in anything other than NW.
More advanced kiters can avoid the hazards of the harbour wall by heading out to the open sea. This allows them to avoid the traffic in the busier harbour and also experience stronger winds.
Launching & Landing
Due to the lack of other options, launching and landing is predominantly done on the beach directly in front of the Sandbanks hotel unless the tide is out sufficiently to walk out into the water. Unfortunately this can mean launching in close proximity to the road, trees and hotel – inexperienced kitesurfers have been dragged across the road into traffic so please be very careful when launching and landing. However, like anywhere, if you follow the safe set up guidelines and take care to inflate the correct sized kite, you will be fine.
Getting There
From Poole take the B3369 Sandbanks Road around Poole Harbour. This becomes Shore Road. From Bournemouth take the A35 road to the Fitzharris roundabout at Westbourne, and then The Avenue (B6035) past Branksome Chine and through Canford Cliffs to Sandbanks.