Snowkite Holidays
The Kitesurf Centre 2020 Snowkite Holiday
NEARLY FULL!
This year we are going to visit two amazing locations, the holiday is very flexible and you are welcome to come for the full duration, one location or just a few days:
29/2/20 – 7/3/20 – Briancon, France
7/3/20 – 15/3/20 – Villeneuve, Aosta, Italy
Snowkiting is amazing, effectively kitesurfing on the snow while also being free to explore the mountain terrain on skiis or board, ride through endless fresh powder and float down the slopes with your kite – Join us for some great fun in the Alps.
Vetan is located in the region of Aosta in the Italian Alps near the French and Swiss borders, just a couple of hours from Milan.
This lovely location is on a flat area with rolling landscape and consistent winds with steeper slopes behind for more advanced and adventurous riders! There are a number of other fantastic snowkite spots in the area, including the Col do Petit St Bernard so we can chose the  most suitable depending on the forecast.
The holiday is run by Thomas who will be organising this trip for the sixth year and Gregorio who has previously worked at The Kitesurf Centre for five summer seasons. Gregorio has a snowkite school and we will be working together to offer lessons and equipment hire.
Tuition
If you are a complete beginner then the three day course is perfect and it will leave a few days spare for practice and other activities.
If you already kitesurf or kite landboard and just want to transfer your skills over to the snow then we can arrange a tailor made lesson for you to get you started so you can then ride all week!
Private tuition and coaching is also available.
If you are already proficient, we offer hire of depowerable foil kites and snowkite harnesses
The lessons include all the equipment needed for snowkiting apart from the skis/boards and boots. There is a local hire shop or if you have your own, feel free to bring them along. We also have a few boards and boots which we are happy to hire if they are the correct size for you.
Transport:
Flights – Gatwick to Turin, 1 hour
Easyjet £25-£75
Hold luggage (20kg) – £26
Sports equipment (20kg)- £60
British Airways – £55 each way including 23kg sports luggage so best if you are taking a snowboard/skiis
(15.35 depart from Gatwick, 10.50 return from Turin)
If you're just bringing clothes and kites, you should be able to fit them in hand and hold luggage. If you would like to bring skiis/snowboards as well you can just book sports equipment and no hold luggage unless you need the weight allowance of both.
Otherwise feel free to fill a car with your friends and have a road trip!
Accommodation
We will be staying in the Hotel Des Roses which is a lovely Alpine Chalet hotel located in Villenueve. The staff are very friendly and accommodating, the breakfast is very good with loads on offer, there is a nice little bar and the restaurant is one of the best we have found in the area.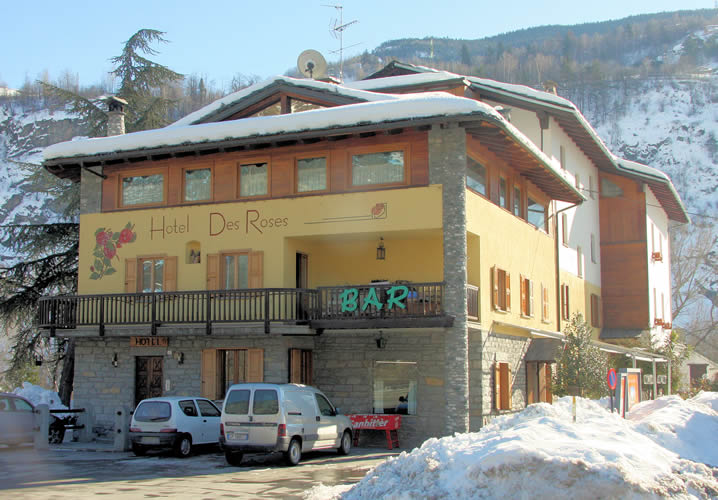 If there is no wind!?
The wind is very consistent in Vetan but in the unlikely event of unsuitable winds or if you fancy a change there are lots of other amazing activities to do on the trip.
For some alpine skiing/boarding, Pila, Courtmayer and La Thuille ski resorts are nearby.
We can also offer guided trekking around the beautiful local area.
Price
£499 – Italy week from 7-15th March
Please contact us for the price of the first week in Briancon, France as it will vary depending on numbers.
This includes B & B accommodation at the hotel, travel to and from the airport and snowkite spots, use of the snowkite area plus tips and coaching pointers from us throughout the week.
If you would like a single room this costs £10 extra per night
Lift passes for the ski areas are not included as we will buy them on the day depending on which location we use, Vetan and Point de la Pierre do not need passes and La Tuille has a special snowkite pass which is only 18 Euros.
Transport to Italy is not included, if you would like to fly, please book your own flight. We will let you know which flights to book so that everyone is together and then we will drive you to Villeneuve and the various snowkite spots throughout the week then back to Turin airport at the end.
If you would like to book tuition and/or kite hire, please let us know and sort out a price for you.
Snowboard/ski hire prices (includes helmet)
Standard – 25 Euro day or 100 Euro week (6 days)
Our kit (if available) – £10 day or £50 week
Kite hire – £50 day or £250 week
The dates of the holiday can be personalised as there are flights out to Turin all the time, if you wish to come on a shorter or longer trip or on slightly different dates, please contact us and I am sure we can accommodate you.
Booking
To book or for more information, please contact us:
info@thekitesurfcentre.com
07563763046
Photos from previous trips:
Videos of our 2015, 2016 and 2019 Snowkite trips