Kitesurfing & Watersports Gift Vouchers
The Ideal Christmas, Birthday or Anniversary present.
Purchase a Gift Voucher For Our School
Gift vouchers are a perfect present for all occasions and can be purchased for any of the courses and lessons we offer and in any of the sports, whether it is kitesurfing, kite landboarding, kite buggying, powerkiting or stand up paddle boarding/SUP.
The gift vouchers don't have to be the full price of the course or item, a contribution can be purchased which is a great Christmas, birthday, wedding or anniversary present.
These vouchers are valid for a year. Vouchers are transferable between lessons, so it's no problem if the person you purchase it for decides they'd like to try something else!
Purchase a Gift Voucher For Our Shop
Gift vouchers are also available to be used in the shop. You can use them against any of the products we have in our shop at the beach and in our online shop. They're a great option if you're not sure what to buy for your favourite kitesurfer!
It's may also be worth looking at our gift ideas for birthday or Christmas presents, or if you'd like to chat to someone in our team to ask for our advice just call us on 07563 763 046 or email us at info@thekitesurfcentre.com.
Voucher Information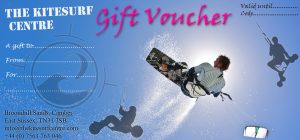 You can choose to receive your voucher in the post or by email (perfect if you left it a little late!). If you choose to have the voucher posted, you will be sent a high quality printed card which is nice to offer as a present. The 'to' and 'from' section is left blank and it is sent in a plain envelope. If you choose the email then the voucher will be attached as a file for you to then print out and fill in.
You can use the code on the voucher to book in either on the phone (9am – 6pm daily) or using our online booking system at any time.