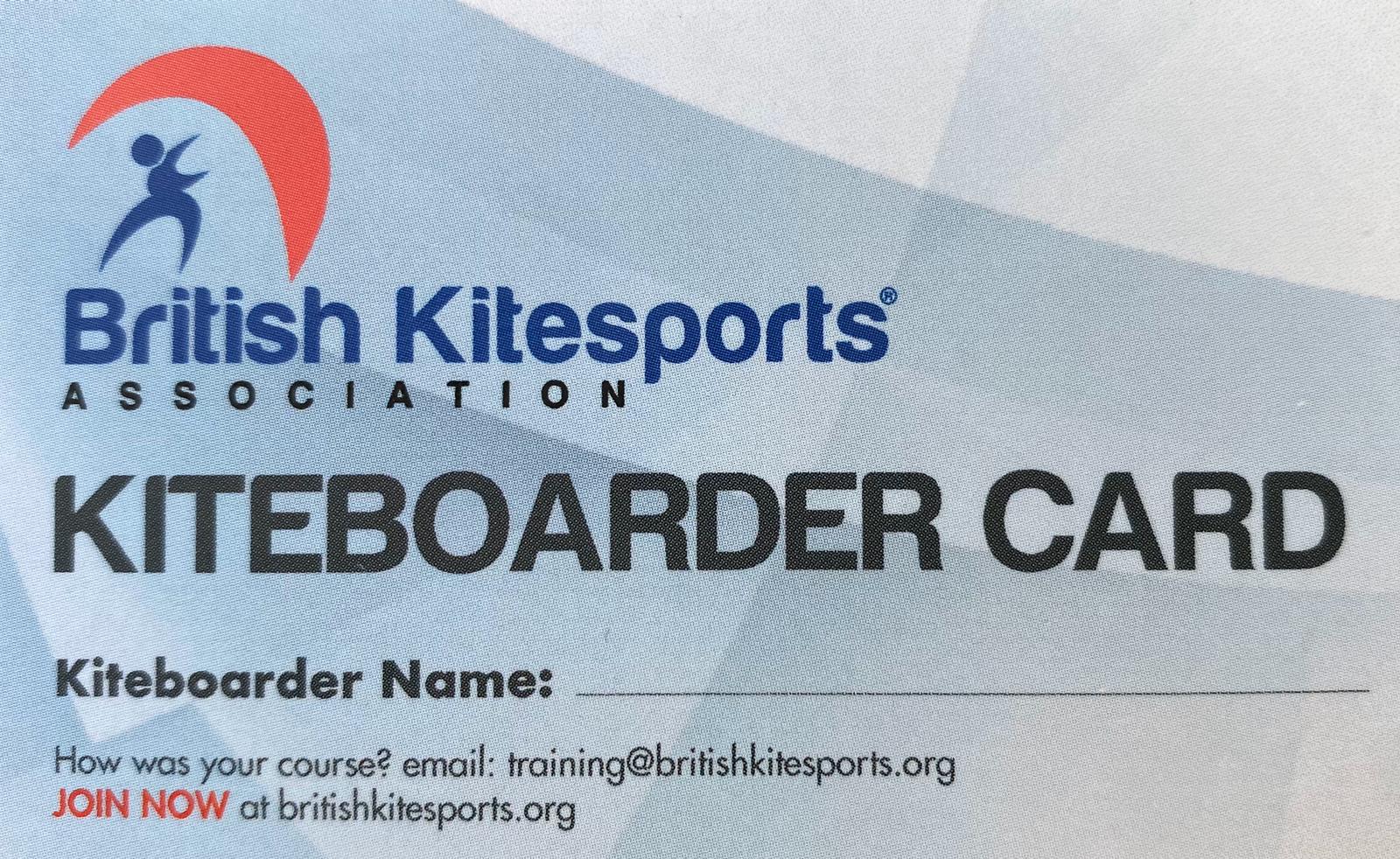 Duration: 6 hours per day (some days are split into two session, other times there may be one longer day and one shorter day if conditions are much better on one day).
Cost: £899 (Accommodation from £150 per week)
Level: Beginner
Minimum Age: 16
Season: March – November
What to Bring: Warm, comfortable clothing and shoes you don't mind getting sandy. Swimwear, a towel, drinks and snacks. In summer we recommend suncream and sunglasses.
2021 Dates
May 10th – 14th and May 17th – 21st
September 20th – 24th and September 27th – October 1st
(Courses run Monday – Friday for two consecutive weeks)
Course Summary
Our 10 Day Ultimate Kite Camp is everything you need to become a completely independent kitesurfer and so much more! With 60 hours of dedicated tuition from an experienced instructor with a unique syllabus designed to cover everything you need to know to become an independent kitesurfer – if you're committed to becoming a kitesurfer, this camp is the one for you.
The camp is designed at every step to give you the theoretical and practical knowledge to be a competent, safe and considerate kiter. As well as covering safety elements, kiting basics and intermediate riding, you'll also cover advanced tricks including jumps and toe-side riding. Along the way you'll track your progress in your logbook, ticking levels off as you go, with mini quizzes to test your knowledge, vouchers for equipment discounts and much more!
Camps are designed to be more flexible than our traditional kitesurfing courses so we can work around tides and wind forecasts. For this reason, students of kite camps must be staying within 30 minutes drive of The Kitesurf Centre.
10 Day Ultimate Kite Camp – Course Outline
The lesson plan for the 10 Day course is flexible; tailored to student ability and conditions on the day. This allows the instructor to pick activities best suited to help you progress as much as possible on the day. Whilst many 'traditional' courses stick to a rigid outline, the 10 day camp is completely adaptable, so if you're struggling with your board skills, the instructor will take you landboarding. If the wind is lighter on one day, they'll help you improve your kite handling skills with a depowerable foil kite on the beach. Below is a rough outline of what you'll cover, though of course depending on how you progress, the possibilities are endless!
Part 1 – The Introduction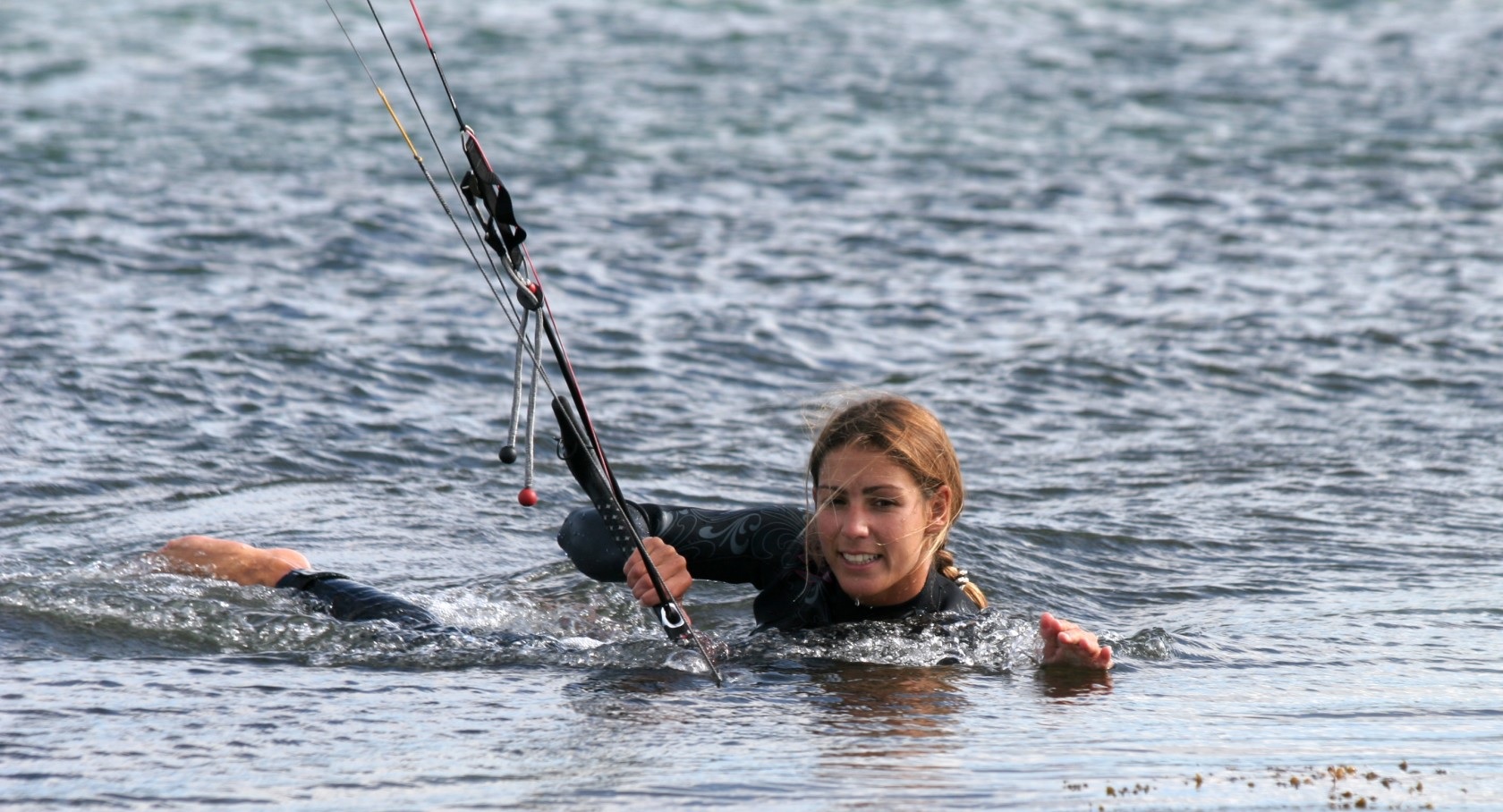 Introduction, theory and site assessments
The fundamentals of kitesurfing – wind and sea conditions
Power kite flying
Static flying exercises
Kitesurfing kite setup
Safe launching & landing procedures & pre-flight checks
Kitesurfing kite flying with harnesses
Controlled bodydragging*
Emergency pack down / self rescue techniques
Part 1 covers all of your basic safety and theory, making sure you know everything you need to to be safe on the beach and in the water.
Part 2 – Getting Into The Water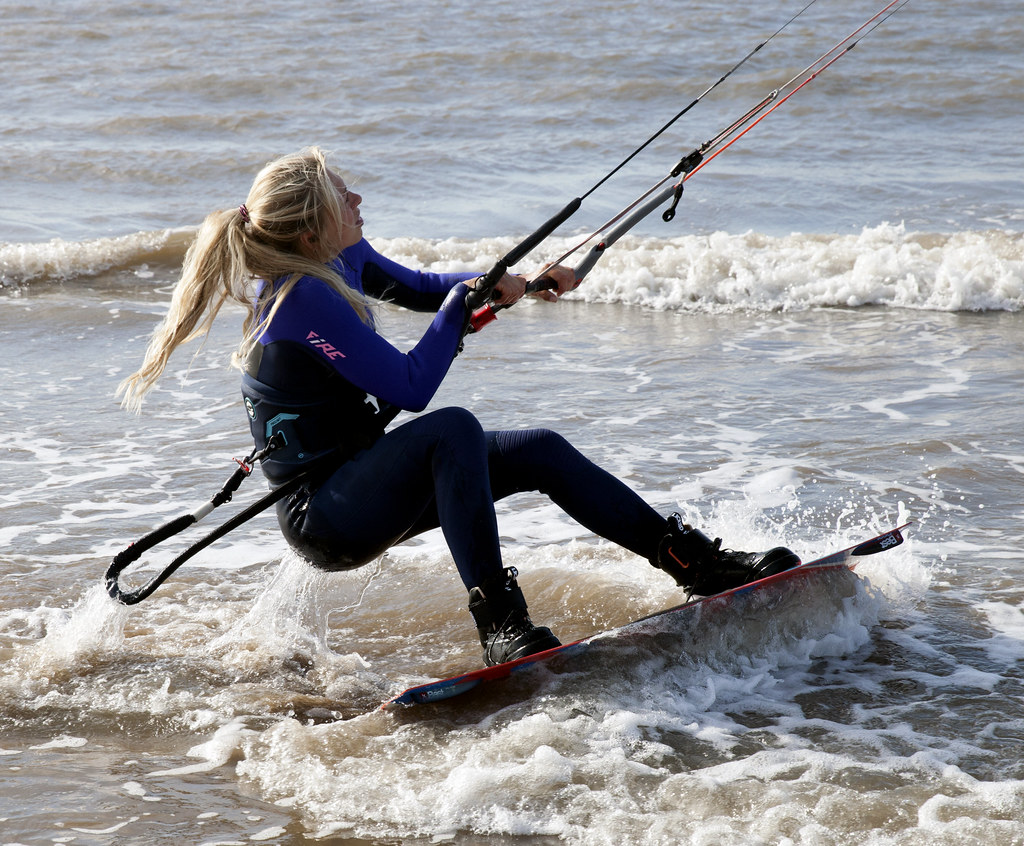 Controlled downwind, directional, upwind and balance body dragging
Introduction to boardstart theory
Boardstart practise on The Kitesurf Centre's unique Board Start Trainer
Boardstart practise in the water
Recap of emergency packdown and self-rescue techniques
Now you know how to set up, launch and fly the kites, part 2 is all about heading into the water to really kickstart your journey towards becoming a kitesurfer.
Part 3 – First Rides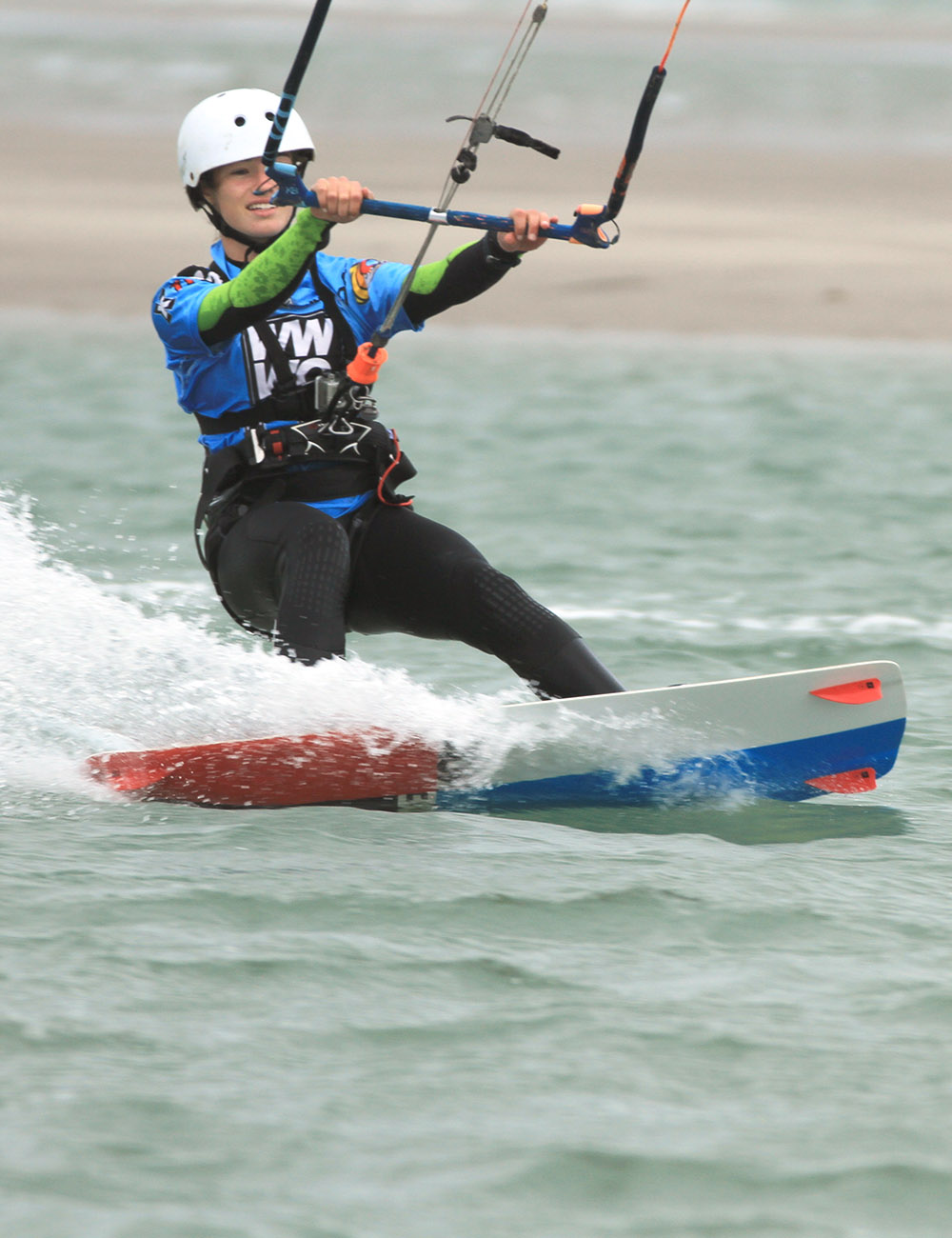 Competent board starts
Speed control with board edging
Control amongst waves
Initiating steering and turns
Advanced weather and tide analysis
Advanced site assessments
As you start to ride and become closer to being an independent rider, the instructor will cover more advanced theory to ensure your continued safety.
Part 4 – Advanced Riding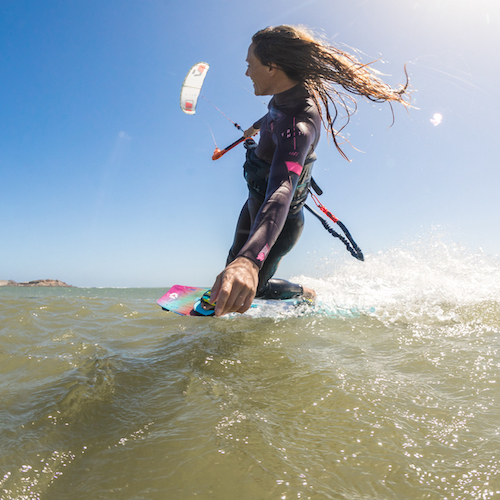 Stance and technique tips
Transitions and carve turns
Riding upwind
Toeside riding
Equipment tuning and knowledge
Advanced wind theory
Once you're riding comfortably both ways, it's time to really hone your technique and try out some more difficult elements. You'll also go through tuning your equipment to make it perfect for you, helping you to progress even faster.
Part 5 – Tricks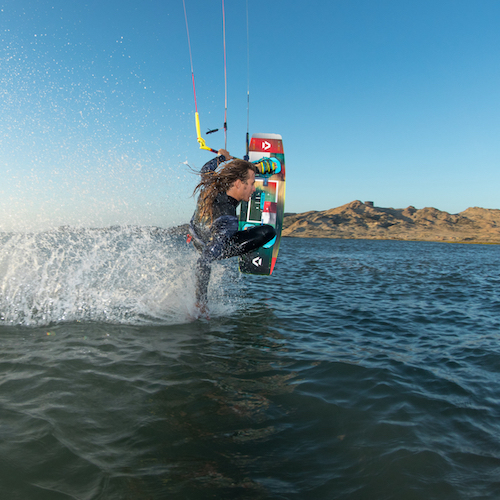 Board pops
First Jumps
Back and front rolls
Downloops
If you've progressed through all of the basic and intermediate riding techniques, it's time to get to the really fun stuff and try out some more advanced tricks. With real time feedback from your instructor through our 2 way radio headsets, you'll nail these tricks in no time!
Part 6 – Independence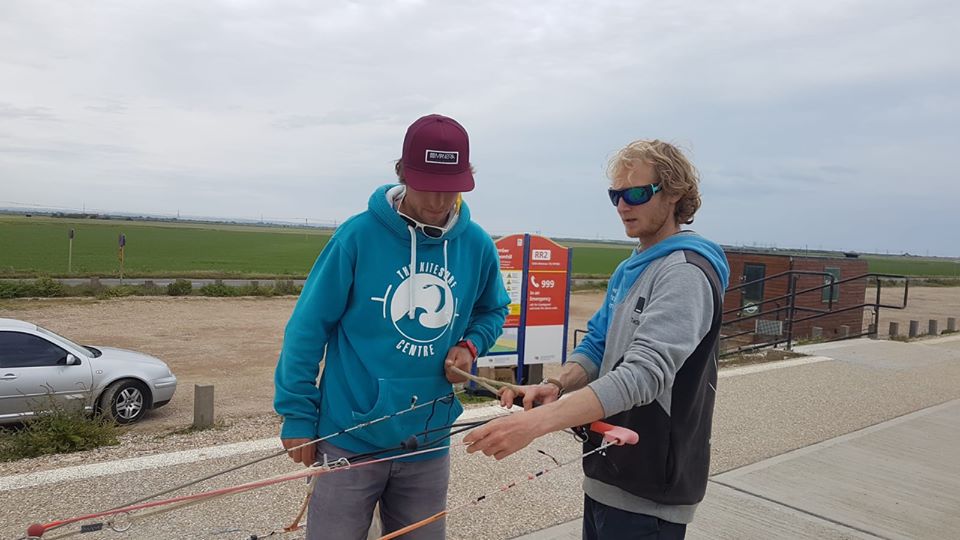 Equipment maintenance
Advanced equipment knowledge
Self-launching and landing
Wind forecast and tide chart reading
Advanced safety and self-rescue techniques
Riding in challenging conditions
Check out our students on Instagram