3 Day Beginner Kitesurfing Course
Duration – 15 hours tuition time (total course time ≈ 18 hours +)
Cost - £269 weekdays £289 weekends - Everything included + post course handout pack
BOOK ONLINE or purchase a GIFT VOUCHER
Following on from the one and two day kitesurfing lessons, the third day of this course provides another full day of tuition to really master your board control and become an independent kitesurfer while filling in any gaps in your knowledge. Anyone can attend the 3rd day if you feel you are at the appropriate level whether or not you have completed the 1 or 2 day course with us previously.
As with the second day of the course the third day is also 100% practical.
3 Day Course Outline
The 3 Day course covers the same as the one and two day courses, with the addition of the following skills on Day 3:
Competent board starts
Speed control with board edging
Control amongst waves
Advanced equipment tuning and site assessment
Initiating turns
Upwind riding
Advanced weather & tide analysis
Part 1
The main focus of Day 3 is to perfect your board start and introduce some longer, controlled runs. As you progress through this, we can also teach you slide turns and riding upwind.
Technique, Stance & Body Position: Once you're up and riding we can work on your stance, body position and balance to give you more control and comfort while also looking cool!
Controlled runs & riding upwind: Alongside mastering board starts and producing good length controlled runs while keeping constant power from the kite, we start to introduce board edge control with the aim to ride upwind.
Being able to ride upwind and downwind is an excellent achievement as it gives you the freedom to explore anywhere you like in the ocean.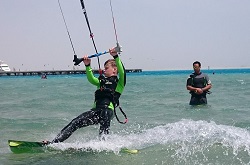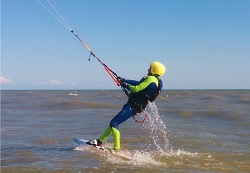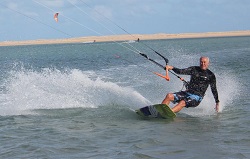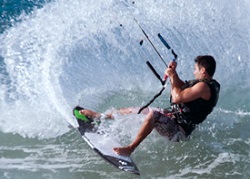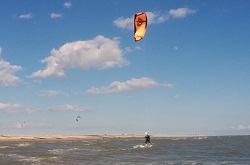 Part 2
Slide Turns: So you've learnt to ride, now you need to come back! With the additional time the 3rd day offers, we can learn to control the board better and begin linking the runs you've been doing by initiating some turns, sliding the board around and continuing on your way.
Independent kitesurfer: This third day of tuition offers the extra time needed to become independent during kite launch/land and water re-launch as well as having the opportunity to experience different sea and wind conditions. The aim is to build enough confidence, knowledge and experience to continue practicing safely on your own.
The lesson is completed with a debrief  and individual suggestions on how to continue the sport, hopefully you'll be at the stage to get some equipment and continue kitesurfing independently but we'll sensibly advise accordingly.
Each student is given a handout package including BKSA certification, magazines, brochures, stickers and information about suitable kites and boards to buy – including discount vouchers for the range of ex demo/school kit and new equipment package deals that we offer.
If you really want to master the sport, take a look a our 5 Day Zero - Hero Course