5 Day Multi Sports Kite Camp
Monday to Friday, four people per group, five hours per day, £599.
What is the 5 day camp?
The 5 Day Multi Sports Kite Camp is an immersive introduction to the world of kite sports. Our primary goal is to teach you all the key skills to be a safe and independent kiter who can go out and kitesurf, kite buggy and landboard from any beach in the world and in a broad range of conditions.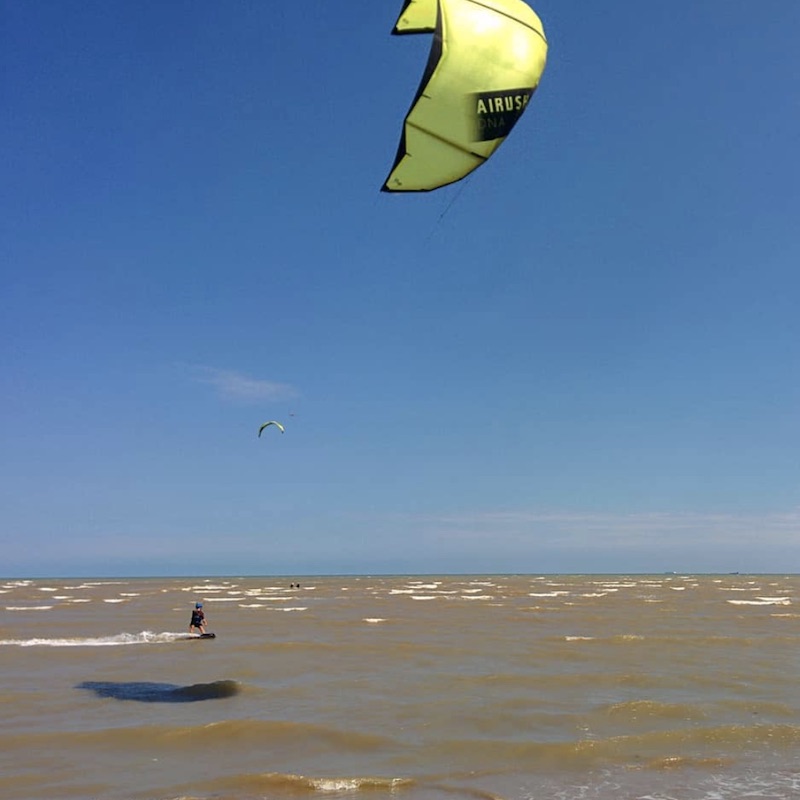 As well as learning to kitesurf, you'll learn to kite buggy and landboard along the wide-open expanse of Camber Sands beach as we strongly believe that developing strong land kiting skills makes for ease of learning how to kitesurf. For this reason, we made the 5 Day Kite Camp a multi-kite sports camp. This means that whether by the sea or inland by a park you can use your newfound skills once the camp is over.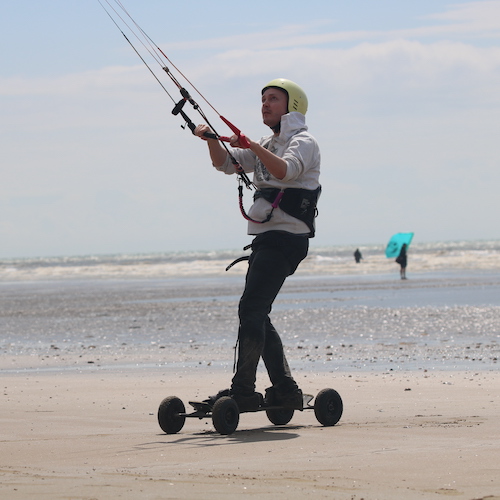 Side note: if you ever fancy trying your hand at Snowkiting, this will be a breeze for you as you will have all the transferable skills to switch from water or land to snow instantly.
What dates are available?
We run one 5 day camp every month during our season, these dates are handpicked to allow for the best tidal conditions maximising the hours you can spend out learning every single day.
For 2024 we have the following dates scheduled which you can book online now to secure your spot, with only four spaces per course we recommend booking as early as possible.
| | |
| --- | --- |
| Month | Dates |
| July | 15th – 19th |
| August | 12th – 16th |
| September | 23rd – 27th |
2024 5 Day Camp Dates
What should I expect?
The 5 Day Camp uses a flexible course structure so that your instructor can adapt your training to your ability and needs. They'll cherry-pick the best hours of the day for the tide and wind speed so that you get optimum learning conditions for maximum progress. While our base structure for the camp is 5 hours of tuition per day, your instructor may vary the lengths of each day so that, again, you can utilise the best weather conditions throughout the week.
On day one you'll join us at the centre, be greeted by your instructor and meet the like-minded and equally determined group of future kiters you'll be spending your week with. Once you've met and been introduced to your kiting comrades for the week, your instructor will kit you up with all the waterwear you'll need for the week and show you around our off-grid facilities; then it's time to start learning!
In kite sports, a solid understanding of wind, tides, safety, and kite handling sets the foundation to every skill you will learn, whether you're riding in waves or tearing up a trail in the sand with your buggy or landboard wheels. Your instructor will set these topics at the forefront of your learning experience and build from these as the week goes on, each time linking back to the skills you've mastered to keep you learning at a fast pace and having a whole lot of fun.
Throughout the camp, you'll gain a tonne of knowledge in all aspects of kitesurfing, including practical skills, theory, and equipment knowledge. As you progress through the course your instructor will sign off skills in your logbook, so you'll be able to see exactly how much you've progressed and learnt!
What will I learn?
Some of the fun areas you will explore during the 5 day kite camp are as follows:
Trainer kites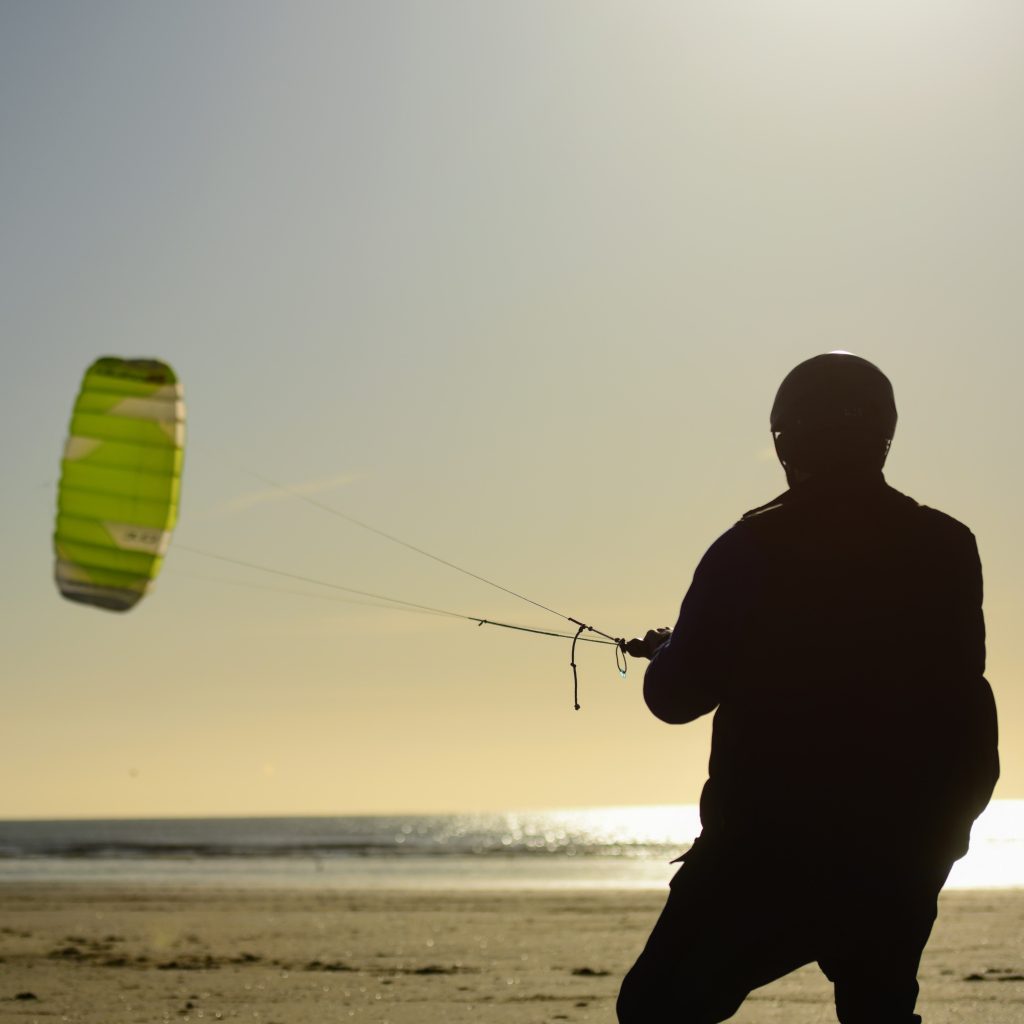 Also known as power kites, trainer kites are the first kite you will learn to fly on the camp. These agile little kites generate plenty of pull and traction and, once you've learned your essential kite handling skills for controlling power, direction and stopping, you'll be ready to transition towards a kite buggy or landboard for your first exhilarating experience of riding, or ready to develop your newfound kite skills to the more advanced water kites, called Leading Edge Inflatable kites (LEIs).
Leading Edge Inflatable (LEI) kites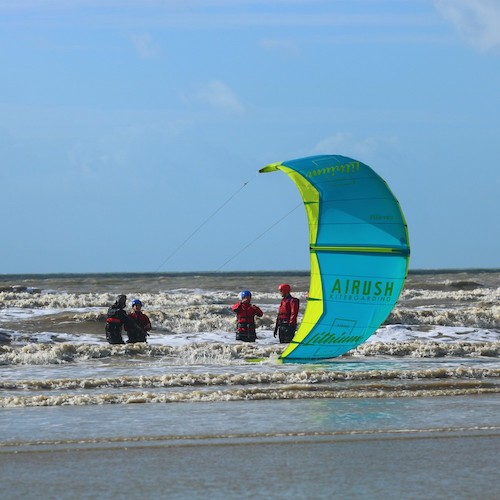 LEI kites are the most commonly used type of kitesurfing kite. They are water-relaunchable, all thanks to an air-filled leading edge, so you don't need to worry when you drop them in the sea!
Arguably the most fun aspect of learning to kitesurf is practicing kite control by a method called body dragging. You'll develop your control of speed and direction and experience the stoke of skimming across the water on your belly while steering the kite. Once you've mastered the four types of body drag used by all kitesurfers, you'll be ready to introduce the board.
Kitebuggying and Landboarding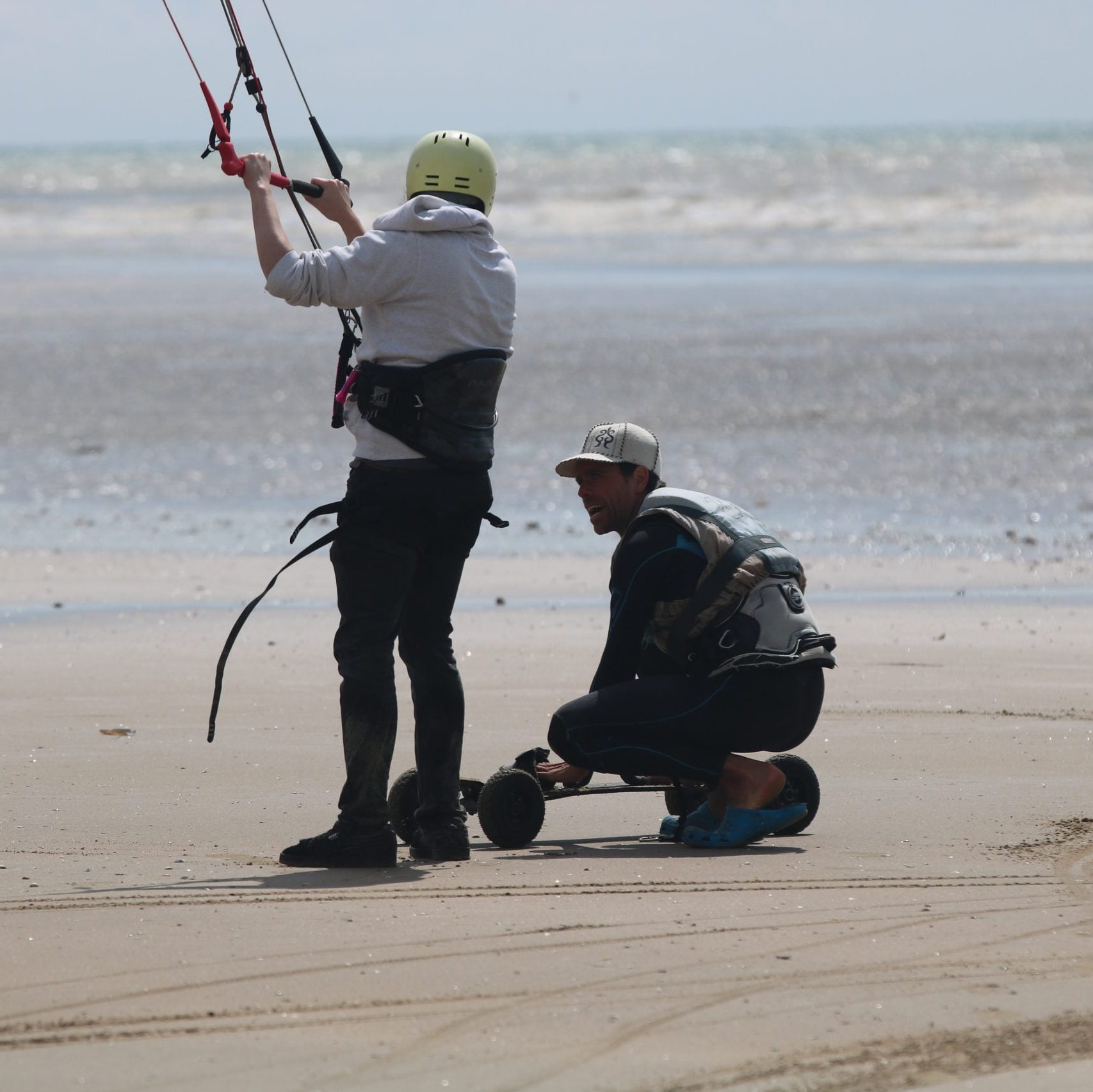 Using a trainer kite and our depowerable foil kites (which control the same as the LEI kites) you'll learn to adapt the power of the kite to start cruising along the great expanse of sandy beach we enjoy at Camber Sands. This is the perfect (and have we mentioned fun?) way to learn to control speed and direction of movement with a kite. You'll be whizzing around in no time and learning how to ride downwind, crosswind and upwind. As you do this, you'll be perfecting your body position and kite control while riding to help quickly advance your skills when you take to the water with a kiteboard, practice water starts and aim to ride away.
Kitesurfing
Once you have developed all the key kite skills with a leading-edge inflatable kite, your instructor will introduce the kiteboard and the true challenge of kitesurfing begins!
Learning to water start is the definition of multitasking as you combine all the kite and board skills you have developed throughout the camp and combine them to come up out of the water onto your board, and experience the thrill of riding away for the first time.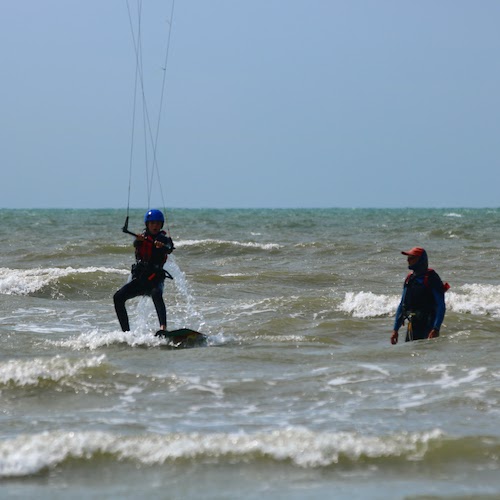 Step by step you'll fine-tune your water start technique and progress into longer and smoother rides. You'll correct your stance to improve your control and style so that you can start to ride upwind; as you do this you'll learn to ride in an assortment of water conditions that will get you ready to kite at almost any kitesurfing spot in the world;
coming to a controlled stop is an essential skill that your instructor will teach you early on in your riding experience and from this, you'll later expand this skill as you learn to change direction.
Next Steps
At the end of the camp, you'll complete a debrief with your instructor where they roadmap your future options and individual suggestions on how to continue each kite sport. Your instructor can talk you through any equipment recommendations you desire as well as any suggestions for further lessons, courses and equipment rental.
Additionally, we'll also give you your own personal logbook to complete throughout the course, so that you can track your progress and set future learning goals, and a handout package including BKSA certification, t-shirt, magazines, stickers and information about suitable kites and boards to buy.
Anything else I need to know?
To make our camps even better, we've added in some extras that will aid your learning and keep you stoked as you step onto the beach on your own for your first independent kitesurf sessions.
New for this season you'll get a copy of KiteMate, a pocket-sized, beach proof guide that is full of helpful reminders for when you're heading out onto the water on your own. You'll be able to slip this handy guide into your kite bag and refer to it whenever you need a reminder of anything you have learned on the camp.
Please note: Kitesports are weather dependent and the 5-day camp is run with the flexibility to match the weather received on each given week. Where possible, we'll run slightly longer days so that we can maximise your kiting time and ensure that you make the most of the best conditions throughout the week. We can't control the weather, but we do guarantee that we'll cover you for any unused time should the weather not favour our combined goals. At the end of the camp, we'll total up any unused hours and credit these as a voucher for you to use within 12 months and recommend the most relevant sessions for you to join based on your kiting ability at the end of the camp.
---