If you're the kind of person who wants to get stuck into learning a new sport in a fully immersive way, then our intensive long weekender course is for you.
Always running from a Friday to Monday (saving you from taking too much annual leave) you will receive 18 hours of teaching with the same instructor in a group of four – See below for the timings. On average it takes 20 to 30 hours of tuition to learn to kitesurf so after one weekend you will be well on your way to getting out there on your own!
We are confident that we can give you the best (and safest) start to your kitesurfing journey because we pride ourselves on setting realistic but fun expectations throughout.
So please have a read below to find out more about our unique breakdown and taking the steps to become a kitesurfer in no time – how does that sound?
---
So, what should you expect?
Friday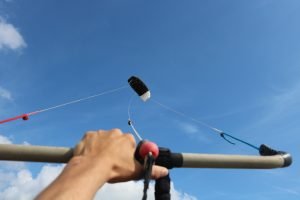 On Friday we'll prepare you for a weekend in the water, no this doesn't mean you're sitting in a classroom! With our immersive approach to learning the sport you will be straight out on the beach learning how to carry out your risk assessments, how to set up your equipment and how to fly the kites – After all, flying the kite is literally the most important part of the sport so you need to practice, practice and practice some more before you delve into it further.
Saturday
On Saturday, you will have two sessions, the first session to carry on from what you learnt the day before; it's time for you to see just how much power our kites have! Feel the rush of being moved around by the kite as you undertake all four body surfing manoeuvres (Moving the kite in controlled ways to pull yourself in certain directions) The focus here is teaching you the fundamental skills you will use throughout your kite surfing sessions and help to make the next steps that little bit easier.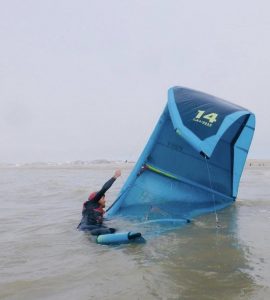 You're getting incredibly close to trying out that board but as a school that prides itself on keeping all our students safe, it is time for you to learn how to do your self-rescue.
This will give you all the skills needed to rescue yourself in a variety of situations that can occur when out kiting and will save your life one day.
Then time for some well-earned lunch (and maybe a nap) before hitting the water again for the afternoon to master those body surfing manoeuvres, once you're confident – It is time for that moment you have been waiting for, introducing the board for your first rides!!!
Sunday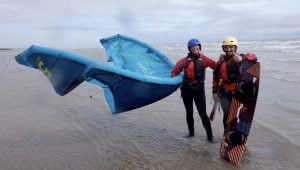 After a good night's sleep, you'll join us on Sunday for a solid three-hour session. You'll be working in pairs to keep practicing putting that board on your feet and trying to extend those rides you were working on yesterday. This will be the day you start to feel how addictive this sport is as you compete with yourself to improve each ride you make, craving more and more distance every time you get up. (This is also the most exhausting point of learning to kite, don't say we didn't warn you)
Monday
Monday is all about giving you that valuable time needed to combine those skills you have been working so hard to master over the weekend.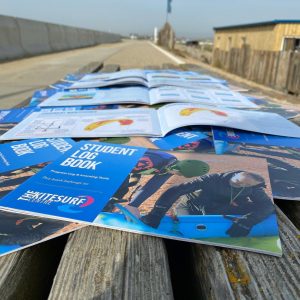 With further time on the water to keep practicing (because have we mentioned that learning the sport is all about practice 😉 ) so make the most of giving it all another go.
Bringing the weekend to a close, you'll go through a full individual debrief with your instructor in which they'll recommend your next steps to ensure you have clear goals on what you need to do to become independent using our student logbook, which keeps a clear checklist of your progress and some good discounts for buying your own kit!
2022 Course Dates & Times
| | | | | |
| --- | --- | --- | --- | --- |
| Starting Date | Friday Timings | Saturday Timings (2 sessions) | Sunday Timings | Monday Timings |
| 01/04/2022 | 2pm-6pm | 8am-12pm & 4pm to 7pm | 2:30pm-5:30pm | 8am – 12pm |
| 29/04/2022 | 1pm-5pm | 8am-12pm & 2:30pm-5:30pm | 3pm-6pm | 7:30am-11:30am |
| 27/05/2022 | 12pm-4pm | 10am-12pm & 2pm-7pm | 2pm-5pm | 2:30pm-6:30pm |
| 24/06/2022 | 1pm-5pm | 9:30am-1:30pm & 4pm-7pm | 2:30pm-5:30pm | 1pm-5pm |
| 15/07/2022 | 2pm-6pm | 8am-12pm & 4pm-7pm | 8am-11am | 8am-12pm |
| 12/08/2022 | 1:30pm-5:30pm | 8am-12pm & 3pm-6pm | 8am-11am | 8am-12pm |
| 09/09/2022 | 12:30pm-4:30pm | 8am-12pm & 3pm-6pm | 3:30pm-6:30pm | 8am-12pm |
All times are subject to change if it is deemed by the Kitesurf centre as needed due to safety, we will notify you if this ever happens
The finer details
Please note: Kitesports are weather dependent and the intensive weekend is run with the flexibility to match the weather received on each given weekend. Where possible, we'll run slightly longer days so that we can maximise your kiting time and ensure that you make the most of the best conditions throughout the weekend. We can't control the weather, but we do guarantee that we'll cover you for any unused time should the weather not favour our combined goals.
At the end of the camp, we'll total up any unused hours and credit these as a voucher for you to use within 12months and recommend the most relevant sessions for you to join based on your kiting ability at the end of the weekend.
In the rare case that the entire weekend needs to be cancelled, we will convert the lessons into our standard five sessions bundle and you can book these as individual sessions.