Course duration – 4 hours
Cost – £89
Kite landboarding or kite mountain boarding brings together the excitement of flying a kite with the thrill of riding an off road board; taking aspects from kitesurfing, snowboarding and skateboarding, it can be performed either on a sandy beach or inland in a field or park. This sport has a very quick progression curve and you'll be surprised how far you are riding along by the end of this landboarding course.
This course starts is aimed at beginners, first starting with a short theory session in our centre's classroom which covers wind and weather, site assessment, equipment, safety, the wind window and riding directions.
Then onto the beach, the landboarding course covers: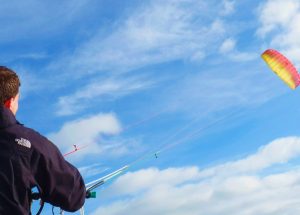 Power kite set up and tuning
Kite flying including safety
Steering and kite control within the 'wind window'
Kite power control
Introduction to more powerful kites for smooth pull on the landboard.
Once the kite control is learnt, it's onto the landboard!
Introducing the board and kite together
Controlled stop
Producing continuous power from the kite to keep the board speeding along the beach!
As key skills are developed and confidence gained, we introduce 'edging' the landboard, travelling back upwind, turning and even a slalom course!
The rules of the road allowing riders to pass each other safely without becoming tangled up is also briefly covered.
Kite landboarding Equipment:
We have an extensive range of kite sizes allowing us teach safely in nearly any wind condition. The kites we use are forgiving making your learning curve quicker and more fun!
All equipment, including safety is supplied in the kite landboarding lessons:
Bring a study pair of shoes, sunglasses, sun cream and warm clothing if it is cold.
Post lesson discount vouchers for equipment we offer are available
Kite Landboarding and Powerkite Hire:
If you are totally hooked and wanting to continue, we offer equipment hire to make the transition between lessons and kit purchase easier. It costs £15 an hour or £45 a day all inclusive.
Bookings
To make a booking either:
BOOK ONLINE
Or contact us by email info@thekitesurfcentre.com
Or call us on +44 (0) 756 376 3046