Session One – Feel the wind
Four people per group, four hours duration, £89.
We pride ourselves on advertising what we can teach you in a realistic way, learning to kitesurf is a challenge and with so much to learn, we believe breaking it down into manageable chunks helps you to learn the sport quicker overall whilst encouraging you to be the best kitesurfer you can be. Don't just take our word for it, you can also read through our hundreds of 5-star reviews from other customers that have already visited us and had an excellent time. Our unique five-session programme gives you the best head start to becoming a kitesurfer; starting with our first kitesurf lesson – Session One.
What should I expect from my first kitesurf lesson?
Session one is all about building your confidence over a four-hour lesson around kite control and embedding the practice of making safe decisions when heading out for a session and setting up your kit.
Our immersive approach to learning means you'll start straight out on the beach learning all about the wind, tides, and the importance of how to do your risk assessment (you will do these every single time you kite so you need to be very comfortable with them). The wonderful thing about kiting is that it combines so many of nature's elements; you'll soon find yourself becoming a master at reading the forecast, waves, tides and being able to impress your friends with all kinds of knowledge on cloud formations.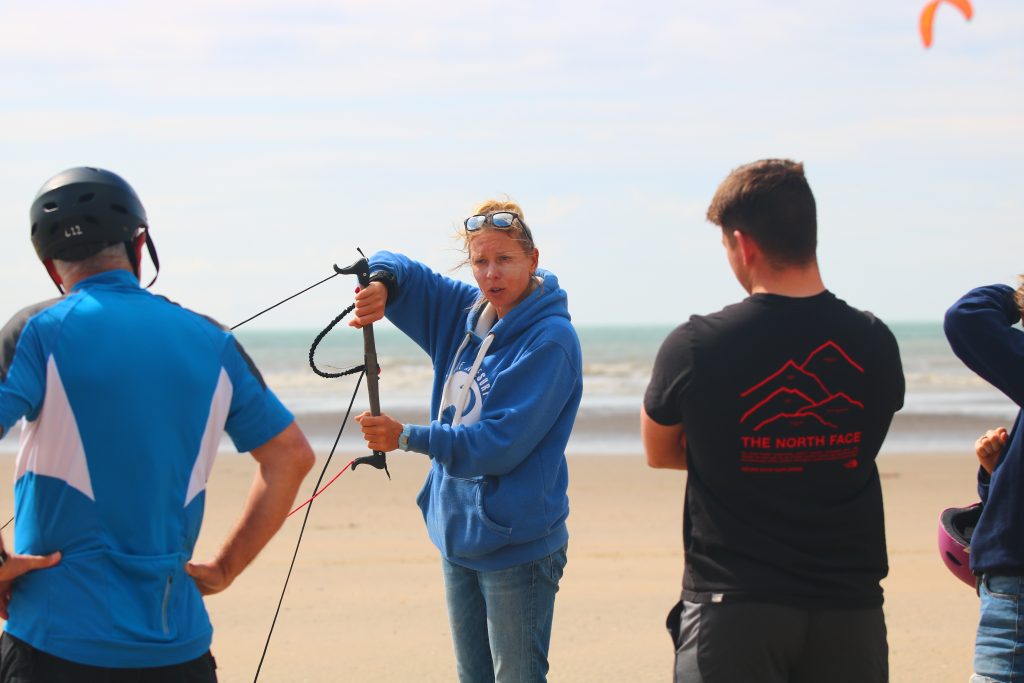 Then it is time to start warming up your kite skills. To keep you safe, you begin your learning by flying a trainer kite. This kite and bar combination allows you to practice manoeuvres on the land in a controlled way. Its main benefit is that it is a lot more forgiving of mistakes whilst you begin learning these new skills, keeping your frustration levels to a minimum and allowing you to progress onto a depowerable kite a lot faster.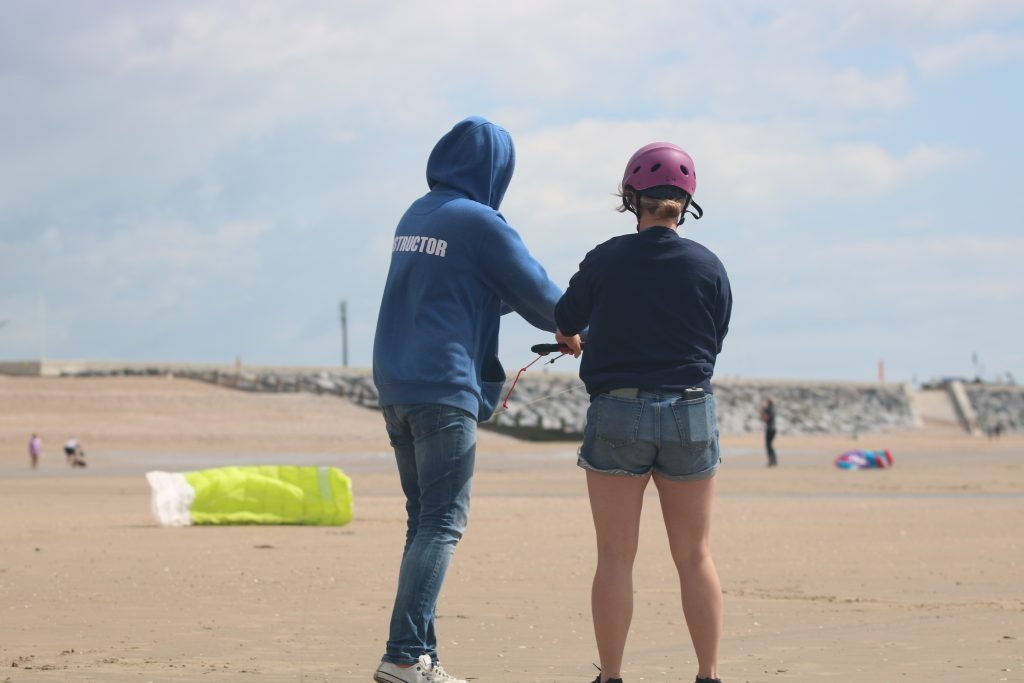 Once you are confident with these skills it is time to move on to learning to fly a depowerable kite. Depowerable kites come in all shapes and sizes, and we could probably send you to sleep explaining the pros and cons of all the different models out there but to keep it simple, we use two different types to teach – a leading edge inflatable (LEI) and a single skin depowerable foil called a Flysurfer Peak.
Simply put the LEI kite is for use on the water in stronger winds and the Peak kite is for use on land in lighter winds but replicates exactly the same feeling as flying an LEI on the water.
This means that whether it is blowing 5 knots or 25 knots we can still have you advancing your kite skills, ensuring your skills are where they need to be ready for Session Two (not that we are boasting ? but another benefit of learning with us is that we have such a large range of equipment for all forecasts that we rarely have to cancel your kitesurf lesson).
How do I progress with my kitesurf lessons?
By the end of this session, you'll be well on your way to being a confident kite flyer and ready to use these newfound skills to introduce more complex kite flying skills and water-based practice in session two.
Want to commit to learning the sport and save yourself money? Book our session 1-3 bundle to save 5% or session 1-5 bundle to save 7% from your lesson costs. Check out our deals here.
Please note – You must be aged 16+ to participate in a group lesson. Our lesson structure is subject to change depending on group ability and the forecast. All decisions made by the instructor on the day are always with safety in mind and will be beneficial to the stage of learning you are at. For our frequently asked questions about lessons, rescheduling and cancellations please click here or contact us via email/phone.
---