A Little Bit About Me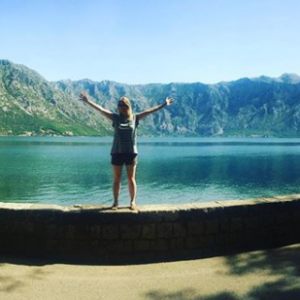 All my life I've been obsessed with water. Rivers, lakes or the sea, there's nothing like the sound of running water or crashing waves to simultaneously calm me down and make me feel. Growing up in Germany then moving to England, I lived for a long time at least an hour's drive away from the sea, so made do with rivers and lakes. My parents will tell you that they never had to worry about where I was. If they didn't know, I was probably at the local river. I longed for the sea; it was my release, when the world got a little too overwhelming, it was a constant. Going to University in Nottingham, right in the centre of England, only made me miss the sea more. Whilst there I started snowboarding and spent several weeks in the Alps. I fell in love with the snow-capped mountains but still missed the sea. When I got the opportunity in the summer of my second year to move to the coast in Portugal for 6 months, I jumped at the chance. But those 6 months flew by and before I knew it I was heading back to England to face the harsh reality of final year exams and my dissertation.
Adulting
Entering the "grown-up world" after graduation, the stresses of corporate life meant I needed the sea more than ever and I'd escape as much as possible. Whilst there I'd dream of living by the beach, walking along the sand with dogs and watching sunsets. I'd wander along and watch the kitesurfers, gliding over the water or jumping high in the air. They all had one thing in common; the massive smile on their face. I longed to join them, but every trip came to an end all too soon and I'd head back to the city. Week after week I'd spend my days stuck in the office, surrounded by people much more content indoors than I was. I began to miss the sea more and more.
Breaking Free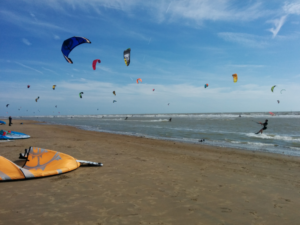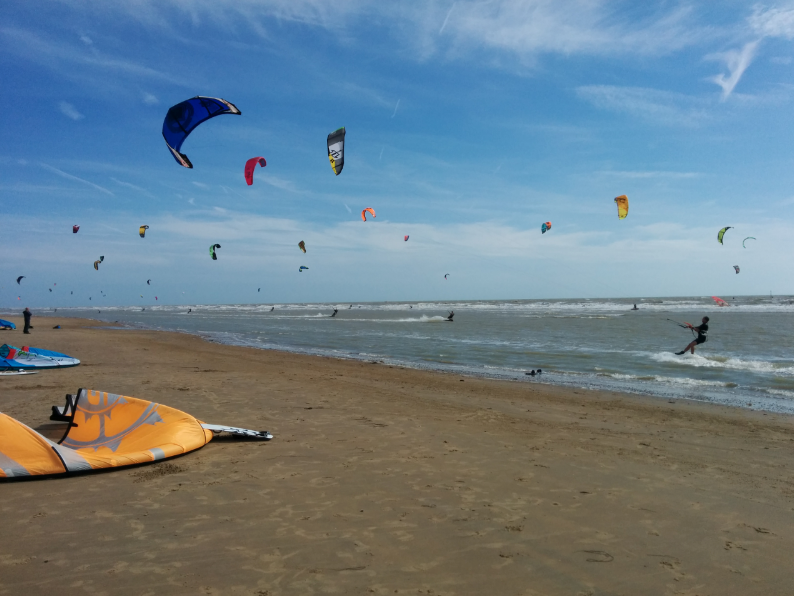 Eventually, after four years in the corporate world, I escaped when I lost my job. I decided that rather than getting back into the same routine at a new job, I would make happiness a higher priority than climbing the corporate ladder. Within four months (with a hiking trip to Tenerife, mini ski season in France and a fortnight touring Germany in between) I'd packed up my belongings and moved to Camber, Sussex. I was determined to join the people I'd seen laughing and smiling on the beach there. Nearly a year later and well and truly settled into my kitesurfing "career," I can tell you that not only am I hooked, but that it's the best decision I ever made. Kitesurfing has genuinely changed my life, and it could change yours too.
What is kitesurfing?
Kitesurfing uses inflatable kites to harness the power of the wind and allow the rider to skim across the surface of the water on their board. The kite is attached to you with a harness, and you control it using a bar. Depending on the wind you can use a variety of kite sizes, from a tiny 3m kite when it's blowing a houlie to a huge 20m+ kite when there's barely any breeze. As you progress there are a variety of disciplines you can try; wave riding, freestyle, big air and racing, as well as lots of different kit options such as surfboards and hydrofoils. It's a relatively new sport and is adapting every year and building a dedicated following that now includes me! There is something for everyone and there are always new and exciting things to try out – you'll never get bored!
Is it really for me?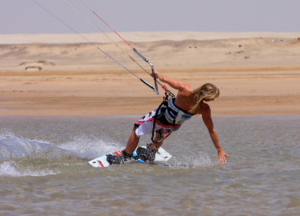 Whenever I talk to people and tell them I'm learning to kitesurf, it's always the same questions – especially from the girls. "Don't have you to be really strong to do that?!" "Isn't it really scary?" The answer is no. Whilst I'll admit I'm definitely nervous before each session, that soon disappears as soon as I'm in the water having the time of my life. I'm 5'2", 56kg and I have a reconstructed left wrist and hand; so, if you're thinking you're not big or strong enough to kitesurf, trust me – you're wrong. On my first lesson there was a 14-year-old boy learning, and I've since seen the TINIEST 9-year-old girl kiting. I spoke to the guys at the centre and they've even taught people in their eighties! Because most of the power of the kite goes through your harness, it's much less physically exerting than you'd think. Even if you're not keen on water, there are plenty of activities such as kitebuggying or landboarding which are also great fun!
Home or Away!
Another great thing about kiting is that you don't have to go on holiday to do it – there are plenty of great kiting spots in England! Once you've got your kit, the beach is free. No more adding the costs of flights and transfers into your budget like you do with snowboarding. If you do have some extra cash, then there are some amazing kitesurfing locations around the world – ask your local school if they run any holidays or try searching Facebook for local kiting groups that might be heading out.
How do I get into it?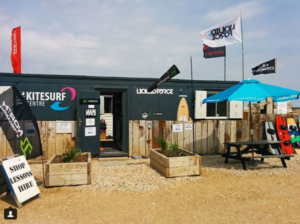 Whilst it's completely safe when done properly, kitesurfing is still an extreme sport. The most important thing by a mile is to take lessons with a fully qualified instructor, preferably at a reputable kite school if you can. Since my local beach is Camber, I took my lessons at The Kitesurf Centre. They run a variety of group courses as well as private tuition. I'd recommend going for at least a three-day course. It will allow you plenty of time in the water and you'll also have a thorough knowledge of the safety systems and how to use them. With each lesson I felt more and more confident on the kite, and by my fifth lesson (three group days and two private lessons) I was getting some decent runs in and was feeling pretty confident about my kite control. The instructors were friendly, knowledgeable and patient – I couldn't have asked for more and I'm so grateful to each of them.
Once you've been signed off as an independent rider by your instructor and are feeling confident enough, I'd recommend hiring kit before you buy it. This will give you a chance to get used to some of the different brands and types of equipment and will save you from spending money on kit you end up hating. Used equipment is also a great way to build up your kit without breaking the bank – many shops will sell used equipment that has been checked over and repaired by a professional, so you know it's completely safe.
My Advice
If I've tempted you to try out kitesurfing, here are my top tips!
SAFETY FIRST.

Take lessons, check your equipment before every session and never go out in conditions you don't feel confident in. There's a saying in kitesurfing "If in doubt, don't go out" and it's famous for a reason. Better a trip with no kiting than a trip to hospital!

DON'T BE SCARED TO ASK.

Everyone was a beginner at some point, and there is almost always someone who is better than you. The kitesurfers I've met at the beach are a friendly bunch and are always willing to help out with setting up my equipment, launching and landing and offering advice on the spot.

STICK AT IT.

Throughout my third lesson I was struggling with getting up on the board and actually riding, and at times it can be frustrating to try something over and over again without seeming to progress at all. But I promise you'll get there in the end, and you'll feel all the more proud for keeping at it.

GET YOUR FRIENDS INVOLVED. 

I found that my progression in anything is always much faster when there are others with me, I'm pretty competitive and they help me push myself. Having friends on the water is also great if you're a bit nervous. You can make friends at the beach too – one of my favourite things about kitesurfing is the amazing community I'm now a part of.

ENJOY YOURSELF.

I've heard it said in surfing and other sports that the person having the best session is the one having the most fun, and it's so true! Some of my favourite trips to the beach have happened when the wind wasn't right for kitesurfing – I went stand up paddle boarding into the sunset, took the dogs for walks in the dunes and even played beach volleyball!
A True Beach Girl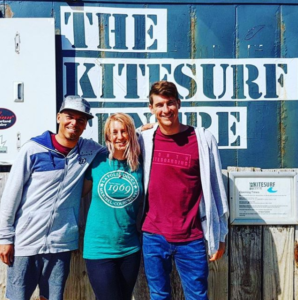 I've always been a perpetual worrier and spent a great deal of my life stressed about situations that were unlikely to happen. When I'm kitesurfing, I'm focused on nothing but the wind, the waves and my kite. All the stress and negativity is quite literally blown away. It's replaced by the incredible feeling of skimming across the water. There really is nothing like it! Kitesurfing has made me fall in love with the outdoors all over again and has given me a new appreciation for Mother Nature. I've become more active and feel more confident in my own skin both on and off the water, met a bunch of amazing new people (I even met Aaron Hadlow and Lewis Crathern at a recent event in Camber – such nice guys!) and had some of the best days of my life at the beach. But most importantly, I wake up in the morning actually wanting to get out of bed because I'm so excited for the day ahead.
You can find more information and book a lesson here.