SEA BREEZE
One of the most common phrases you will hear from kitesurfers is "sea breeze." But what does it mean, and how can we use it to our advantage?
THE BASICS
Sea breeze is the term given to wind which blows from the sea towards the land, and it is created due the different rates at which the land and the sea warm up. During the day, as the sun shines down, the land heats up at a much faster rate than the sea. Warm air above the land rises throughout the day, causing low surface pressure, whilst the opposite happens over the sea – colder air causes high surface pressure. Wind blows from the high-pressure area above the ocean to the low-pressure area above the land.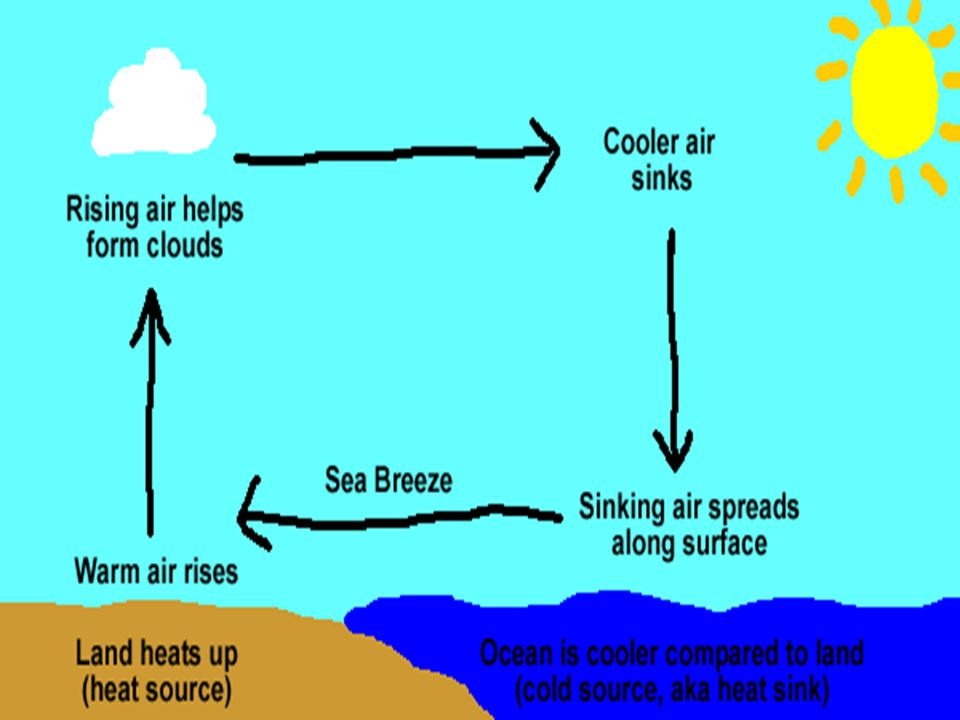 How strong the wind is depends on the difference in temperature between the land and the sea; to create a sea breeze there only need to be a 3 degree difference! If the wind direction is already blowing onshore, the combination of the original wind and the sea breeze means that the wind strength will increase dramatically, and can be 1.5 or even 2 times the forecast strength. This is perfect for kitesurfers as it means both there is sufficient wind to kite and it is blowing in the best direction… onshore!
FACTORS WHICH AFFECT SEA BREEZE
Features on the land, especially mountains and channels, can increase the sea breeze further. This means that some places are able to rely almost solely on consistent sea breeze, whilst those with already good natural winds will see them increase by the sea breeze on a regular basis. The sea breeze can also be affected by patches of cloud which cover the sun, causing the wind to drop, or by the natural wind blowing in the opposite direction, though as long as this is under around 15 knots then the sea breeze can be strong enough to overcome it.
BE CAREFUL!
The sea breeze can be a big problem for kitesurfers with it being so unpredictable at times. The wind can go from next to nothing to blowing 20 or even 30 + knots in a matter of minutes, or can completely drop off and change direction. Kitesurfers can get caught out with kites that suddenly become too big, or may even need to self-rescue when the wind drops completely or changes to offshore. It can be worth waiting for an hour or so to check how the wind is building before on which size kite to take, and it is important to keep an eye on the cloud and winds during your session.
If you're ever unsure about what size kite to take, you can always ask around – other kiters on the beach are a good place to start and are usually happy to chat and help. Schools on the beach are also good to ask!