We offer career routes for aspiring kitesurf instructors. We also have fantastic opportunities, for qualified instructors, here at the UK's biggest kitesurf school.
Becoming a kitesurf instructor can be a career, not just a temporary option. We provide a range of courses and work experience opportunities to help you turn your passion for kitesurfing into a career.
For those of you who are qualified but ready for a new challenge, please submit your interest here and we will contact you.
Route to becoming a kitesurf instructor
The instructor accelerator course introduces complete beginners to 4 different kite sport disciplines. It provides training for you to achieve a level of ability, experience, expertise and also the qualifications to go on and instruct others.
Accelerator course schedule
The course focuses on improving your personal riding, your understanding of each kite sport and the theory behind them before turning full attention to instructing techniques, coaching, and assessments for the final examination week.
Personal participation in each discipline continues throughout the course to develop riding skills in kitesurfing, kitebuggying and landboarding. A typical day will cover a practical and theory session which may be in the classroom or mixed with a practical session on the beach.
The advantage of the Kite Sports Instructor Career Accelerator course is the flexibility it provides. As the student, you are able to set the frequency of lessons to suit your own schedule, making it easy to fit the course around your own life commitments. All tuition is provided Monday to Friday.
The course is broken down into 3 stages. The final stage of the course is supplied in partnership with a BKSA examiner. You will be able to join one of the BKSA Level 1 instructor courses throughout the year. These are typically run in April and October.
Stage 1: Introduction to kite sports
Your course starts with an intensive 5 session group introduction to kite sports which will cover all of the fundamentals required to power kite and kitesurf. Within this part of the course, you'll cover all fundamental kitesurfing skills to go from complete novice to being able to practice independently.
If you've had some kitesurfing lessons before, please let us know and we'll customise this module for you.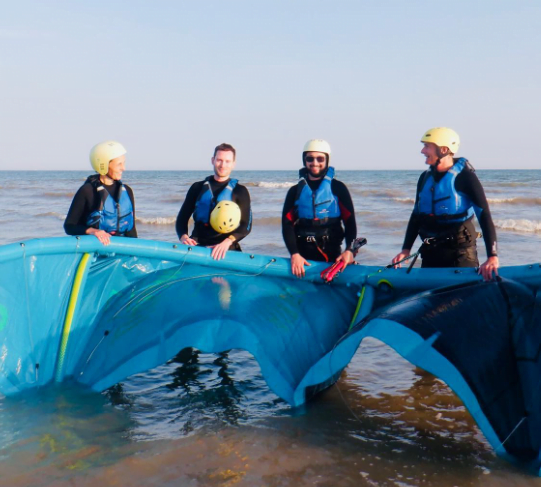 Stage 2: Skill progression
Once you have completed the 5 group sessions, you will then dive into private tuition. Eleven 2hr private sessions will be scheduled at a time to suit you.
These sessions will progress your skills to complete your BKSA power kite, kite buggy and kite landboard level 1 proficiency. As well as your BKSA kitesurfing level 1 and 2 qualifications.
Throughout this time, you will need to do an additional 10 hours of lesson shadowing, as a pre-requisite to stage 3 of the course.
We advise exceeding the minimum requirement of shadowing hours and gaining lots of experience to prepare you for your new career.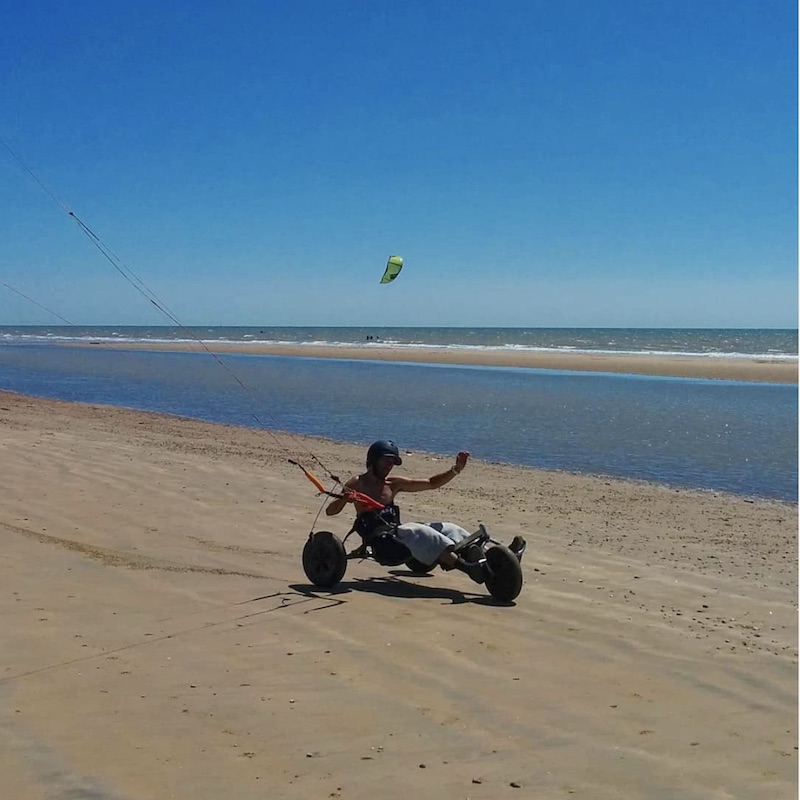 If you do not already hold an RYA Powerboat level 2 and First Aid qualification, you will need to complete these with an external provider.
We do run first aid courses in line with stage 3 of the course, but we will contact you regarding the availability of this.
Stage 3: Ready to instruct
The final 5 days of your course are run consecutively with an external BKSA examiner and instructor moderator.
Over the 5 days you will learn a range of instructing techniques, course structures, and demonstrate your kiting proficiency.
In the classroom, you will undergo assessment through the presentation of a theoretical topic and finish with an exam.
It's required in this examination week to demonstrate upwind riding, toeside riding, jumping, and a jump with rotation which can be either a front roll or backroll.
At the end of your course, the BKSA examiner will provide a course completion certificate with a plan of action to be completed. This typically includes a prescribed number of shadow hours within a BKSA school to practice your new teaching skillset and any skillsets the examiner did not witness as satisfactory throughout the course.
Your plan of action can be signed off when witnessed by any BKSA Senior instructor within a BKSA school. Once signed off, you will submit the course completion certificate and logbook and will be accredited with a BKSA Level 1 kite sports instructor certificate.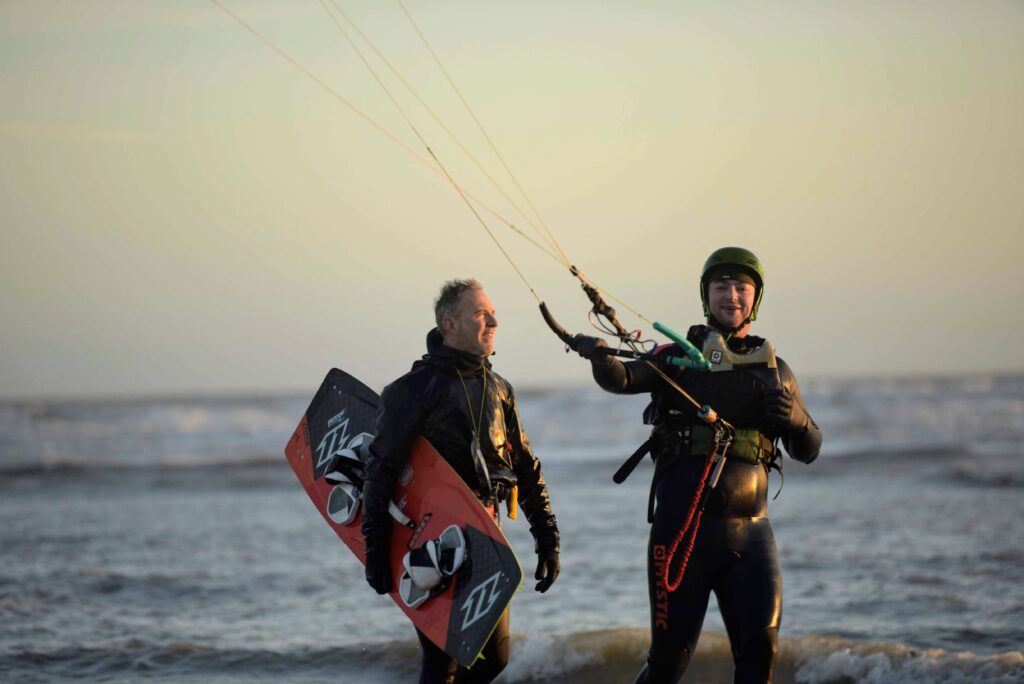 More information & Booking
Kitesports Instructor Career Accelerator – £2495
Introductory 5 Session kitesurfing lessons bundle (Group structured lesson with other beginner kitesurfers)
Kitesports skills progression and exam preparation (22 hrs private tuition)
Learn to kite landboard & kitebuggy
Kitesurfing skills progression
Lesson structuring
Exam preparation
Presentation of skills
Presentation of topics
Theoretical exam prep
BKSA ITC (5 days with BKSA Examiner)
Additional instructor modules available:
Stand Up Paddleboarding Instructor Module – £615
Skills progression & exam preparation (6hrs private tuition).
Advanced paddle skills
Rescue techniques
Lesson and tour structuring
Exam preparation
Presentation of skills
Theoretical exam prep
BSUPA ITC (2 days with BSUPA Examiner)
Gain your Emergency First Aid qualification – £110
For more information about the Kite sports instructor accelerator course and additional instructor modules, please view this brochure.
To book the Kite Sports Instructor Career Accelerator Course, and opt-in for the additional modules, please contact us.