Individual Lessons

Private lessons for all the sports & any level: We offer private tuition in all of the sports we teach; kitesurfing, kite landboarding, kite buggy, powerkiting and stand up paddleboarding - at any level from complete beginner to advanced coaching.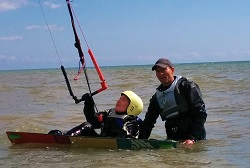 Improved progression: With an instructor by your side at all times, you can progress at your own pace with no concerns about being left behind or having to wait for others to keep up.  The 1-2-1 tuition gives you maximum time with an instructor to optimise your progression speed and enjoyment.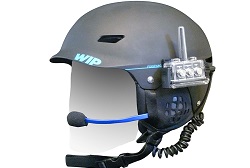 Radio Communication: Our 2 way radios allow the instructor to give constant input and guidance even when you're out of earshot. If you have a question or are unsure of what to do, just ask away, it's like having a conversation face to face and we've found it builds confidence and improves progression.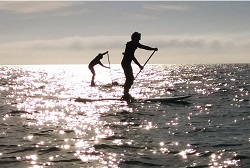 Bring a friend: If there are a few of you at the same level and would like a lesson together we also offer 2-2-1 and 3-2-1 tuition which are a more cost effective way of learning.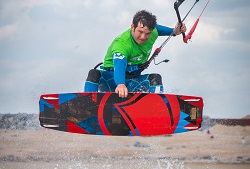 Pushed for time? If you're pushed for time then a private lesson can be the better option in an intense fast track type course
All the necessary equipment is supplied for all the sports, however if you have bought your own and would like to be shown how to set it up correctly and use it during the lesson then please bring it along.
Please note that the private lessons are charged from when the lesson begins on the beach not when you begin getting changed!
The private lessons can be as long as you like, it's completely up to you:
1-2-1 £50 per hour - £60 per hour weekend
2-2-1 £60 per hour (£30 each) - £80 per hour weekend (£40 each)
3-2-1 £75 per hour (£25 each) - £105 per hour weekend (£35 each)
Video
Bookings
To make a booking either:
BOOK ONLINE
Or contact us by email info@thekitesurfcentre.com
Or call us on +44 (0) 756 376 3046