Session Five – Persistence pays off
Two people per group, three hours, £109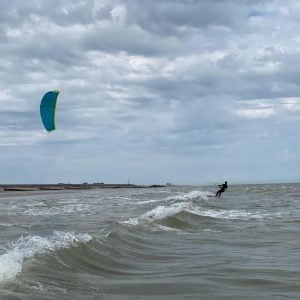 You are now into your sixteenth hour of kiting, this may sound like a lot, but did you know the average kiter takes 20-30 hours to get to a point of independence?
This session will continue working on your development and you'll keep working towards long and controlled rides as this takes you one step closer to being able to go out on your own.
To get to what we call independence (which is where you receive your BKSA card certifying your level) you need to be able to demonstrate the following:
Able to read a forecast and choose the correct kite size for conditions
Be able to identify all risks at a spot and do a SHOE assessment
Set up a LEI kite correctly and demonstrate using all 3 safety systems (and reset them)
Safely launch a kite with good technique
Follow the 'right of way' rules
Ride 50m in both directions in a safe and controlled way
Demonstrate a self-rescue independently
Walk safely with the kite along the beach
Land a kite in a controlled manner and pack it away correctly
Session five will help you progress closer to meeting all of these criteria whilst keeping the cost affordable. You are welcome (depending on your progress) to undertake session five as many times as needed until you can ride; for some people, this is once and for others this is many times over.
Once you are at a good level of riding it is time to book a private tuition slot so the instructor can tailor their approach to ensuring you're ready to be signed off on the above criteria as soon as possible.