All the 2012 Liquid Force equipment has arrived!!!
Some of the Liquid Force Envy school kites are here ready for the spring, black, khaki and fluoro orange this year, nice and bright!!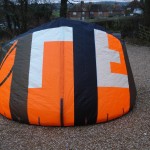 Lovely new 7m Liquid Force Nirvanas for ourselves, awesome kite for massive jumps and kiteloops. Riding the 2012 Liquid Force Contact board with Luxury pads and straps this year, great freestyle board that has a smooth ride so works well in choppy conditions and the pads are amazing, super comfy and great hold.
Contact us if you would like to try anything, we have loads available to demo.