The Kitesurf Centre is searching for a Booking Assistant, fitting the description below to start working for us for the upcoming 2024 summer season.
You'll be joining our busy and reputable beachfront centre in Camber, East Sussex, UK. The centre is open 7 days a week, all season, and helps around 150 students per week learn how to kitesurf, land board, kite buggy, stand up paddleboard and wingsurf.
This job position is open from 25/03/2024 to 03/11/2024; you'll be required to work 5 days per week, including weekends.
Please submit your CV and cover letter, expressing your interest and suitability for the role, to [email protected]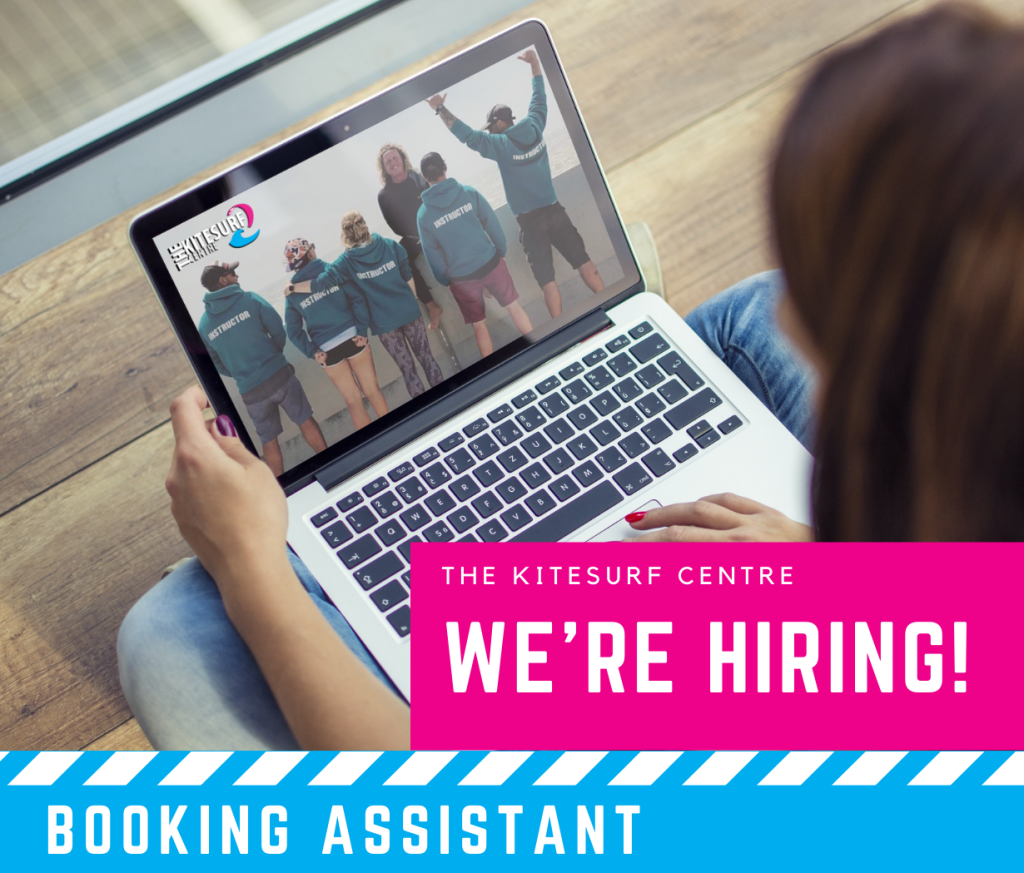 About The Kitesurf Centre
The Kitesurf Centre (est.2008) is a kitesurfing school on Camber Sands beach, East Sussex, UK. Our BKSA and BSUPA accredited school and instructor training centre offers a variety of thrill-seeking activities such as kitesurfing lessons, kite buggying, kite landboarding, stand up paddleboarding, wingsurfing & adventurous group activity days. With such a range of activities available for groups and individuals, we help people find a new passion, but most of all enjoy learning something fun and exciting!
We at The Kitesurf Centre pride ourselves in having a selection of the most experienced and highly regarded instructors in the UK. Our hand-picked instructors are all BKSA or IKO qualified with a vast amount of experience. Most of which have previously managed centres in the UK and abroad or do so in our winter months. Having great instructors really makes a difference in our students' kitesurfing lessons, as learning a new sport can be challenging. This is why we are very selective when choosing our employees and continually change and improve our instruction methods with staff coaching.
Ready to join an exciting and active team who are passionate about providing high-quality tuition? We're looking forward to your application.
About this role
We are looking for serious applicants who are motivated, proactive, and outgoing with a positive attitude and the ability to communicate well with a range of people. Good adaptation skills and experience in customer service roles are essential. Previous experience with booking systems or working within a watersports centre is desirable.
Applicants will preferably have some previous kitesurfing and SUP experience with a desire to progress their skills and knowledge within the sports we provide. Without prior kitesurfing experience, a strong interest in other wind and water sports or outdoor pursuits with a desire to learn kite sports is essential.
Perks of the job include the option to borrow kit when not working so you will have plenty of time to advance your own skills whilst with us.
Reporting to the Centre Manager this role includes:
* Answering phone/email enquiries and creating bookings for all activities using 'Viking' bookings platform
* Upselling lesson bundles in response to lesson enquiries
* Completing customer payments upfront when booking lessons
* Following up on outstanding payments
* Inform students of their upcoming lesson times for the following day
* Rescheduling lessons that are postponed by undesirable weather
* Customer service over the phone, by email and at our reception
* Greeting students, checking for up-to-date activity waivers and introducing students to their instructor
* Preparing students for their lessons and helping to get them kitted up
* Explaining rental equipment terms and conditions and providing detailed spot information for free riders
* Other general administration tasks
* Opening/closing the centre at the start/end of the working day
Requirements
* Previous customer service experience
* Computer skills: Able to follow processes within a bookings system and basic use of word and excel
* Strong written communication
* A good phone manner
* Personable and friendly
* Good organisational skills with attention to detail
* Adaptable to change (we work with weather conditions), approaching it with a positive attitude
Bonus skills
* Clean UK driving licence (1+ years)
* BKSA, IKO and BSUPA instructor qualifications (occasional teaching opportunities may be available, though this is secondary to the job description)
* First Aid Certified
* RYA Powerboat Level 2
Required languages
* English – fluent written and verbal
Employment type
* Seasonal contract
Working hours
* 5 days per week
* 8 hours per day (scheduled according to peak business hours)
Working hours do vary depending on lesson times for that week as we are tide dependent, earliest start time is 6:45am and latest finish time is 10pm in the peak summer months – On days where high tide falls in the middle of the day and lessons would be both early and late, you'll work one side of the tide not on a split shift. This will be on a rota with two weeks' notice.
Applicants must be able to determine their own right to work in the UK. This is not a sponsored role.
EU Applicants (under 30 years old) who have not worked or lived in the UK before may be able to access a Youth Mobility Scheme Visa.
Please send your CV by email to [email protected]
Fancy turning a hobby into a career?
If you are passionate about the sports we teach, love the outdoors and are excited about working with us we want to hear from you. The following positions are open for the 2024 season;
Full Season Kitesurfing / Multi-Sport Instructors (March – November)
Peak Season Kitesurfing instructor (June -October)
Senior Kitesurfing instructor (March – November)
Bookings Assistant (March – November)
Instructor Apprenticeships are available for people aged 18+. Contact us for more info.