Description
Mystic Bananabar Kite Spreader Bar
The Mystic Bananabar Kite Spreader Bar comes with classic stainless steel hook and ring closure. Lighter and easier to use than the Clickerbar 4.0, the Bananabar is designed for hooked and unhooked freestyle and freeride kiters, as it has less torsional control. It features an easily accessible thumb grip movement to open the spreader bar and a foam cover for more comfort. If you're looking for a spreader bar to take your unhooked tricks to the next level, this is the one!
Unhooked freestyle, hooked freestyle or freerider? You'll love this spreader bar!
Spreader Bar Features
Multi hook
Quick release system
Low torque
Integrated knife pocket
1, 2 & 4-Point system options
Leash EYE
Stainless steel
Sizes
To see which size spreader bar is suitable for the harness you have, check out the Mystic size chart here. This spreader bar is designed to fit with all Mystic harnesses but will also fit some other brands. If you are unsure whether your harness is suitable for this spreader bar, feel free to give us a call.
Read our handy guide to maintaining your equipment, including your harness and spreader bar, here.
Brand
Mystic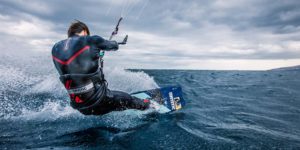 Market leading products from Mystic boarding - Wetsuits, Kitesurf Harnesses, Impact vests, Boots, Hoods, Gloves, Ponchos, Board bags, Clothing & Accessories