Special Offer
£1,600.00
RRD Airush/AK Wing Surf Foil Package consists of the carbon RRD Rapida Ltd board, the Airush Core Foil with AK 1600 or 2000cm front wing (complete with 60cm Mast & Top Plate) plus a 5.5m RRD Evo Surf Wing complete with pump and leash
Perfect package to get you started wing foiling!!!
HUGE SAVING!
Out of stock
Email when stock available
Description
RRD Evo Wing, Rapida Board & Airush/AK Wing Foil Package – Best Value
RRD Airush/AK Wing Surf Foil Package consists of the carbon RRD Rapida Ltd board, the Airush Core Foil with AK 1600 or 2000cm front wing (complete with 60cm Mast & Top Plate) plus a 5.5m RRD Evo Surf Wing complete with pump and leash
Perfect package to get you Wing Foiling!!!
HUGE SAVING OF NEARLY £2000!!
Option to add Mystic MK8 X helmet
RRD Evo Surf Wing
The new RRD Evo wing: a great way to get into the sport of winging while keeping the price affordable.
The Evo wing is RRD's latest in a range of wingfoil wings, the windows allow you to see the ever increasing number of wingers out on the water with you, easy to use designed at all levels of riders.
Get ready for the EVOlution! You can finally get your hands on this new jewel. The Evo Wing has all the features that you simply will not be able to do without.
Freeride / Freestyle
A magical freeride / freestyle wing for all levels from novice to expert. Our World Cup riders appreciate it for its incredible maneuverability, stable power, speed, acceleration and precision. Novice riders will get addicted instantly for its incredible accessibility and lightness. The Evo Wing is completely functional and purposefully designed to provide you with an overall experience. 2 color combinations, orange and grey and specific sizes to cover more various needs and suit any conditions.
The new long and wide handles will make you fall in love with the ease of use in maneuvers. We've separated the leading edge and strut bodies using a double inflate system which is 2 times quicker to deflate/inflate and optimises the stiffness of the whole body. The arrow outline of the EVO cuts the wind in pace, allowing a faster and better cross and upwind ride and with the new large windows you will have ample visibility.
The new EVO WING takes you to a new dimension of riding.
RRD Evo Wing Features
Double Inflating / deflating system -> 2 times quicker to inflate/deflate and optimal stiffness of the whole body by separating the leading edge and strut.
Arrow head outline -> enhanced handling and stability.
3 Ergonomic long handles -> easier in maneuvers.
Wide Windows -> wide visibility.
New light safety leash with neoprene wrist band.
Delivered in a comfortable and user friendly cylindrical backpack
Repair kit
Sizes
RRD Evo Wing Tech Features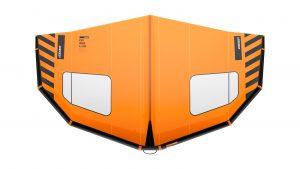 ARROW HEAD OUTLINE
A specific and innovative outline shape that will make you enjoy the way it drives you. The innovative arrow shaped outline has very effective aerodynamics and stiffness to enhance your stability and improve your speed.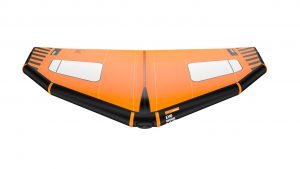 SIMPLIFIED LEADING EDGE TECHNOLOGY
We have rethought and simplified the whole leading edge design. The new Evo structure has fewer panels to lighten the weight and seams well positioned in most stressed points. The result is 200 grams less weight and a solid efficient feel in your hands.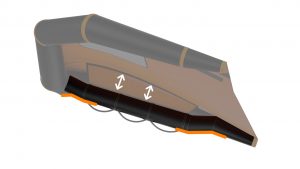 ZETA STRUT SHAPE
The central strut shape is designed to widen the distance between the strut and canopy. More leverage improves the overall performance of the wing.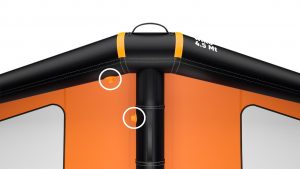 DOUBLE VALVE INFLATING / DEFLATING SYSTEM
You get a better and quicker system to inflate and deflate your wing. We have optimized the stiffness of the whole body by separating the leading edge and strut. The double valve inflating system allows to inflate at a different PSI the leading edge and central strut to obtain an extraordinary feel once riding it.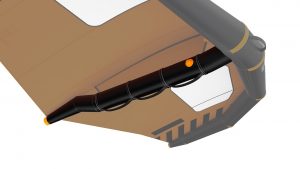 LONG HANDLES
3 semi rigid long handles positioned on the central strut for better and easier maneuverability. A unique and comfortable feel, the long handles are ideal to ease your learning process at all levels of riding.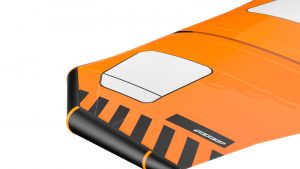 WIDE WINDOWS
2 wide windows to have an overall view and control of who's around you.
Specifications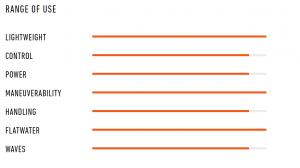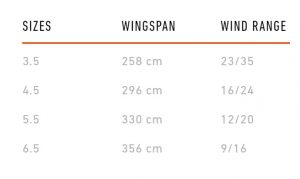 Airush Core Foil with AK 1600 or 2000cm Wing
Airush Core Foil set up with 2022 AK fuselage plus 1600 or 2000cm² front wings
Front wings
AK Surf Foil 1600/2000cm² front wing was developed for riders looking for a high lift hydrofoil for wing foiling, SUP and heavyweight surfing. The intermediate aspect ratio wing with refined profiles provides the perfect balance between maneuverability, speed and pumping.
Intermediate aspect ratio for ease of use
Unique profile for great high-speed control
1600 or 2000cm² Surf front wing.
Rear Wing/Stabiliser
The unique design of the rear X-Wing stabiliser highlights its benefits with two configurations: The standard "tips up" creates a very stable platform or can be inverted "tips down" to increase manoeuvrability and turn your foil into a carving machine.
The Airush Foil is a high quality, performance oriented pack for beginner to expert.
16×9 bolt mounting
Compatible with all other board brands
Compatible with all 2018, 2019, 2020, 2021 & 2022 Airush & AK foil components
Choices of wings, spares and accessories available to tune your foil to different capabilities as your style changes
The modular design can be configured with different length masts, board mounting systems and wing configurations to suit your riding level and personal preference. The 60cm mast is ideal for learning or riders who prefer the shorter mast. It can be easily swapped out to the 95cm mast as a more advanced freeride configuration.
No matter what your level or riding conditions, the Airush Core Foil delivers versatile performance for everyday use.
Airush Core Foil Features
Modular Foil Platform
The Modular Foil platform considers the evolution in foiling to allow each rider to customise their setup. From the first rides and lower speed performance to the most technical riding abilities. With longer masts and higher speed wings, the Modular Foil platform is designed to meet the needs of riders at every level.
Aluminum Mast Range
The Aluminum Mast Range provide 4 different sized options to meet riders levels and styles of riding. The standard 80cm comes with the Core Foil Complete but can be changed to bigger or small sized masts. Just 3 simple bolt attachments to the mast and fuselage.
Streamlined  Connection Plate
The streamlined connection plate absolutely minimizes any drag when you get going or touch down, while creating a solid connection to the mast.
Micro Trim Adjustment With Open Ends
The 12mm slots enable micro trim adjustment not being used in a track system, while the open ends make the plate much quicker and easier to fit, when being used in a track system.
Anhedral Front Wing
The Anhedral front wing with horizontal tips, creates stability, specifically when carving, by preventing side slipping and improved ventilation correction.
Dihedral Rear Wing
The Dihedral rear wing, creates stability, while minimizing drag while keeping the rear wing out of the turbulent wake of the front wing.
Ultra Streamline Fuselage
The unique ultra streamlined fuselage absolutely minimized drag while maximizing stiffness. The flow dynamics minimizes any oscillation you would find in a round fuselage resulting in increased stability.
Trimable Rear Wing
The updated trimmable rear wing connection allows the trim angle to be quickly adjusted. This helps to compensate for the lift requirements for different rider levels, personal preference and when using different wing configurations.
Triple Bolt Connection Top And Bottom
The Triple Bolt connection located on the top and bottom of the mast work in conjunction with the chamfered slot connection. It creates a bombproof connection while enabling a quick switch out between mast options.
AK Surf Foil Features
1600 & 2000CM² FRONT WING
The AK Surf Foil was developed for riders looking for a high lift front wing for wing foiling and heavyweight surfing.
The anhedral elliptical wingtips are swept down for directional stability, while the delta shape maintains the key lift area in the center of the wing underneath the rider.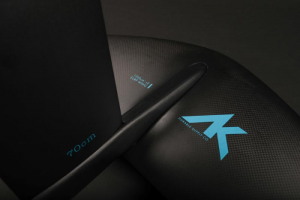 AK Surf Foil 1600cm2
Surf specific foil ideal for heavy weight & light wind kiting.
Large rear wing for versatile performance. 1600cm² AK Surf front wing.
The AK Surf Foil 1600 was developed specifically as a surf foil to perform in small to medium size waves, or for heavier riders over 80kg / 200LBS, in all-around surf or for light wind kite foiling.
The intermediate aspect ratio wings with updated profiles provide the perfect balance between maneuverability, speed, and pumping.
Front Wing: 1600cm2  Rear Wing: 300cm2  Mast: 60cm
AK Surf Foil 2000cm2
Intermediate aspect ratio for ease of use.
Unique profile for great high-speed control. 2000cm² Surf front wing.
The AK Surf Foil 2000 was developed for riders looking for a high lift front wing for wing foiling and heavyweight surfing.
The intermediate aspect ratio wings with refined profiles provide the perfect balance between maneuverability, speed, and pumping.
Front Wing: 2000cm2  Rear Wing: 300cm2  Mast: 60cm
RRD K Rapida Carbon Board
The K – Rapida is a tough, well built wingsurfing board and is really great fun on the water. With the huge discount, we don't think there is another board anywhere near this price range on the market that will bring you as much tech and spec to this Wingsurf Foil Package.
The K – Rapida can be used as a Wingsurfing Hydrofoil Board with the foil track mount. As well as being able to fit tuttle fins (not included) which can be very useful to give additional grip and resistance against the wind, when learning without the hydrofoil. It can also be used for kitesurifng in this configuration. The effective and easy fitting carbon hydrofoil mount is manufactured by FoilMount and takes 2 minutes to fit. If you'd like us to fit it for you, please let us know or leave a note at the checkout. Otherwise if you prefer to do it yourself, we can mark on the board where we suggest fitting the mount.
Wingsurfing Board Shape
The flatter tail and mid board rocker lines with scooped nose, plus hydrodynamic base shape give early and efficient planning for an easy take-off. The nose Rocker helps while riding through chop and is extremely beneficial on tough downs as well as when riding in waves
The wide tail outline gives an optimised volume distribution and combined with the wingers assure perfect angle when heading upwind and quick release. Thinner rails in the mid-rear section provide accurate control and comfort. The flat, wide rear half of the board gives it excellent stability when standing or riding at low speeds.
It features a special hydrodynamic shape which allows it to run at incredible speeds with a very clean and fast glide. Whilst being very steady, keeping the rider comfortably in control. The straightened outline, using a wider nose and special shaped tail profile, assures exceptional upwind tracking. While the scoop nose rocker line improved planing performance and prevents the nose from catching when the rider tackles heavier chop.
You will be up and flying in no time and you won't be unsettled when occasionally touching the water.
Hydrofoil mounting system
The RRD Rapida boards have had a twin track foil mount system fitted to the bottom of the board. Allowing it to connect with most foils on the market using the standard 4×4-bolt plate system (160mm x 90mm).
Technology:
Custom Carbon
Exclusive Custom made full PVC core sandwich laminated with Biaxial Carbon fibers on deck and bottom. Wood/Carbon deck standing area.
The carbon construction provides excellent strength and durability as well as super light weight. Making it feel great on the water as well as being easy to carry, even with a hydrofoil on the base.
Carbon fibres are highly resistant and really light. The FULL CARBON construction creates a strong, durable, light shell for the entire board (deck and bottom)
An extra layer of Carbon is located in the standing areas to make the deck even more resistant to local hell pressures and dings. This results into light, strong and responsive boards to enjoy session after session.
Twin Tracks
The twin track system with lateral spacing of 90mm is becoming an industry standard.
This system is compatible with all foils featuring a top plate with 4 fastening bolts. The length of the tracks enables some room to adjust the position of the foil on the board to reach everyone's preferred balance.
Size
180 x 70cm – 95l Volume
Design options
The RRD K-Rapida also features a 3 x tuttle box fin setup allowing it to be used while learning to control the wing and board before progressing onto the foil.
Fins  – 3 x Tuttle fins – Not included – Contact us for options (£39.99)
Straps – 4 x velcro adjustable – Not included – Optional Extra (149)
Features
Lightweight Custom Carbon Construction
Track foil mount to fit any foil with standard 4 x 4 mast top plate attachment
Scooped nose rocker
Grip pad on foot placement areas
Textured grip over full deck
Shipping Costs
UK: FREE standard delivery of 1-5 working days (usually 1-2 days) on all UK purchases over £79.99 – Upgrade to Express Delivery for £4.99 UK Orders under £79.99: £4.99 Standard, £6.99 Express
Europe Mainland and UK Highlands & Islands: £14.99 on all items under 2 kg and £19.99 over 2kg
Rest of the World and European Islands: £19.99 for small items under 2kg, £39.99 over 2kg and £69.99 for all items over 6kg. Fedex available as an upgrade option for all countries and the only option for Asia, Africa and South America
Surfboards and SUPs have an additional £29.99 shipping cost. Due to a huge percentage which have arrived damaged we now only use reliable (more expensive) couriers
Please note that Duotone products shipped to the US will receive a shipping excess of £250.
VAT (Tax) Free
If you live outside the EU or have a BFPO address, you are eligible for VAT free (20%) purchases so can save a lot of money. This is automatically deducted at checkout but please contact us if you would like further information. The prices shown on the website include VAT as standard until you enter your shipping country at the shipping Basket/Checkout page or are already logged in.
Returns
If for any reason you are unhappy with your purchase, you can return it to us in its original condition (with packaging and tags intact) within 14 days of the purchase date. We can either issue an in store credit for the item, send a different size or product if you would like an exchange or refund your payment.
Video

Buy now, pay later. PayPal Pay in 3 is the most reliable and simple way to split the costs of a purchase over a longer period without any extra costs. Fast and easy to set up, this is our suggestion for the best free and easy finance package
Just choose PayPal at checkout and go through the options available

PayPal Credit works like a conventional credit card but gives up to 4 months without any interest