Sale!
Best Deal
£1,709.00 – £2,089.00
High quality freeride kite, bar & lines,  leash, pump and board package for all levels in all conditions – Huge savings!
Description
Duotone Evo 2022 Full Equipment Package
Duotone Evo Kite, plus Duotone Gonzales or Select Kiteboard complete with straps & pads, Trust Bar & lines, leash Pump and kite bag!
Everything you need to get out on the water
We have other packages with different board options HERE
Huge discount up to £550!!
What's included in the Duotone Evo Kite Package 
Duotone 2022 Evo Kite (you choose the size!)
Duotone Evo Kite Bag
Duotone Trust Bar
Freeride Chicken Loop
Duotone Short Leash
Duotone Gonzales 2022
Duotone Vario Straps & Pads
High Volume Double Action Kite Pump
Repairs & Spares Kit
User Manual
Add Mystic Majestic X Carbon Hard shell harness with Stealth spreader bar for only £349 (RRP £419)!!!
We have put together an amazing value kitesurf package to get you out on the water with great savings over individually bought items and this Evo and Select combo is a fantastic all rounder set up suited to all levels in all disciplines!
2022 Duotone Evo Kite
FREERIDE / FREESTYLE / WAVE
Just looking out at our beach highlights how popular this kite has become, with every other rider either on one of these or the latest Duotone Dice. Where just a few years ago the F One Bandit was the number one choice among our instructors and staff, the Duotone range has easily surpassed all the other brands and for good reason.
Following on from the designs of the Duotone Dice, the Evo now has a completely pulley free bridle for ultimate feedback from the kite and better predictability. The fixed bridle has led to a more compact leading edge design which allows it to harness more energy for higher jumps but it's more noticeable during kiteloops as the kite doesn't deform or twist at all. This really is a complete game changer and the more we used the kites throughout the 2021 season, the more this became apparent.
It's even more apparent when the kites are underpowered as they're so much more efficient than even just a year or two ago. We never thought we'd see a kite coming out of a kiteloop in as little as 18 – 20 knots of wind to catch the rider comfortably before they hit the water.
The Duotone Evo 2022 isn't just aimed at better riders though as it's also the favourite among our students who have just finished lessons and are looking to purchase their own kit; We can use this to teach beginners on for their first lessons as it's so forgiving but it's the ultimate kite to purchase as it give so much to grow into – you'll never need to replace it.
The Duotone Evo really is the one kite that does everything well.
The Ultimate Freeride Kite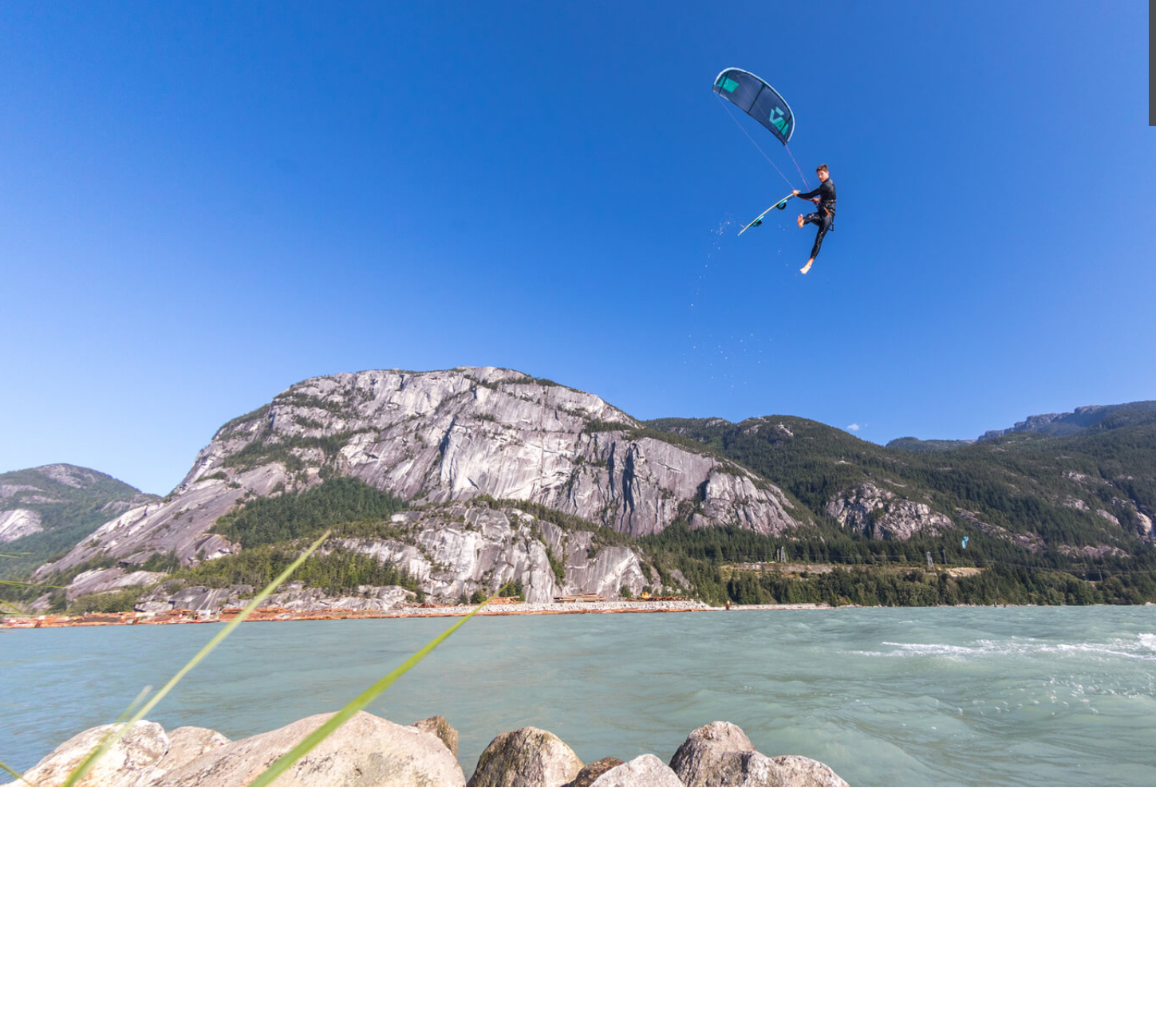 We were so pleasantly surprised in testing; the kite climbs out of loops even when underpowered, it's fast, responsive and drifts well on the waves. There are very few kites than can claim to be at the top of their game across all disciplines, but this is one of them.
Along with the rest of the Duotone 2022 range, the Evo has a re-sculptured the trailing edge and changed the material. The lighter weight material is now not only tighter so it flutters less, but much lighter, so trailing edge has a lot less wear which is usually the most worn part of the kite. We can't believe it's taken kite manufacturers almost 20 years to solve this problem, but it looks like they finally have!
The kite has 3 settings on the steering line attachments at the kite to cover all the disciplines and these really are worth playing with as they completely change the way the kite feels and performs.
Where some kites have struggled in the past to accommodate different weights of riders because they all require something slightly different from a product (light riders want it to be fast, responsive and agile in the lower end of the wind range whereas heavier riders need something that is robust, heavily built and supported so as not to flex when a lot of force is put through the kite) the Evo has managed to do well for everyone and anyone. Some of the local riders and our instructors kids use them to a very good standard in all sorts of wind strengths and they weight between 35 – 40 kg, then their parents at 100kg + get just as much performance from the kite.
The Duotone equipment is built to the highest spec available. They're one of a few brands who have their own factory (in Sri Lanka) and have full control over their quality checks. We sell more kites from Duotone than any other brand but get the least warranty issues; which must say something. I guess over 20 years of research, development and kite manufacturing and has it's perks!
We always have these available to demo so come and give them a go for yourself…..
Now available in dark grey and purple for 2022
What Duotone have to say…..
The Duotone Evo 2022 is the best allrounder with an incredible wind range, precise power delivery, amazing stability and responsive handling, making it the choice for any type of conditions or riding style.
For 2022, Duotone have removed the pulleys from the bridle, this has the effect of increasing the responsiveness of the kite while still offering incredible depower.
There is also a new trailing edge design incorporating a wave pattern that drastically reduces flutter and canopy wear in this critical area.
The EVO is a delta-shaped kite designed to offer fantastic upwind performance and huge jumps. It has a dynamic turn that lends itself well to playing in the waves, and the kite is perfect for those riders looking to try their first freestyle moves too. It doesn't matter what your style is on the water; the EVO is truly capable of handling it all.
The structural stiffness of the smaller sizes has been enhanced, making them rock solid even in gusty and strong winds. Reduced bar pressure makes the kite easy to fly and very forgiving, appealing to a lot of riders across the ability spectrum.
Sheet and go handling further enhances the rider experience, meaning the incredible performance of the EVO is available to everyone. If your riding isn't confined to a particular discipline and you like to keep your options open for freestyle, big air and waves, then you need the EVOlution!
Evo 4 / 5 Line Control:

The Duotone Evo 2022 can be ridden on 4 or 5 line control bars, uniting new-school and free-ride in one kite. The Evo's delta shape offers great sheet and-go riding, excellent wind range and high de-power.
The overall shape helps the Evo turn quickly and predictably while the new bridle geometry stabilizes the arc for a soft, consistent bar feel and extreme back-stall resistance.
The 4-line mode boasts an innovative new safety system and bar-feel prefect for those who prefer soft, easy handling.
In 5-line mode the EVO additionally stabilizes the arc, providing a very direct bar-feel for new-school riding and the ultimate 5th line safety.
Auto re-launch means that you can go for it and never have to worry about re-launchng your kite. Just take your hands off the bar and let the kite do the work for you!
Best Allround of the Duotone Range:
An easy jumper with massive sheet-and-go qualities, offering huge depower, powerful lift and a massive hangtime. It's the most accessible kite for all type of riders.
Delta Kite:
The most comfortable design with a very smooth kite profile. Upwind ability is unmatched and steering performance is very forgiving.
Easy Water Relaunch:
The relaunch is very fast and easy, thanks to the Delta design the kite doesn't stick to the water.
Three Strut Design:
A lighter kite boosts agility and increases responsiveness. Turning is fast and the feeling at the bar is very predictable and responsive.
Powerful Lift and Hangtime:
Perfect for freeride performance with explosive powerful lift and huge as well as long hangtime.
Features:
Good light wind performance
Delta-Orientated Design
Adaptive Tips
Huge Wind Range
Easy Unhooking Ability
Forgiving flying characteristics
Fast turning High durability
4-or 5-line setup
Bridge Profile design
Kevlar reinforcements
Solid Dacron trailing edge
Sizes: 4 / 5 / 6 / 7 / 8 / 9 / 10 / 11 / 12 / 13 / 14
**Prices shown are kite only – includes bag**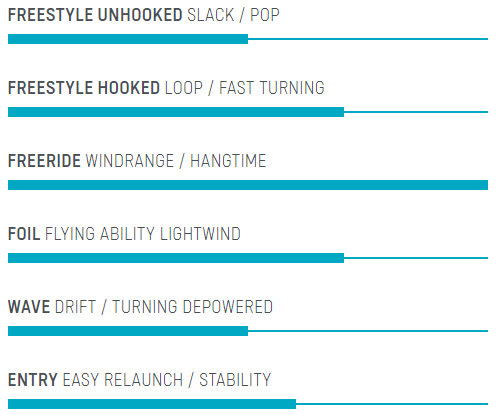 | | | | |
| --- | --- | --- | --- |
| Size (m2) | Wind Strength (knots) | Aspect Ratio | Projected Area (m2) |
| 4 | 27-42 | 5.0 | 2.5 |
| 5 | 24-41 | 5.0 | 3.0 |
| 6 | 21-39 | 5.0 | 3.5 |
| 7 | 19-37 | 4.9 | 4.1 |
| 8 | 17-35 | 4.9 | 4.7 |
| 9 | 15-33 | 4.8 | 5.3 |
| 10 | 13-31 | 4.8 | 5.8 |
| 11 | 12-28 | 4.8 | 6.4 |
| 12 | 11-26 | 4.8 | 6.9 |
| 13 | 10-24 | 4.85 | 7.5 |
| 14 | 9-22 | 4.8 | 8.1 |
DUOTONE EVO 2022 KEY FEATURES
POWERFUL LIFT AND HUGE HANGTIME
PERFECT FOR FREERIDE PERFORMANCE WITH EXPLOSIVE POWERFUL LIFT AND HUGE AS WELL AS LONG HANGTIME.
BEST SHEET AND GO POWER DEVELOPMENT
THE SHEET AND GO HANDLING MAKES A KITE INCREDIBLY EASY TO FLY.
NEW TRAILING EDGE DESIGN FOR LESS CANOPY WEAR
A NARROWER TRAILING EDGE AND A LIGHTER COMBINATION OF MATERIALS TO REDUCE WEAR AND TO CREATE A SLICKER KITE PROFILE.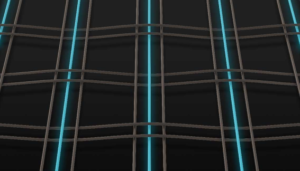 TRINITY TX
Teijin is the world's leading supplier of polyester fabrics and sail materials to marine sports. The combined creative power of Duotone saw the formulation of TRINITY TX. Exclusive to Duotone, TRINITY TX is a 3×2 canopy material, which has proven to be far superior to other canopy materials in terms of durability and dynamic performance.
The 3×2 yarn combination has proven to be the best solution in performance as well as durability, overall superior to any 2×2 or 4×4 yarn solutions. TRINITY TX. Made to stand the test of time.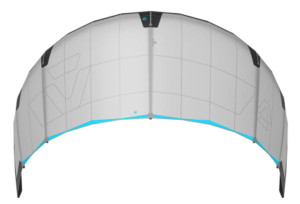 MODERN TRAILING EDGE DESIGN
A narrower trailing edge with a lighter combination of materials to reduce wear and to create a slicker kite profile.
HEAVY DUTY LEADING EDGE CLOSING SEAM
The leading edges of all kites are extremely durable due to a special heavy duty closing seam. The Dacron material at the leading edge is reinforced with a self sticky Insignia Tape and double stitched additionally. The Heavy Duty Leading Edge Closing Seam is resistant to very high tensions and diagonal forces.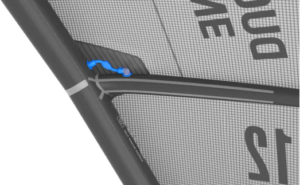 LOAD DISTRIBUTION PANELS
As kite geometry improves, the canopy must continue to resist increasing forces. To spread these forces, Load-Distribution-Panels are used, holding the Duotone Evo 2022 kite's shape even under the most extreme loads. In practice this gives a smoother and more consistent performance from the kite in any riding situation.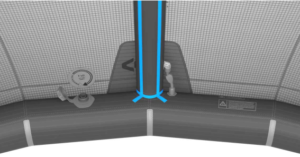 FUSION STRUT
This construction allows for a controlled distribution of forces between strut and leading edge. Struts are 100% connected to the leading edge with a flexible Dyneema line, which promotes higher canopy tension and a clean profile.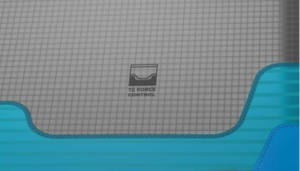 TRAILING EDGE FORCE CONTROL
The Trailing Edge Force Control is responsible for the smooth power distribution between the different materials of the kite, forcing the tensions in the right directions. Since 2013 the waves are higher and wider to eliminate stress points between the Dacron Trailing Edge and the Trinity TX Canopy material. This change in construction reduces fluttering marks and ensures that the material is not wearing out.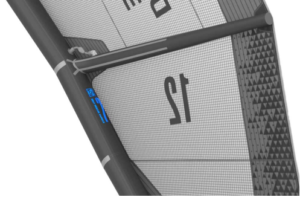 SELF RESCUE HANDLES
The self-rescue handles on the inside of the wingtips can be easily found in case of an offshore break down. They provide a good, comfortable grip while sailing back to the shore during a self-rescue manoeuvre.
ANTI SNAG
The Anti Snag webbing is preventing the lines from tangling around the tip of the kite. Waterstarts are made easier and safety is increased.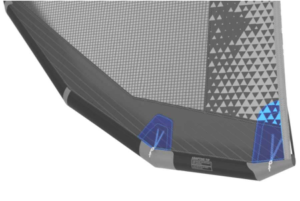 DOUBLE-V PIGTAILS
These pigtails distribute the load of the line connections to the kite, minimizing the risk of fatigue, making the Duotone Evo 2022 kite less prone to distortion and helps it to steer more smoothly.

KOOK PROOF CONNECTORS
The kook proof line connection points prevent accidents by guaranteeing that you cannot accidentally connect your lines incorrectly when rigging your kite.
FREERIDE
Duotone Gonzales 2022 – get your kiting off to the best start possible with a freeride twin tip that will help you progress your riding faster than any other board out there!
When you are learning to kiteboard the odds are stacked against you, let's be honest, those early sessions aren't easy. The wind is blowing, the water is moving, you're controlling the kite, trying to manage the board, a lot is going on. You need something to make your journey smoother, a board you can rely on to make you look good every step of the way.
Meet the Gonzales, a freeride board that beginners and intermediates alike will love. This season even lighter, to make all those first steps easier. From those first water starts, to the more advanced moves you want to learn, the Gonzales can handle it all. Featuring a medium-soft flex with a concave base, it's incredibly forgiving on the water with a silky ride in the roughest of chop.
The Absorption Flex Tips make landings soft, and the carving from heel to toeside is buttery smooth thanks to the rounded outline. No matter where you are on your kiteboarding journey, the Gonzales can help you get better at the sport you love.
This product is Climate Neutral, worked on in collaboration with Climate Partner. You can check out more info here.
This board comes with fins equipped. You can chose Entity or Vario bindings in the options panel.
Key Features
ROUNDED OUTLINE
COMFORTABLE RIDE IN ALL CONDITIONS
FIVE SIZES COVER ALL TYPES OF RIDER
MONO CONCAVE BOTTOM WITH STANDARD BASE
0-90 BIAX GLASS AND 45° BIAX GLASS
SOFT TO MEDIUM FLEX
Characteristics

Board Features

ABSORPTION FLEX TIPS
Based on a unique new construction of the board in the tip area, the scoop rocker line ensures better response to changing situations. In underpowered riding, the board remains flat for fast planing. In overpowered riding, the scoop bends and provides for an increased level of control and stability. The flex tips absorb shocks and enable soft landings.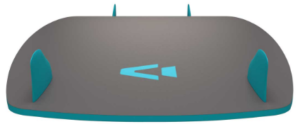 MONO CONCAVE BOTTOM
All of the pure freeride boards are produced with Biax Fibre for the best dampening and comfort. The new, rounder outline makes it fun in chop and the wider tip area helps to get going early. The straight outline is the reason for good pop and sharp edge grip. All of these boards are quite narrow which makes them fast and ensures the best upwind abilities.

TORSION FLEX
The special shape of the 3D cap allows torsion of the long axis of the board. This gives them more grip on the heel-side edge, rich and smooth landings, a direct drive and better upwind performance. Invented by Duotone.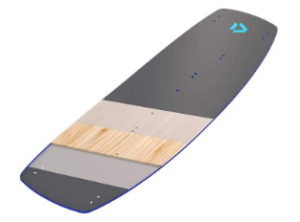 BIAX FIBRE CONSTRUCTION
The Biax Fibre Construction is used for the Duotone boards Gambler, Spike and Gonzales. These boards are produced with Biax Fibre for the best dampening and comfort.

SOFT FLEX
Soft Flex boards are the most friendly and "easy to use" boards in our range. The Soft Flex option is forgiving and simply fun to ride, even if you are an unexperienced rider. However, the Soft Flex option is also suitable for more lightweight riders.

2021 Duotone Trust bar & lines with freeride chickenloop & leash
Also included in Duotone Evo package is the renowned Duotone Trust bar with freeride chicken loop and leash. For 2021 the excellent Trust Bar has some new features while retaining some of the superior functionality that makes this one of the best 4 line bars on the market and now comes with the upgraded Flite99 lines.
The industry leading Iron Heart V safety system makes a welcome return; it has been enhanced with the addition of the Suicide Ring III. This new ring allows you to set up a suicide system while keeping the ring and the leash up and out of the way of the chicken loop. This increases your ability to quickly hook in and out after freestyle tricks.
For 2019 there wont be a separate 5th Element bar as before. Instead, you can purchase a 5th Element upgrade kit and turn the Trust Bar into a 5 line set-up.
Duotone Trust bar features
EVA cushioned winding post with flip-flop function for easy width adjustment
Integrated backline adjuster to trim lines
Vario cleat and sliding stopper for easy height adjustment
Flite99 lines – 15% less stretch,  12% stronger
Fully integrated EVA floater to protect lines and rider
Exchangeable plastic centre hole insert
Moulded EVA floater for safety leash prevent line tangling
Single front line safety on Quad control
Push pins for Flip Flop function
Huge depower and absolute safety
Compatible with any 4 line Duotone or North kite plus most other kites on the market
Click here for more information about the 2021 Duotone Trust bar
Shipping Costs
UK: FREE standard delivery of 1-5 working days (usually 1-2 days) on all UK purchases over £79.99 – Upgrade to Express Delivery for £4.99 UK Orders under £79.99: £4.99 Standard, £6.99 Express
Europe Mainland and UK Highlands & Islands: £14.99 on all items under 2 kg and £19.99 over 2kg
Rest of the World and European Islands: £19.99 for small items under 2kg, £39.99 over 2kg and £69.99 for all items over 6kg. Fedex available as an upgrade option for all countries and the only option for Asia, Africa and South America
Surfboards and SUPs have an additional £29.99 shipping cost. Due to a huge percentage which have arrived damaged we now only use reliable (more expensive) couriers
Please note that Duotone products shipped to the US will receive a shipping excess of £250.
VAT (Tax) Free
If you live outside the EU or have a BFPO address, you are eligible for VAT free (20%) purchases so can save a lot of money. This is automatically deducted at checkout but please contact us if you would like further information. The prices shown on the website include VAT as standard until you enter your shipping country at the shipping Basket/Checkout page or are already logged in.
Returns
If for any reason you are unhappy with your purchase, you can return it to us in its original condition (with packaging and tags intact) within 14 days of the purchase date. We can either issue an in store credit for the item, send a different size or product if you would like an exchange or refund your payment.

Buy now, pay later. PayPal Pay in 3 is the most reliable and simple way to split the costs of a purchase over a longer period without any extra costs. Fast and easy to set up, this is our suggestion for the best free and easy finance package
Just choose PayPal at checkout and go through the options available

PayPal Credit works like a conventional credit card but gives up to 4 months without any interest